Microsoft has released Windows 11 Insider Preview Build 22557.1 to the Dev channel for Insiders. This flight includes a plethora of new features as well as other non-security improvements for the Windows 11 operating system.
This release has been published from the NI_RELEASE branch of Microsoft, which has shifted from RS_PRERELEASE. Microsoft says that this is an insignificant change as the branch has nothing to do with the new features and improvements that accompany this flight. Furthermore, Microsoft will no longer be noting the branches in future flights.
If you are running a Windows 11 machine and subscribed to the Dev channel, you should definitely upgrade to this release using the given guide. But before you do, let us take a detailed look at what the new features are, and whether it's worth upgrading to knowing there are issues with this release as well.
Note: This flight will not be available for ARM64 devices.
Since the Dev channel flights can be unstable, we suggest that you only upgrade to this flight in non-production environments. That said, not all the features in this flight may make their way to the stable channel, as Microsoft often only experiments with some concepts in the Dev channel.
New Features in Windows 11 Insider Preview Build 22557
Users can now create groups, or folders, in the Start Menu using the pinned applications. Simply drag and drop an app icon over another and Windows will automatically create a folder.
Clicking on a folder will then expand it, using which you can access the apps inside of it.
Do Not Disturb
You can now silence the notification banners you see every now and then in the bottom-right corner of the screen. Enabling the Do Not Disturb feature will no longer show any notifications, and you can view them later from the Notification Center.
You can also configure customized rules to automatically enable and disable Do Not Disturb, for example, you can set it to turn on automatically outside of your work hours.
To customize the Do Not Disturb settings, navigate to the following:
Settings app >> System >> Notifications
You can enable and disable Do Not Disturb by clicking the button on the top-right of the Notification Center.
Focus
The Focus feature in Windows allows you to stay focused on your tasks and minimize distractions. This tool integrates with the Clock to set a timer and allows you to play calming music. Enabling Focus also enables Do Not Disturb automatically.
You can enable Focus directly from the Notification Center. Open it up, set a timer for the feature, and then click Start Session or Focus.
The Focus session will then end when the timer ends, or you can manually end it by clicking the End session button,
Furthermore, you can customize the settings for this feature from the following path:
Settings app >> System >> Focus
Windows will now give live captions for files with audio. The captions are automatically generated at the top or bottom of the window, or in a separate floating window, which of course can be resized.
This feature is especially useful for deaf people or people with hearing disabilities. However, the language for these captions is only available in English (U.S.) as of now.
You can enable this feature using the Windows Key + CTRL + L shortcut keys, or from the Accessibility flyout under the Quick Settings.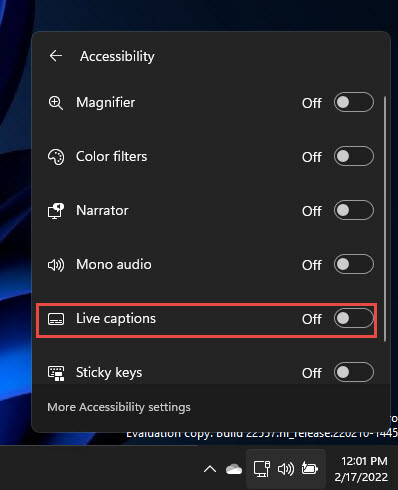 When you enable Live Captions for the first time, you will be prompted to download a package. Download it to continue with the feature.
Quick Access to Android Apps
Windows now allows you to access the last 3 Android apps used on your selected Samsung device directly on your computer. The last 3 apps can be accessed from the Your Phone icon in the Taskbar.
However, this feature is only available for some Samsung devices right now and the following conditions apply:
Your Phone app version 1.21092.145.0 or higher.
A supported Android device which includes the following:

OneUI 3.1.1 or higher.
Link to Windows Service 2.3 or higher
The following Samsung devices meet the phone requirements mentioned above:
Samsung Galaxy Z Fold
Samsung Galaxy Z Flip
Samsung Galaxy S series
Samsung Galaxy Note series
Pin Files to Quick Access in File Explorer
Previously, users were only able to in folders to the Quick Access menu in File Explorer. With this flight, you can now also pin files using the context menu.
Not only that, but users logged in with a Microsoft or Work/Education account can also pin Microsoft Office files to the Quick Access menu.
OneDrive Integrated with File Explorer
Your OneDrive has now been integrated with File Explorer. Users will now no longer need to navigate back and forth from different windows to move their files and folders from the OneDrive cloud storage service.
It is now integrated directly in File Explorer and users can now perform all their functions from one Explorer window directly. You can now see your sync status and quota usage without having to leave File Explorer.
New Touch Gestures
5 new touch gestures have been added to the operating system while using it with a touch screen or in tablet mode. Here are the details:
Swipe to invoke and dismiss Start Menu: Open the Start Menu by swiping your finger upwards from the center of the screen, or swipe it down to close the menu.
Swipe between Pinned/All apps and Recommended/More on Start: Within the Start menu, you can now swipe right to left from Pinned Apps to get to All Apps, and left to right to get back to the Pinned Apps. You can also do the same with Recommend and More Apps.
Swipe to invoke and dismiss Quick Settings: Open the Quick Settings by swiping up to the right side of the Taskbar, or close it by swiping down.
Swipe to invoke and dismiss Notification Center: The animation has been updated when swiping to invoke and dismiss the Notification Center from the right side of the Taskbar.
Full screen gripper: If you swipe from the edge of the screen while a full-screen app or game is opened, you will now see a gripper. his feature is designed to keep you in your app if you accidentally swipe near the edges.
Microsoft warns the users that the sideway swiping instructions are designed for the left to right languages, and are automatically inverted for the right to left languages.
Improved Snap Layouts
Microsoft has improved the window snapping experience with this flight. You can now drag a window to the top of the screen and adjust how the window is displayed from the snap layouts.
Moreover, the snapping animation has also been updated to give a smoother experience.
Power Setting Recommendations
The Settings app will now provide you with recommendations to reduce your system's power consumption, which in turn will reduce carbon emissions – Yes, Microsoft played its environment-friendly card.
You will now be recommended to take action when your computer is configured to consume more power, such as when Hibertaion or Sleep Mode is turned off.
Furthermore, changes to the default Sleep and Screen off have been updated to reduce energy consumption.
You can see these recommendations by navigating to the following. However, these changes can only be seen by the users who have performed a clean install of this build or the ones to come.
Note: Microsoft has not yet released an ISO file for this build for a clean install.
Settings app >> System >> Power and battery
Improvements to Narrator
Microsoft has been improving the Narrator for better accessibility since flight 22509. In this flight, the Narrator has been significantly improved to give a better web browsing experience with Microsoft Edge.
When navigating the web, you can have Narrator read the current item and when you need to sort a table on the web, Narrator will announce the sort order you've selected (e.g., ascending, descending).
When you encounter a dialog box on the web, Narrator will help you stay focused within the dialog box and prevent navigation to the content that's behind it. However, this improvement is currently available in Microsoft Edge Canary builds.
A few other improvements have also been made to the Narrator for when you are editing text on the web.
Efficiency Mode and Redesigned Task Manager
The Task Manager has been redesigned in this build. It now has a modern look to keep in tone with Windows 11.
Moreover, the Efficiency Mode, previously known as "Eco Mode," has now been introduced to the Task Manager. If you find that an app or program is consuming large amounts of system resources, you can select it from the Task Manager and enable the Efficiency Mode to limit its consumption.
This mode can be applied to a group of processes (if supported), or individual processes as well. Once the mode is activated, you will see a leaf icon beside it in the Task Manager. However, if you are unable to activate the Efficiency Mode for a particular process, it is likely that it is a core Windows process and cannot be set to consume limited resources.
This feature may not be available to all Insiders right now, as it is being rolled out gradually.
New PowerShell Module for Language
Users can now easily add languages and language features through the new PowerShell Module, such as System Preferred UI Language, System Locale, Input method (Keyboard), Locale, Speech Recognizer, User Preferred Language List, etc. Here is a list of the new PowerShell cmdlets:
To do this
Command
Install a language on the PC.
Install-Language
Note: Please change your Windows Display Language (WDL) to change the UI language on the PC. You can also change your WDL by using the international module commands (Set-WinUILanguageOverride ).
Get a list of the installed languages on the device, which type of Language Pack is installed, and what Language Features are installed.
Get-InstalledLanguage
Alias: Get-Language
Set a language as the System Preferred UI Language
Set-SystemPreferredUILanguage
Alias: Set-PreferredLanguage, Set-SystemLanguage
Get the value of the current System Preferred Language.
Get-SystemPreferredUILanguage
Alias: Get-PreferredLanguage, Get-SystemLanguage
Note: Additional user accounts created on the same system will reflect the new system language.
Uninstall a language on the PC.
Uninstall-Language
Cmdlets for new PowerShell language module
Drag and Drop Icons on Taskbar
Users can now add and remove apps and programs to the Taskbar simply by dragging and dropping them.
This feature enables you to add content to the apps in the Taskbar, like adding an attachment to an email by dragging it over the Outlook icon in the Taskbar and then dropping it in Outlook's flyout.
Other New Features
Microsoft has also added more features to the operating system with this flight:
[General]
[Taskbar]
[File Explorer]
[Search]

Improvements have been made to make the searching experience through the Search Box in the Taskbar to make it even faster.

[Windowing]

The desktop wallpaper will now be included in the snap groupds to make it easier to differentiate your groups from normal windows.

The transition animation that shows going from one snapped window state to another has been updated for a smoother experience.
Rotating your device between portrait and landscape orientation is snappier, more responsive.
The number of notification sounds that play when you connect and disconnect docks and monitors has been reduced.
It is now easier to move your cursor and windows between monitors, by letting your cursor jump over areas where it would previously get stuck. This behavior can be configured at the following path:
Settings app >> System >> Display >> Multiple displays >> Ease cursor movement between displays
Small changes to the snapping options have been made under Settings app >> System >> Multitasking to help simplify them and make them easier to understand.

[Narrator]
[Voice typing]

You can now choose which microphone to use in voice typing if you have multiple microphones connected to your PC. This feature may not yet be available to everyone as it is being rolled out gradually.
You can now use the following voice commands to perform new actions:
| | |
| --- | --- |
| To insert this | Say this |
| Enter | "Press Enter" |
| Backspace | "Pres Backspace", "Backspace" |
| Space | "Press space", "Insert Space" |
| Tab | "Press Tab", "Tab" |
New voice commands
[Voice access]

A new setting to add punctuation automatically when dictating text has been added.
A new setting to filter profanity has been added which is enabled by default.
It is now easier to use the "show numbers" command as occurrence of number labels hiding the controls on windows UI have been reduced, which made it hard to understand the control under a number.
Feedback messages for unsupported languages have been improved.
Feedback messages for using voice access when you have multiple displays setup have also been improved.
Discoverability of using touch keyboard with voice to enter passwords or PINs, correcting mistakes, and spelling out words using "correct that" and "spell that" commands have been improved.
| | |
| --- | --- |
| To do this | Say this |
| Correct the last dictated text | "Correct that", "Spell that" |
| Correct specific text | "Correct [text]", "Spell [text]" |
Improved voice commands
[Graphics]

Microsoft has expanded Dynamic Refresh Rate (DRR) experiences on laptops with 120Hz refresh rate displays beyond smooth scrolling in Office and low latency inking. When you move the cursor, the system will now boost to 120Hz, making your PC feel more responsive.
Windows HDR Calibration app will be coming to Windows PCs soon, using which you will be able to improve the color consistency and accuracy on HDR displays.
A new "Optimizations" feature has been introduced which is designed to improve latency and unlock other gaming features while playing games. This feature can be enabled from Settings app >> System >> Display >> Graphics >> Change default graphics settings.

[Input]

Microsoft is adding an IME On/Off key to the touch keyboard small layout for the Japanese, Korean, and Chinese Traditional IMEs.

Some emojis have been updated based on user feedback.
New items have been added to the kaomoji section in the emoji panel (Windows Key + .(period)).
Windows 11 now supports Hungarian for handwriting input as of this build.

[Settings]

Improvements have been made to the results when searching in the Settings app.
The size of the icons in the Settings navigation pane has been increased to make them a bit easier to see.
Links have been included in the Settings app to help customers find available programs to give their PC a second life, or recycle it. Some articles may not be localized.
Storage Sense will now be enabled by default for PCs going through Out Of Box Experience (OOBE).
The Settings page for Time & Language category and Date & time have been updated to now include a live digital clock and information about the currently selected option.
The design of Network & Internet >> Dial-up has been updated when you have a connection set up to align with the overall design of Windows 11.
Some adjustments to Personalization >> Fonts have been made to improve the design of the page.

[Windows Sandbox]

Aligning with Hyper-V behavior, even if you're not in full screen mode, modifier keys and shortcuts (for example Windows key shortcut) will now be intercepted by Windows Sandbox if the window has focus.
Windows Sandbox now supports basic environment variable usage (like %USERPROFILE%) inside in mapped folder paths.
Other Improvements and Fixes
Some other changes and fixes have also been made with this flight:
[General]

A recurring backgroundTaskHost.exe issue some Insiders were experiencing has been fixed.
An issue leading to auto HDR not activating as expected in certain games has been taken care of.
An lsass.exe crash problem that was resulting in some Insiders seeing crashes on the login screen has been fixed.
An issue that was leading to noticeably distorted audio for audio devices connected using the Xbox Wireless Adapter has been addressed.

[Taskbar]

Task View should no longer crash if you hold the CTRL key while hovering over it.
Dragging a file across the Taskbar on secondary monitors should no longer cause an explorer.exe crash.

[File Explorer]

The Storage Usage button in the Properties dialog for a disk has been updated to now be called "Details, " and made it a little wider, to accommodate for languages where the button text was getting truncated.
The performance of deleting files in the Recycle Bin has been improved.
The Blu-ray icon has been fixed so it aligns with the other drive and volume icons.

[Input]

An issue where the IME candidate window was unexpectedly not following your preference of light or dark mode has been fixed.
An issue leading to some elements of the voice typing settings flyout to be invisible in dark mode has been fixed.
The IME candidate window should appear as expected now in the username field of a UAC prompt.
The term "Halfwidth alphanumeric / Direct Input" has been updated to just say "Halfwidth Alphanumeric" in the Japanese IME context menu.
An issue where after typing hiragana in Kana-input mode if there was a half-width alphabet character before the hiragana in composition it would unexpectedly become full-width has been addressed.
A rare issue has been addressed where the input switcher might unexpectedly list the same entry twice.
An issue leading to an unexpected black box that was occasionally appearing in the input switcher has been fixed.
The input switcher has been updated so it can get a bit taller now for people with more than 4 keyboards.
A memory leak in the input switcher leading to explorer.exe crashing after repeated rapid use has been fixed.
An explorer.exe crash when clicking on More Keyboard Settings in the input switcher has been mitigated.
An issue where the emoji panel might show "you're offline" even though you had network connectivity has been fixed.
An issue where the multiply emoji and counterclockwise arrows button emoji were displaying the design for the wrong emoji has been addressed.
The preview in the Personalization >> Text input Settings page has been updated to reflect your desktop wallpaper rather than the default.
The reliability of the Stop media key when media is playing has been improved.

[Voice access]

A Visual C++ Runtime mismatch causing voice access to not run on some PCs has been fixed.

[Search]

A high hitting search crash has been mitigated.
Clicking the search box in the Start Menu will now immediately switch over to Search without showing the Search window animate in upwards, just like when you press the Windows key and start to type.

[Settings]

An issue where Narrator wasn't reading the elements of System >> Storage correctly has been addressed.
The broken "size and theme" link under Time & Language >> Typing >> Touch keyboard has been fixed.
The performance when updating accent color or mode has been improved.
A change has been made to help reduce clipping in combo boxes in the Settings for certain languages and text sizes.
An issue that was causing the icons on the IME settings pages to sometimes be white on white has been fixed.
An issue leading to the install button having truncated text in some languages when previewing fonts has been mitigated.
An underlying crash that was causing the preview video on System >> Display >> HDR to be distorted has been fixed.
An underlying issue that could make Settings crash when you scrolled the window has been taken care of.
The Wi-Fi icon in the Wi-Fi section of Quick Settings has been adjusted so that the lock shown for a secured network now has a small separation from the Wi-Fi strength, making it a bit easier to distinguish.

[Windows Spotlight]

"Spotlight collection" is now being named "Windows Spotlight."
A change has been made to help make Windows Spotlight update images more reliably.
Rather than showing a solid color background, if for some reason new Windows Spotlight images aren't available for the desktop, it will now fall back to showing the default Windows Spotlight background image (Whitehaven Beach).
Right-clicking on "Learn more about this picture" for Windows Spotlight on the desktop will now always show all options, but will be greyed out if they're not currently available.
When hovering over "Learn more about this picture", the tooltip should now be more consistently aligned with the current image.

[Windowing]

An issue that was causing the minimize, maximize, and close buttons in File Explorer and some other apps to be invisible in certain cases has been fixed.
An issue leading to performance impact when dragging windows with acrylic and other scenarios with acrylic has been mitigated.
You should no longer see a briefly visible yellow border when taking screenshots.
Some improvements have been made to address feedback that windows were repositioning unexpectedly.

[Network]

An issue that might cause certain VPN connections to fail has been addressed.
An issue that was leading to decreased Wi-Fi speeds after waking your PC from sleep in the previous flight has been fixed.

[Narrator]

When backspacing, Narrator will now more consistently announce when you're deleting characters with backspace.
An issue causing Narrator not to read selected text in the Feedback Hub has been addressed.
With these new features, improvements, and fixes, there are also several new known issues we think you should know about before upgrading to it.
Known Issues
[General]

When going through the device setup experience (OOBE) on an Enterprise edition, the network add screen will be skipped on the first attempt. As a workaround, when you see the "name your computer" option, reboot your computer and re-start OOBE. The network add screen should now appear as expected.

[Start]

Names of apps in folders may appear blurred briefly when opening folders in the Start Menu.

[Taskbar]

The Taskbar will sometimes flicker when switching input methods.

[File Explorer]

Searches from Quick Access may not work.
Microsoft is currently working on fixing issues regarding icon sizing, visual bugs, and text clipping in the flyout showing OneDrive storage.

[Focus]

The Taskbar icon and tooltip may not match the focus state.
Clock app integration requires an app update that is starting to become available today. Most users should get this update automatically, but you can check for app updates manually by navigating to Microsoft Store >> Library and clicking Get updates.
The Clock app does not yet update Windows Focus state when configuring focus sessions within the app. This will be addressed in a future app update.

[Search]
[Widgets]

With the Taskbar is left-aligned, information such as temperature is not shown. This will be fixed in a future update.

[Live captions]

Certain apps in full screen (e.g., video players) prevent live captions from being visible.
Certain apps positioned near the top of the screen and closed before live captions is run will re-launch behind the live captions window positioned at top.
The very top of maximized apps (e.g., title bar window management buttons) can't be reached with touch while live captions is positioned at the top.

[Task Manager]

The Efficiency Mode icon is missing on some child processes.
Some settings options are not preserved.
Microsoft is working on fixing issues regarding icon size and visual bugs. In most cases the workaround is to either resize Task Manager or lower the resolution settings from Settings >> Display >> Display resolution.
Task Manager has limited keyboard support in navigation and command bar. Users may be unable to navigate the UI using the keyboard due to limited support.
How to Install Windows 11 Build 22557
Since it is an Insider release, standalone updates have not been published by Microsoft yet.
To install this update, you already need to be running Windows 11 and subscribed to the Dev channel. If you have enabled Windows updates, you will automatically get a "New features are ready to install" prompt.
If you want to install Windows 11, you can follow this guide here.
Follow the steps below to upgrade to this build:
Navigate to the Settings app and then click Windows Update on the left.
You will then see the following update available under Updates available to download:
Windows 11 Insider Preview 22557.1 (ni_release)
Click Download & install in front of it.


Once the computer restarts, you can verify that the OS has been updated by typing in winver in Run.
Rollback/Remove Windows 11 Insider Preview Update
If you do not wish to keep the installed preview update for some reason, you can always roll back to the previous build of the OS. However, this can only be performed within the next 10 days after installing the new update.
To roll back after 10 days, you will need to apply this trick.
Cleanup After Installing Windows Updates
If you want to save space after installing Windows updates, you can run the following commands one after the other in Command Prompt with administrative privileges:
dism.exe /Online /Cleanup-Image /AnalyzeComponentStore
dism.exe /Online /Cleanup-Image /StartComponentCleanup
Windows 11 Insider Preview updates history
| Build | Release Date | Features added |
| --- | --- | --- |
| Windows 11 Build 25227 | 19-Oct-22 | Improvements to Windows Update management, pop-up trailer preview in Microsoft Store, monoline icons in widgets board. |
| Windows 11 Build 25217 | 6-Oct-22 | Supports third-party widgets, new video calling experience in the taskbar, Simplified Chinese IME cloud suggestions, and Microsoft Store improvements |
| Windows 11 Build 25211 | 29-Sep-22 | New Widget Settings and Widget Picker, New Outlook for Windows experience, Task Manager in the taskbar context menu |
| Windows 11 Build 25206 | 21-Sep-22 | SMB authentication rate limiter and dynamic refresh rate |
| Windows 11 Build 25201 | 14-Sep-22 | Expandable widgets board and sign-in option in Game Pass widget |
| Windows 11 Build 25197 | 8-Sep-22 | Tablet-optimized taskbar restored, animated icons introduced in the Settings app, system tray icons updated |
| Windows 11 Build 25193 | 1-Sep-22 | New Braille support for Narrator and Xbox subscription management from the Settings app |
| Windows 11 Build 25188 | 24-Aug-22 | Intelligent touch keyboard when the physical keyboard detached |
| Windows 11 Build 25169 | 28-Jul-22 | Added App lockdown feature |
| Windows 11 Build 25126 | 25-May-22 | Improved account settings page |
| Windows 11 Build 25120 | 18-May-22 | Added search widget on Desktop/ |
| Windows 11 Build 25115 | 11-May-22 | Added suggested actions feature |
| Windows 11 Build 22616 | 5-May-22 | Improved Xbox controller bar |
| Windows 11 Build 22598 | 13-Apr-22 | Improved Windows Media Player, Windows Spotlight default background |
| Windows 11 Build 22593 | 6-Apr-22 | Homepage to Windows Explorer |
| Windows 11 Build 22579 | 18-Mar-22 | Allows naming start menu folders |
| Windows 11 Build 22572 | 9-Mar-22 | Introducing Microsoft Family and Clipchamp |
| Windows 11 Build 22567 | 2-Mar-22 | Smart App Control, Focuses On Renewable Energy |
| Windows 11 Build 22557 | 16-Feb-22 | Folders of pinned apps, DnD, Focus, Live captions, quick access to Android apps, pin files to Quick Access, and more. |
Windows 11 Insider Preview dev channel updates history