Windows 11 Build 22593 Introduces Home Page To Windows Explorer
The Dev and Beta channels have been updated with Windows 11 Insider Preview Build 22593. Although this flight…
The Dev and Beta channels have been updated with Windows 11 Insider Preview Build 22593. Although this flight does not bring any significant new features, it does bring along a plethora of fixes for the Windows 11 operating system.
We would also like to remind our readers that since both the Dev and Beta channels are receiving the same updates, this is your window if you want to shift your channel to Beta. The Dev channel receives experimental features which might not make their way to the stable channel, whereas the Beta channel receives features that are more likely, but not necessary, to be released with the stable flight.
Let us now discuss the new features and improvements in this release and also take a peek at its issues, using which you can then decide whether to upgrade to this build or not.
Table of contents
New in Windows 11 Build 22593
Introduction of Home Page in File Explorer
The first page you see when you open File Explorer is now called "Home." This is also what you will see instead of "Quick Access" in the sidebar. "Quick Access" has been repurposed to show the frequently accessed and the pinned folders, while the "Pinned files" is now called "Favourites."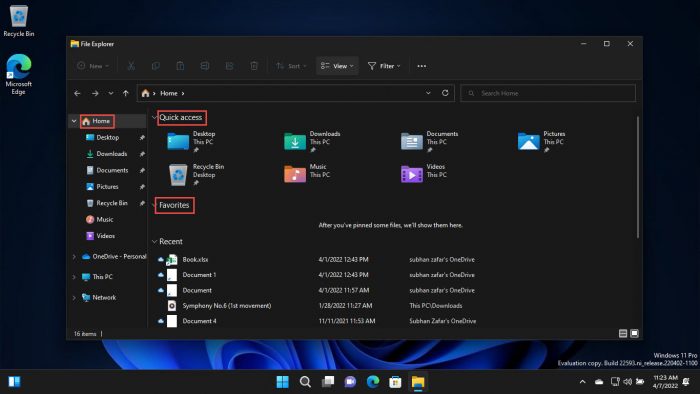 Other New Features
Other Improvements and Fixes
Other changes and fixes have also been made with this flight:
With these new features, improvements, and fixes, there are also several new known issues we think you should know about before upgrading to it.
Known Issues
How to Install Windows 11 Build 22593
To install this update, you need to be running Windows 11 and subscribed to the Dev and Beta channel. If you have enabled Windows updates, you will automatically get a "New features are ready to install" prompt.
If not, follow these steps to upgrade to Preview Build 22593:
Once the computer restarts, you can verify that the OS has been updated by typing in winver in the Run Command box.
Rollback/Remove Windows 11 Insider Preview Update
If you do not wish to keep the installed preview update for some reason, you can always roll back to the previous build of the OS. However, this can only be performed within the next 10 days after installing the new update.
To roll back after 10 days, you will need to apply this trick.
Cleanup After Installing Windows Updates
If you want to save space after installing Windows updates, you can run the following commands one after the other in Command Prompt with administrative privileges:
DISM.exe /Online /Cleanup-Image /AnalyzeComponentStore
DISM.exe /Online /Cleanup-Image /StartComponentCleanup
Windows 11 Insider Preview updates history
| Build | Release Date | Features added |
| --- | --- | --- |
| Windows 11 Build 25227 | 19-Oct-22 | Improvements to Windows Update management, pop-up trailer preview in Microsoft Store, monoline icons in widgets board. |
| Windows 11 Build 25217 | 6-Oct-22 | Supports third-party widgets, new video calling experience in the taskbar, Simplified Chinese IME cloud suggestions, and Microsoft Store improvements |
| Windows 11 Build 25211 | 29-Sep-22 | New Widget Settings and Widget Picker, New Outlook for Windows experience, Task Manager in the taskbar context menu |
| Windows 11 Build 25206 | 21-Sep-22 | SMB authentication rate limiter and dynamic refresh rate |
| Windows 11 Build 25201 | 14-Sep-22 | Expandable widgets board and sign-in option in Game Pass widget |
| Windows 11 Build 25197 | 8-Sep-22 | Tablet-optimized taskbar restored, animated icons introduced in the Settings app, system tray icons updated |
| Windows 11 Build 25193 | 1-Sep-22 | New Braille support for Narrator and Xbox subscription management from the Settings app |
| Windows 11 Build 25188 | 24-Aug-22 | Intelligent touch keyboard when the physical keyboard detached |
| Windows 11 Build 25169 | 28-Jul-22 | Added App lockdown feature |
| Windows 11 Build 25126 | 25-May-22 | Improved account settings page |
| Windows 11 Build 25120 | 18-May-22 | Added search widget on Desktop/ |
| Windows 11 Build 25115 | 11-May-22 | Added suggested actions feature |
| Windows 11 Build 22616 | 5-May-22 | Improved Xbox controller bar |
| Windows 11 Build 22598 | 13-Apr-22 | Improved Windows Media Player, Windows Spotlight default background |
| Windows 11 Build 22593 | 6-Apr-22 | Homepage to Windows Explorer |
| Windows 11 Build 22579 | 18-Mar-22 | Allows naming start menu folders |
| Windows 11 Build 22572 | 9-Mar-22 | Introducing Microsoft Family and Clipchamp |
| Windows 11 Build 22567 | 2-Mar-22 | Smart App Control, Focuses On Renewable Energy |
| Windows 11 Build 22557 | 16-Feb-22 | Folders of pinned apps, DnD, Focus, Live captions, quick access to Android apps, pin files to Quick Access, and more. |
Windows 11 Insider Preview dev channel updates history
Also see: