Microsoft has made a significant difference in the gaming world for desktop computers with their Windows 11 Insider Preview Build 25174. The update has been published to the Dev channel for Insiders which includes a plethora of fixes, as well as introduces a new Game Pass widget for PC.
If you have owned an Xbox or currently own one, you must be familiar with Xbox Game Pass. For those who are not – it is a platform that allows you to subscribe to and play hundreds of games without owning any of them. Microsoft has now introduced a widget called "PC Game Pass" on Windows 11 that allows you to do the same on a computer.
Furthermore, this update also includes updates for the operating system but simultaneously brings several new known issues along with existing ones. Let us discuss these features and issues in detail before digging into how to install the update.
New in Windows 11 Build 25174
PC Game Pass Widget
As mentioned earlier, Microsoft has released the PC Game Pass widget for Windows 11 with Build 25174. With this widget, Windows 11 users can access a library with hundreds of games to choose from, install, and play. Furthermore, it will also display other information like the games leaving the library soon, the latest additions to the library, and other highlights.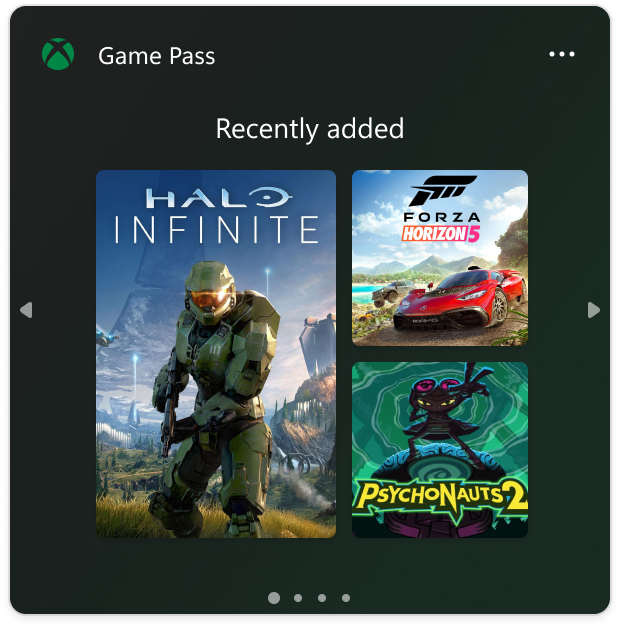 Microsoft states that since they are still working on the widget, new features are to be expected soon with future flights.
You can access the Game Pass widget through the widgets board in the taskbar. You can bring up the widgets board by clicking the left corner of your taskbar or by using the Win + W shortcut keys. Then, click on the "+" sign at the top, and click "+" beside the Game Pass widget to add it to your PC.
Note: The PC Game Pass widget is still being rolled out gradually, which is why not everyone might see it immediately.
Other Improvements and Fixes
Other changes and fixes have also been made with this flight:
[File Explorer]

Middle-clicking a folder in the navigation pane of File Explorer will now open it in a new tab, like clicking a folder in the body of File Explorer already does.
An issue that could cause explorer.exe to crash when opening new File Explorer windows has been fixed.
An issue where launching File Explorer in certain ways when using dark mode was showing the body of File Explorer unexpectedly in light mode has been addressed.

An issue where the left/right arrows in File Explorer were in light mode when you were using dark mode, causing them to not have enough contrast to show when they were enabled, has been fixed.
An issue where the dividers in the navigation pane were overlapping/drawing too close to text sometimes has been addressed.
An issue where if you drag and drop a folder into the navigation pane was sometimes unexpectedly putting the folder at the bottom of the list rather than where you'd dropped it has been fixed.
An issue causing UI issues in File Explorer when using the F11 function key to put File Explorer in full-screen mode has been addressed.

[Taskbar]

An issue leading to various system tray elements being unexpectedly missing for some Insiders on the previous build (Build 25169) has been addressed.

[Settings]

A crash has been fixed on some PCs that were experiencing when navigating to System >> Storage >> Disks & Volumes.

[Other]

An issue that was leading to mouse and keyboard input not working correctly in certain games in the last 2 flights has been addressed.
An issue believed to be leading to SQL Server Management Studio failing to launch for some Insiders has been fixed.
An issue where Memory Integrity in Windows Security might show a warning saying it couldn't be enabled due to incompatible drivers, but the incompatible drivers' list would be blank, has been fixed.
An issue that was causing some apps to unexpectedly not launch in the last few flights when core isolation was enabled in Windows Security has been fixed.
With these new features, improvements, and fixes, there is also a known issue with this flight.
Known Issues
[General]

Some games that use Easy Anti-Cheat may crash or cause your PC to bugcheck.
There are reports that the audio stopped working for some Insiders after upgrading to the last flight.
An issue leading to some Insiders experiencing a decrease in FPS when playing certain games in recent flights due to the wrong graphics card being used.
There are reports of a few different apps having started crashing in recent builds.

[File Explorer]

The left-half of the File Explorer title bar may not be draggable via mouse or touch.
The up arrow is misaligned in the File Explorer tabs.
There is an issue causing Home, Documents, Pictures, and potentially other folders to become unexpectedly duplicated in File Explorer's navigation pane or appear on the desktop.
There is an issue where the search box background in File Explorer might be the opposite color of your current mode.
There is an issue causing the delete key to unexpectedly not work on files in File Explorer.

[Widgets]

The notification badge number may appear misaligned on the taskbar.
In some cases, the notification banner for some badging will not appear in the widgets board.
There's an issue causing Widgets preferences (temperature units and pinned widgets) to unexpectedly get reset to default.

[Printing]

There's an issue causing hangs and crashes when trying to print from certain apps (like Excel) in the recent flights.
There are reports in recent Dev Channel flights, lines aren't included when printing tables from certain apps.
Some of these issues have existed for a few flights. However, a majority of them are new to this update or are related to the last preview flight.
How to Install Windows 11 Build 25174
To install this update, you need to be running Windows 11 and subscribed to the Dev channel. If you have enabled Windows updates, you will automatically get a "New features are ready to install" prompt.
If not, follow these steps to install the update:
Once the computer restarts, you can verify that the OS has been updated to the build specified by typing in winver in the Run Command box.
Rollback/Remove Windows 11 Insider Preview Update
If you do not wish to keep the installed preview update for some reason, you can always roll back to the previous build of the OS. However, this can only be performed within the next 10 days after installing the new update.
To roll back after 10 days, you will need to apply this trick.
Cleanup After Installing Windows Updates
If you want to save space after installing Windows updates, you can run the following commands one after the other in Command Prompt with administrative privileges:
DISM.exe /Online /Cleanup-Image /AnalyzeComponentStore
DISM.exe /Online /Cleanup-Image /StartComponentCleanup
Windows 11 Insider Preview updates history
| Build | Release Date | Features added |
| --- | --- | --- |
| Windows 11 Build 25227 | 19-Oct-22 | Improvements to Windows Update management, pop-up trailer preview in Microsoft Store, monoline icons in widgets board. |
| Windows 11 Build 25217 | 6-Oct-22 | Supports third-party widgets, new video calling experience in the taskbar, Simplified Chinese IME cloud suggestions, and Microsoft Store improvements |
| Windows 11 Build 25211 | 29-Sep-22 | New Widget Settings and Widget Picker, New Outlook for Windows experience, Task Manager in the taskbar context menu |
| Windows 11 Build 25206 | 21-Sep-22 | SMB authentication rate limiter and dynamic refresh rate |
| Windows 11 Build 25201 | 14-Sep-22 | Expandable widgets board and sign-in option in Game Pass widget |
| Windows 11 Build 25197 | 8-Sep-22 | Tablet-optimized taskbar restored, animated icons introduced in the Settings app, system tray icons updated |
| Windows 11 Build 25193 | 1-Sep-22 | New Braille support for Narrator and Xbox subscription management from the Settings app |
| Windows 11 Build 25188 | 24-Aug-22 | Intelligent touch keyboard when the physical keyboard detached |
| Windows 11 Build 25169 | 28-Jul-22 | Added App lockdown feature |
| Windows 11 Build 25126 | 25-May-22 | Improved account settings page |
| Windows 11 Build 25120 | 18-May-22 | Added search widget on Desktop/ |
| Windows 11 Build 25115 | 11-May-22 | Added suggested actions feature |
| Windows 11 Build 22616 | 5-May-22 | Improved Xbox controller bar |
| Windows 11 Build 22598 | 13-Apr-22 | Improved Windows Media Player, Windows Spotlight default background |
| Windows 11 Build 22593 | 6-Apr-22 | Homepage to Windows Explorer |
| Windows 11 Build 22579 | 18-Mar-22 | Allows naming start menu folders |
| Windows 11 Build 22572 | 9-Mar-22 | Introducing Microsoft Family and Clipchamp |
| Windows 11 Build 22567 | 2-Mar-22 | Smart App Control, Focuses On Renewable Energy |
| Windows 11 Build 22557 | 16-Feb-22 | Folders of pinned apps, DnD, Focus, Live captions, quick access to Android apps, pin files to Quick Access, and more. |
Windows 11 Insider Preview dev channel updates history