KB5030310 is an optional update and needs to be installed manually.
This is the "Moment 4" update as it introduces new features expected in Windows 11 23H2 to Windows 11 22H2, including Windows Copilot, revamped File Explorer, and more.
Microsoft has published KB5030310 for Windows 11 22H2 as a preview update. This means that you must install it manually unless the automatic installation of optional updates has been enabled.
This release is also referred to as the "Moment 4" update since it introduces several major new features that are anticipated in the 4th major release since the Windows 11 original release expected to be released on the 10th of October.
In the excitement of the forthcoming Windows 11 version 23H2, KB5030310 is an early preview release that introduces new features, like Windows Copilot and revamped File Explorer, from the upcoming version into the current 22H2 version. This is so that Microsoft can beta-test these features and make any corrections before the public release.
You can download and install KB5030310 from Windows Update or using the direct download links provided below. Installing this update will upgrade your operating system's build to 22621.2361.
Note that if you want to install this update and enjoy the Windows 11 23H2 features before everyone else, then you must install the Windows Configuration Update first.
Note: KB5030301 has also been released as an optional update, but applies to Windows 11 version 21H2. It introduces similar fixes to KB5030310, except for the new 23H2 features. Additionally, this is the final optional, non-security update for Windows 11 22H2, and no further will be released.
KB5030310 Release Summary
KB Article: KB5030310
OS Version: Windows 11 version 22H2
Build: 22621.2361
Size: 601.2 MB
Release Date: 26th September 2023
New in KB5030310
KB5030310 is a non-security update and only includes new features and addresses existing issues. Here are the highlights of the new features that it introduces.
Windows Copilot
With AI integration all around, Microsoft has also included it in Windows 11 23H2. Copilot allows you to directly interact with AI and increase your productivity on the go.
After installing the KB5030310 optional update, you can get hands-on with Windows Copilot. Use the Windows Key + C shortcut keys from anywhere inside Windows and get cracking with Copilot.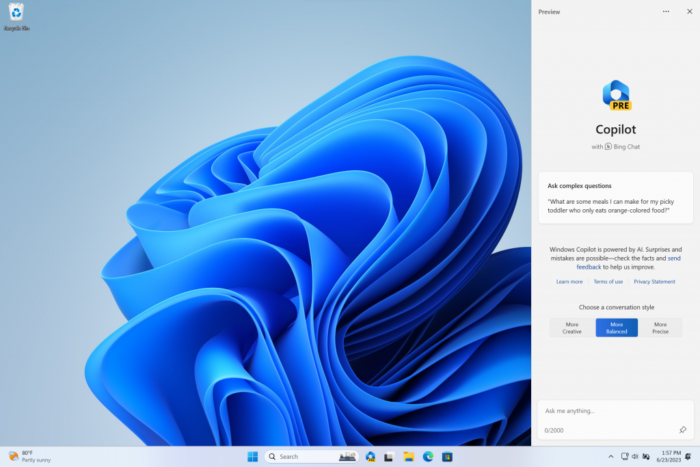 Dev Drive
Dev Drive is a new feature introduced to Windows 11 23H2. Using this technology, users can create specialized drives, or volumes, that perform better than the regular partitions.
This feature is specifically targeted toward developers. Targeted file system optimizations are implemented using ReFS, and it offers additional administrative control over security settings and storage volume settings, such as trust designation, antivirus setup, and administrative control over the associated filters.
To set up, create, and manage Dev Drives, go to Settings > System > Storage> Disks & volumes.
Learn all about Dev Drive and how to set it up.
Voice Access
Windows 11 23H2 introduces a bundle of new voice capabilities. It expands on the commands that you can now provide to the Windows OS, and it will respond accordingly.
For example, you can now say "Correct that", and Windows will open a correction pop-up with numbered options.
Other features, improvements, and fixes in KB5030310
Other than these key features, Microsoft also introduces the following list of features and fixes to Windows 11 22H2 with KB5030310:
[Features]

Introduces personalized websites to the Recommended section of the Start menu, based on the browsing history. To turn off the feature, go to Settings > Personalization > Start.

Passkey is now supported.
Paint Cocreator introduces a text-to-image function.
File Explorer includes a "Gallery" to simplify photo access.
Clipchamp includes automated video creation.
The Windows Backup app has been introduced for seamless data backup and restoration.
Presence Sensing features are improved, like 'Adaptive Dimming'.
The Photos app now boasts advanced editing capabilities.
The Narrator now employs natural, human-like voices and supports new languages.
The Snipping Tool includes support for audio and mic.

[Fixes and changes]

This update addresses an issue that affects Microsoft Excel. It stops responding when you try to share a file as a PDF in Outlook.
This update addresses an issue that affects the Korean touch keyboard. It completes the first character in the search box on the taskbar. This is not expected.
This update addresses an issue that affects the search box tooltip. It does not appear in the correct position.
This update addresses an issue that affects the search button. It disappears when you interact with the search flyout box.
This update addresses an issue that affects sleep mode. After you resume from sleep, a blank window appears that has the title "Windows Input Experience."
This update addresses an issue that affects iCloud Calendar and Contacts. Outlook fails to properly sync them when you use the iCloud for Windows app. To resume syncing, follow the steps in this Apple Support article.
This update completes the work to comply with the GB18030-2022 requirements. It removes and remaps characters for Microsoft Wubi input and Microsoft Pinyin U-mode input.
This update supports daylight saving time (DST) changes in Greenland.
This update changes the spelling of Ukraine's capital from Kiev to Kyiv.
This update addresses an issue that affects account lockout event 4625. The format of the event is wrong in the ForwardedEvents log. This occurs when an account name is in the user principal name (UPN) format.
This update affects the Key Distribution Center (KDC) and user security identifiers (SID).
This update addresses an issue that is related to changes in the forwarding of events.
This update addresses an issue that affects events that have a TAB character. The events do not render, or you cannot forward them.
This update addresses an issue that affects XPath queries on FileHash and other binary fields. It stops them from matching values in event records.
This update addresses an issue that affects an Application Virtualization (App-V) environment. Copy operations within it stop working. This occurs after you install the April 2023 update.
This update addresses an issue that affects Microsoft Print to PDF.
This update addresses an issue that affects some USB printers. Microsoft Defender stops them from printing.
This update addresses an issue that affects Windows Defender Application Control (WDAC). AppID Tagging policies might greatly increase how long it takes your device to start up.
This update addresses an issue that affects IMEPad. It stops working. This occurs when you enter end-user-defined characters (EUDC).
This update addresses an issue that affects Remote Apps. The display of some elements is not aligned correctly.
This update addresses an issue that affects the Microsoft Distributed Transaction Coordinator (DTC). It has a handle leak. Because of this, the system runs out of memory.
This update addresses an issue that might make Windows stop responding. This might occur if you use Microsoft OneDrive files that are compressed by NTFS.
This update addresses an issue that might cause a user-mode memory leak. It might occur when you call CopyFile() or MoveFile().
This update addresses an issue that affects application compatibility. It is related to Microsoft Defender for Endpoint.
This update addresses an issue that affects external binding. It fails.
With these fixes and improvements, there are currently no known issues with this release. However, there are a few with stable updates to Windows 11. You can read more about them here:
Windows 11 Known Issues and Fixes
Download and install Windows 11 KB5030310
This optional non-security update can be installed through Windows Update and standalone installers.
We have given the direct download links to the standalone installers below, using which you can install the update on your respective Windows 11 version, or you can simply update to the latest build using Windows Update through the given guide below.
Offline Installers
Download KB5030310 Cumulative Update Preview for Windows 11 Version 22H2 64-Bit [601.2 MB]
Download KB5030310 Cumulative Update Preview for Windows 11 Version 22H2 ARM64 [715.9 MB]
To install the update, simply run the downloaded MSU file and Windows will automatically install the update. To download any other updates related to any of the above, please check the Microsoft Catalog.
Windows Update
To install this update via Windows Update, you need to be running Windows 11 version 22H2. To check your version of the operating system, type in "winver" in the Run Command box and press Enter. You must also install the Windows Configuration Update.
Once ensured you have the right OS version, perform the following steps to install KB5030310:
Once the computer restarts, the update will be successfully installed. To confirm this, check the updated build number by typing in "winver" in the Run Command box.
Rollback/Remove Windows 11 Cumulative Update
If you do not wish to keep the installed update for some reason, you can always roll back to the previous build of the OS. However, this can only be performed within the next 10 days after installing the new update.
To roll back after 10 days, you will need to apply this trick.
Cleanup After Installing Windows Updates
If you want to save space after installing Windows updates, you can run the following commands one after the other in Command Prompt with administrative privileges:
dism.exe /Online /Cleanup-Image /AnalyzeComponentStore
dism.exe /Online /Cleanup-Image /StartComponentCleanup
Block KB5030310 from installing
Although this is an optional update, which means that it won't install without you manually pressing any buttons. However, you can completely block it from installing, both temporarily or permanently, using these steps:
Download the "Show or hide updates" tool from Microsoft.

Select the updates you want to block and click Next.

List of updates to hide

This automatically hides the update from Windows Update and it will not be installed during the next update process.

Click the Close button.
If you want to unhide or show hidden updates, run the tool again and select "Show hidden updates" instead of "Hide updates." The rest of the process is the same.
Windows 11 KB5030310 Moment 4 Hands-on
To begin, Windows 11 KB5030310 had to be installed manually. It was a bit larger and therefore took its time to download and then install. However, the process went smoothly.
Once installed, and as the computer booted up, there were initially no significant differences. However, after exploring the new features, we found that many of them had not been disclosed by Microsoft in the release notes for KB5030310, or the configuration update released earlier.
In the Settings app, we noticed a new tab in the side panel with the tag "Home." This is a new Settings page that combines several existing Settings pages, including the Microsoft account information, recent settings that you may have accessed, and some personalization options.
We also noticed other changes, like the revamped File Explorer, Windows Copilot, and other functionality mentioned in the post above. All-in-all, it was a good experience after installing KB5030310, and look forward to Windows 11 version 2023 (23H2).
Windows 11 optional non-security update history
Changelog for Windows 11 optional non-security preview updates