Microsoft removed Windows Media Center from Windows 10. It is only available for Windows 8.1 or earlier. Windows 10 users can get Windows Media Center (WMC) from unofficial sources which we will describe in this article.
What is Windows Media Center?
Windows Media Center is an all in one multimedia app for recording and playing videos and audio. One of the main benefit of Windows Media Center is that it can play streaming video onto the computer or the television from services like Netflix.
Technically, Windows Media Center is a media player just like Windows Media Player but with more functionality. Additional functionality includes playing TV through TV Tuner, recording, DVD Player, old MPEG-2 video support, etc.
You can learn more about Windows Media Center on Wikipedia.
Most of the times, WMC was used as a DVD player. That's why Microsoft has replaced Windows Media Center with a DVD player app in Windows 10. The DVD player app can be installed through Windows Store.
Download Windows Media Center for Windows 10
Some people have extracted Windows Media Center files from earlier versions of Windows and created an installer to install Windows Media Center on Windows 10. You can download Windows Media Center from below:

  Windows Media Center for Windows 10 (Version 8.8.4) (86.2 MiB, 36,559 hits)
Note: Please note that this is a custom installation and is not from Microsoft itself. I have scanned it for viruses and have not found anything. I have also installed the executable on multiple systems and encountered no issues. I have installed it on Windows 10 version 1809 and Windows 10 version 1903 without any issues.
Install Windows Media Center on Windows 10
Once you have downloaded the WHC set from above mentioned link, you can install it on your Windows 10 system. Here is how:
Extract the downloaded zip file to a folder and run the files as follows:
Run _TestRights.cmd with administrative privileges. This will open a new command prompt window.
Run InstallerBlue.cmd to install blue skin of WMC or InstallerGreen.cmd to install green skin of WMC.

Once the installation is complete, open Windows Media Center from the Start Menu.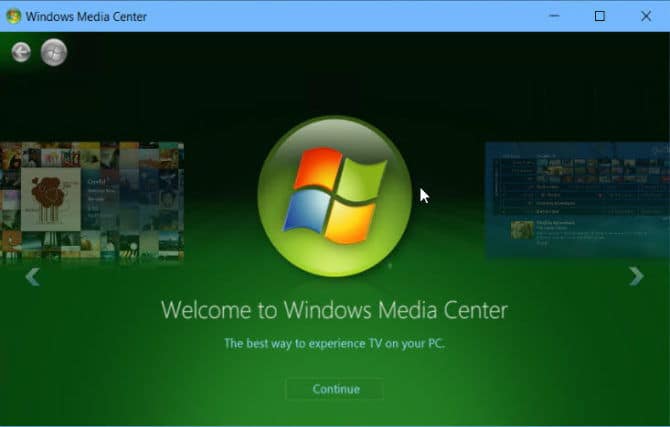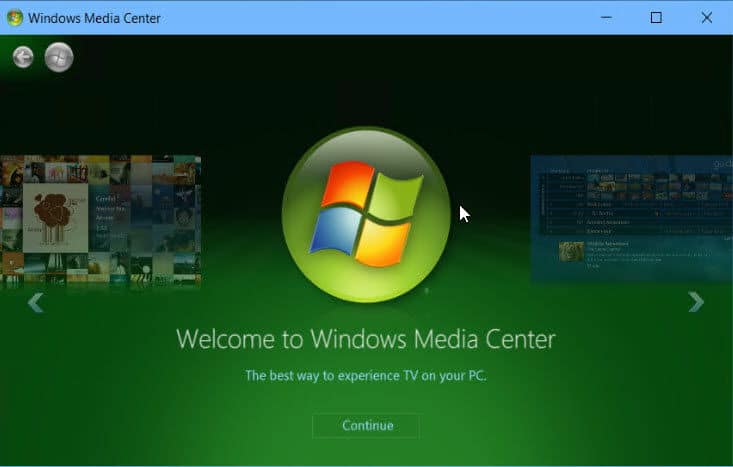 Using Windows Media Center is the same as the original one. All functionality of WMC will be intact and you can use any feature for free.
If you want to uninstall Windows Media Center, just run Uninstaller.cmd from the extracted folder.
Do you like Windows Media Center? Or you use alternatives for WMC? Let us know in the comments below.