Information security is an important part of any business. Businesses require data to keep on running, whether it be data at rest or data in motion. In this article, we discuss data loss prevention DLP software (free and paid) which any business can use to safeguard important data.
It can be a huge loss for any business if its sensitive data is compromised or lost accidentally or maliciously. While there is always a need for backing up everything that a business needs (with mechanisms of data recovery), data protection solution is another important aspect for business continuity.
DLP refers to strategy businesses and organizations use to ensure critical data, intellectual property, and information does not end outside the corporate walls. However, the term also extends to software that is used to control who has access to data that might be considered as sensitive.
We will go through some frequently asked questions first and head towards the DLP software list for your organization.
What is DLP security?
Data Loss Prevention (DLP) or data leakage prevention is a means to limit sensitive data movement outside an organization's networks. To protect your data, you need to take DLP security seriously.
How does DLP work?
DLP will analyze your data and help you identify what is sensitive and take the appropriate action depending on the rules you have configured. Some software comes with a preset of rules for you to get started. DLP works by digital communication behavior analysis, user activity monitoring, network traffic monitoring and even protecting sensitive data from backup software.
The biggest benefit of an enterprise data loss prevention software is that it can display all the monitoring information on a single console (centrally managed).
What exactly are DLP tools?
Data Loss Prevention tools will help you identify and tag sensitive information that your company should not share with other parties.
Enterprise data protection solutions or enterprise DLP systems can employ a no. of machine learning and AI mechanisms on data wherever possible for any potential data breach. They can automatically employ data classification and data analytics for any type of data threat protection including cloud access, cloud security, social media, web security, endpoint encryption and protection, mobile devices, and other information protection.
If your company deals directly with customers, most likely your company is handling sensitive data, which could be your customer's address or their credit card information. Therefore, in order to comply with regulations, especially in Europe and the United States, DLP comes in handy. DLP tools can monitor almost every aspect of a network including emails, network sharing, source code, cloud data, Internet sharing, Instant messaging, USB storage etc.
Best Free DLP Software
OpenDLP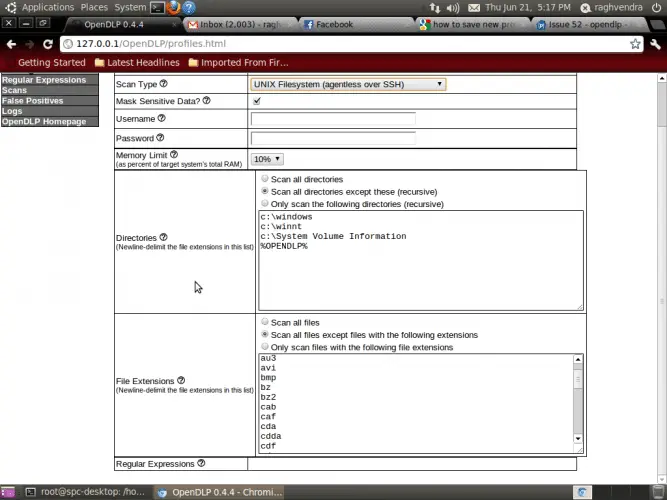 As its name indicates, OpenDLP is an open-source Data Loss Prevention tool. This option is agent-based, centrally-managed, and massively distributable. With the appropriate Windows credentials, it can simultaneously identify sensible data from a centralized web application. OpenDLP is only available for Windows and Unix platforms and as with any open-source solution, getting support could be a challenge. However, it is worth mention as there are not many free DLP solutions.
Platforms: Web
Features: Data management and tracking
Cloud compatibility: No
Pros: open-source versatility, free
Cons: a bit hard to configure, scarce support
Download: https://code.google.com/archive/p/opendlp/
MYDLP by Comodo
Comodo offers MYDLP as a free trial, it is advertised as an all-in-one solution, which will monitor, discover, and prevent information and data from leaking. It offers centralized management where you can block or quarantine confidential data, monitors removable storage device usage within your premises, administer print jobs, and discover confidential data stored within databases, workstations, servers, and network storages within your network. One of its best features is its Google-like search engine that allows you to search for information seamlessly.
Platforms: Desktop
Features: monitor, discover, and prevent data leaks
Cloud compatibility: Unknown
Free trial: Yes, 30 days
Pros: centralized management, Google-like search engine, easy to use
Cons: no pricing information available, limited documentation available
Download: https://www.mydlp.com/
Best Paid DLP Software
McAfee Total Protection for Data Loss Prevention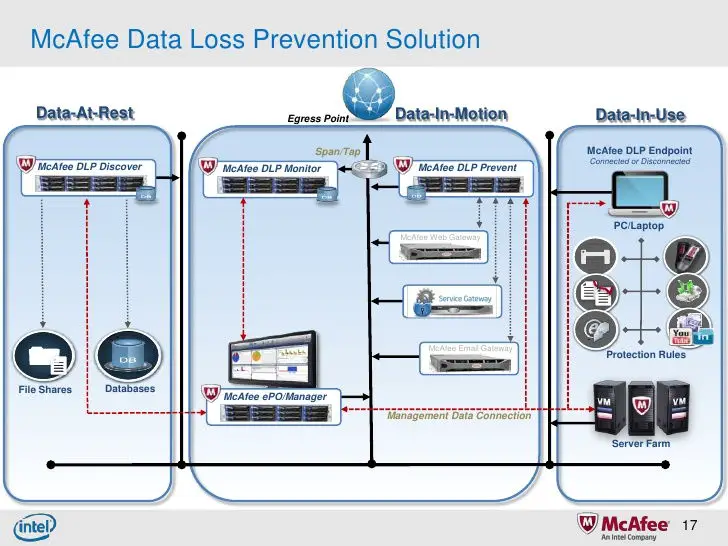 McAfee DLP is a complete data protection platform. With an emphasis on forensic analysis, McAfee DLP is like other systems, offering great scalability and you can tailor it to your needs. In case of lacking internal compliance regulations, McAfee Total Protection reports what information could have been leaked, so that the appropriate measures can be taken. One of the best features this tool offers is its engine of prioritization and identification of sensitive data. Some users have reviewed this as one of the best solutions for the budget.
Platforms: Desktop
Features: Excellent forensic analysis and data management
Cloud compatibility: Yes
Free trial: No
Pros: intelligent data prioritization, forensic data analysis
Cons: complicated to set up and manage, it does not offer a trial
More info: https://www.mcafee.com/enterprise/en-us/products/total-protection-for-data-loss-prevention.html
Digital Guardian Endpoint DLP
Digital Guardian DLP characterizes for being one of the broadest data-loss prevention systems that anyone can get. Designed for multi-platform versatility, it works with Windows, Mac, and Linux endpoints; this is perfect if your desktop environment is diverse. Once you set it up, Digital Guardian will begin tagging and classifying datasets. This DLP's strengths are its flexibility and scalability; you can deploy this DLP as either a cloud, on-premise, or hybrid system. Just a single management server can cover up to 250,000 users something that comes in handy if your business is continuously expanding. Digital Guardian also offers a series of add-ons that extend its functionality.
Platforms: Desktop
Features: great encryption, data management, and tracking
Cloud compatibility: Yes
Free trial: Demo available
Pros: versatility, it can be on-premise, cloud or hybrid. It works with Windows, Mac, and Linux endpoints.
Cons: Expensive licensing
More info: https://digitalguardian.com/
Symantec Data Loss Prevention
Symantec Data Loss Prevention software allows you to monitor and protect valuable business information assets. Something to highlight about this DLP is its scalable software suite, an ability to see where data is being stored, and taking into account cloud, multiple endpoints, and mobile platforms. Also, you can control how information is used even if your users are offline. Symantec DLP puts safeguards to ensure data is never leaked or stolen.
Platforms: Desktop
Features: Data management and tracking
Cloud compatibility: Yes
Free trial: No
Pros: excellent cloud compatibility and extremely scalable
Cons: it could be too-enterprise oriented
More info: https://www.symantec.com/products/data-loss-prevention
Check Point Data Loss Prevention
Otherwise, called Data Loss Preventions Software Blade- Check Point's DLP offering is not as complicated as other solutions, it offers a centralized management console for security policies and a few preconfigured rules to get anyone started. This software bundle combines cybersecurity processes to prevent leaks or information being sent to the wrong party.
Platforms: Desktop
Features: data remediation and education
Cloud compatibility: No
Free trial: Yes, 30 days
Pros: Simple interface, easy to use, a single management console
Cons: some might find it too simple
More info: https://www.checkpoint.com/products/dlp-software-blade/
Safetica Data Loss Prevention
Safetica will manage your data at the endpoint through its client-server components; the tool controls all application inputs via rules-based sandbox mechanism. It will also enable you to monitor the data flow of applications. Safetica's has a high data leak prevention tool, and it includes a file and data encryption, data shredding, and password management add-ons. Support is free as long as you have a subscription. Overall, Safetica seems like a good entry for endpoint security.
Platforms: Desktop
Features: data leak prevention
Cloud compatibility: No
Free trial: Yes, 30 days
Pros: easy to use, proper monitoring tool
Cons: a bit expensive, support is limited to online
More info: https://www.safetica.com/
In conclusion, Data Loss Protection aims to protect data or information from leaking out. These solutions will not safeguard your data in case of hardware or software failure. As time has progressed, new technologies have found their way into DLP, classification of data by content and by the user is one of them. Also, new safety features had to be added regarding the cloud and online file storage services such as Dropbox, Microsoft Azure, and Google Drive. DLP has become even more important after the introduction of GDPR (European law on data security) regulatory compliance and its stricter regulations with much higher fines, which put lots of pressure on businesses to comply. Therefore, finding the best Data Loss Prevention solution for your organization could be a top priority.
Which is your favorite DLP prevention tool for your company?