Corrupt drivers are the source of errors and issues in your computers, especially the infamous Blue Screen of Death (BSoD). Every hardware installed on your system needs a driver to run and perform its relative functions properly.
Bad drivers lead to instability and poor performance. Blue Screen errors are common and these may result due to faulty or outdated drivers.
In this article, we'll guide you through checking for bad drivers in your Windows system to avoid performance bumps and sudden unanticipated errors.
Windows Driver Verifier Utility
Windows Driver Verifier helps you in verifying all your device drivers and will let you know if any bad or corrupt drivers are present. This command line tool is already installed in most Windows operating systems.
One caveat of using Driver Verifier is that you have to be careful, as this utility can lock you out of your system. Therefore, before using or running Driver Verifier, be sure to create a restore point. If anything bad happens, you can easily boot into Safe Mode and restore your OS.
Let us start with using Driver Verifier to check for bad drivers:
Your computer will now reboot. Once it restarts, Driver Verifier will be running in the background. This phase can take a while. Meanwhile, you can use your system normally.
If any errors are found within the drivers, note down the error and its details, as it is tested by Driver Verifier which you have activated.
You can then continue to update, roll back, or reinstall the driver.
Exit Driver Verifier
In any case, if you do not want to use Driver Verifier, you must deactivate it manually. Perform these steps to deactivate it:
Run this cmdlet in an elevated Command Prompt:

verifier /bootmode resetonbootfail

Disable Driver Verifier

Restart the computer.
Using Driver Agent
DriverAgent is a third-party tool that can easily tell you which drivers of your system are good and bad. For bad drivers, if any update is available, you can easily update via the Driver Agent tool itself. Apply the steps given below to check the inoperative drivers of the system:
Download and install Driver Agent.

Run Driver Agent utility.

Driver Agent will now scan all drivers on your PC. Wait for the scanning to complete.
Driver Agent presents a list along with the status of all the drivers. The ones with a green checkmark are the good drivers, and the ones with a red cross are the bad ones.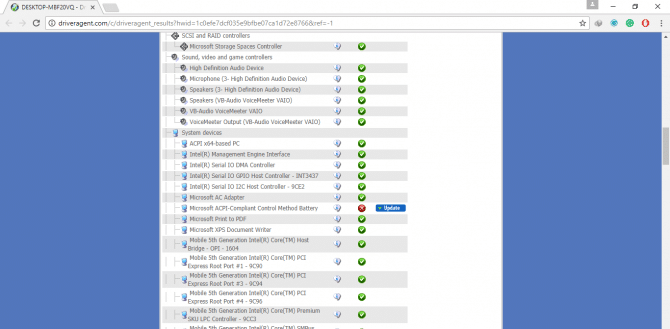 Editor's note: I have removed the download link because Google labeled it as harmful. You should probably not use the software until Google clears it.
Use Device Manager
When a driver is malfunctioning or absent, the Windows Device Manager flags it with a yellow exclamation mark. You can determine a bad driver using just the Device Manager as well. Here is how:
You can update the driver by right-clicking on it and then clicking "Update Driver" from the context menu. You can then choose whether to install it automatically or select a pre-downloaded driver from your PC.
Closing Words
If anything is going wrong with your system's devices and you can not able to get an exact solution, use any of the above methods since there is a chance that the drivers of the system are faulty or outdated.