When you logged into Gmail account with any browser on your system, it keeps you logged in even you close your browser. The same case happens to me every time. I did not even check the check box "Stay signed in", but Gmail will stay logged in. When I re-open my browser and redirect to Gmail URL, I was thinking to have a Sign in page, but no, I was jumped directly to my Gmail Inbox. And that was quite insecure, as anyone else can use my system to open their Gmail account.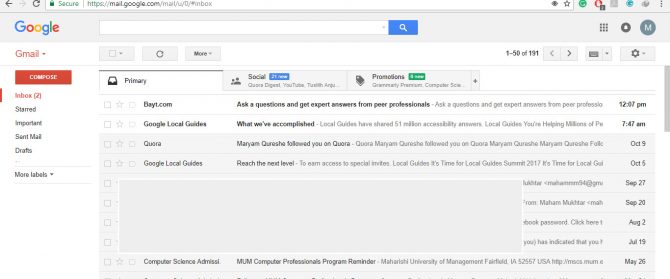 This may be due to the Cookies Session, which keeps your data and bring it back when you re-open your browser for the same URL.
[lwptoc]
If you are also irritated by this insecure behavior of Gmail on your browser, you may go with below solutions that I have added for different browsers.
For Firefox
The Firefox browser keeps the Cookies Session and restores it back when you again open your browser, it may be helpful for some users and may be not helpful for others. If you find this feature insecure, then apply below steps to disable it.
Open Firefox browser and redirect to the following URL from the address bar.
about:config

Now look for the entry "sessionstore" in the list or find it via Firefox Search

Now you have to make the value of "sessionstore.privacy_level" 2 from 0.

After doing this, close your browser and re-open it, now you will no longer be logged into the Gmail account. You will always be redirected to Sign-in page every time.
For Chrome
Chrome browser also restores the Cookies Session back when you re-open your Chrome browser. To avoid this, apply below steps.
Open Chrome browser and go to the following URL
chrome://settings/content/cookies

Now, check "Keep local data only until you quit your browser".

After doing this, close your browser and re-open it and check if you are now redirected to the Gmail Login page.
For Safari
To delete Cookies Session in Safari browser, go ahead with below simple instructions.
Open Safari browser and go to Preferences
Then select the Privacy tab.
In the Privacy tab, you will find an option that is "Remove All Website Data", checked this option.
Relaunch Safari browser, and everything will be good and according to you. You will not face the issue of stay logged in even you re-open your Safari browser.
For Microsoft Edge
Your username and password are remembered by Edge browser, so when you open Gmail page next time, it will automatically retrieve information and fill the account info by itself. So, you just need to turn off the feature in Edge browser that is saving your usernames and passwords.
In the Microsoft Edge browser, select  More actions (…). 
Settings > View Advanced Settings.
Turn off the feature of Offer to save passwords.
This will not save any of your username and password for any account you open in Edge browser.
I hope you will get a solution for your required browser as I have described the ways for all popular and most used browsers. If I missed any browser which you are using, then let me know, I'll assist you to resolve your issue for your particular browser. Thank you.
Also see: