In Windows 10, Windows Update can be found in Settings –> Update & Security –> Windows Update. Normally Windows Update keeps on running in the background and will install new updates automatically.
Windows Update checks for new updates randomly every 22 hours. The reason behind the random check is that if all the systems in the world start checking for updates at the exact same time, this would put extreme load on Microsoft servers. That's why Microsoft came up with the idea of checking for updates randomly every day.
You can also run Windows Update manually to check for new updates at any time. Here are three ways to check for new Windows updates.
Force Windows Update check using Run command dialog
I found out that the easiest way to force Windows update check is to use a command in the Run dialog. There are other commands from CMD and PowerShell as well, but let's start with the easiest way to do it.
Open the Run dialog (Windows key + R) or open Windows Search and run the following command:
control update
This will trigger the Windows Update graphical user interface which will start checking for new updates. This method works on all versions of Windows including Windows 10 and Windows 11.
There is another command that will trigger the same effect but only works in Windows 10 and Windows 11:
ms-settings:windowsupdate
Run Windows Update from PowerShell (Command-line)
There is a PowerShell module for Windows Update. You can install and run the module to check for new updates. There are three steps to running Windows Update through PowerShell. Run the following commands step by step:
Install-Module PSWindowsUpdate
This will install the Windows Update module in PowerShell.
Get-WindowsUpdate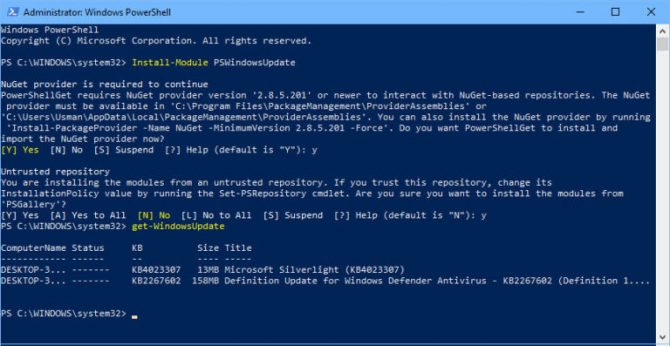 This command will check for updates.
Install-WindowsUpdate
This command will install the available updates (which were listed in step 2)
Run Windows Update from Command Prompt (Command-line)
Windows Update can also be run through legacy CMD. The only limitation running Windows Update through the command prompt is that it won't show any progress. Only results are shown. Let's see how to run it:
RestartDevice – Restart Windows after updates are installed
ScanInstallWait – Check for updates, download available updates and install them
Go to Run –> cmd
Run the following command to check for new updates:
wuauclt /detectnow 
Run the following command to install new updates
wuauclt /updatenow
Since the command prompt does not show any progress, a better approach would be to check and install updates at the same time. Here's the command for this:
wuauclt /detectnow /updatenow
The above mentioned command will work in all versions of Windows, including Windows 7 and Windows Server 2008 R2. But if you are using Windows 10 or Windows Server 2016, you can use UsoClient command which has more options than wuauclt. You can run UsoClient with the following switches:
StartScan – Start checking for updates
StartDownload – Start downloading updates
StartInstall – Start installing downloaded updates
Check for Windows updates using Windows Settings
To check for new updates and configure your Windows Update settings, follow the steps below:
Open Windows Settings (Windows key + i).
Choose Update & Security.
Choose Windows Update from the left hand menu.
Press the Check for updates button on the right hand pane.
Hopefully this will be useful in situations where you want to automate certain Windows functions. What other purposes do you want to use command line options to run Windows Update?
Also see: