Having multiple display devices can increase your productivity as you work more efficiently and faster. However, this comes at a price of a lot of cable clutter as well as the additional costs of display ports on your computer.
This can be avoided by daisy-chaining multiple monitors. "Daisy chain" refers to a connection between different devices in a linear topology. This means that one display device is connected to a second device, that second device is connected to the third, and so on.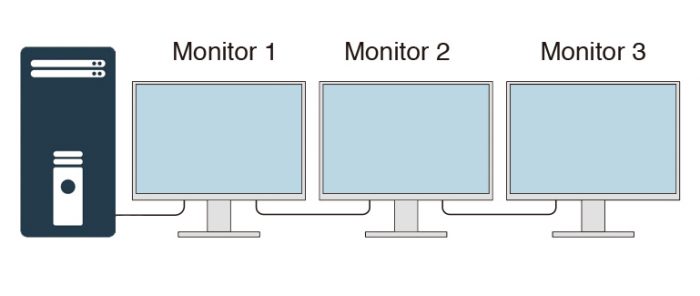 If you have or are looking to add more display devices to your computer, let us explain to you how daisy-chaining works and how to set it up.
Requirements for Daisy Chain Monitors
Before you get excited about adding more display devices to your setup, there are a few things that you need to consider, since not all devices support this feature. Here is a list of things you must have before you start to daisy chain your monitors:
Compatible GPU
The first thing to consider is that you have a supported Graphics Processing Unit (GPU) with DisplayPort (DP) 1.2 or higher. Not only that, but it must also support Multi-Stream Transport (MST).
MST is the ability of a DP1.2 or higher to transmit video signals through a single port. Therefore, you must ensure that the GPU has this functionality. You can either confirm it through the GPU manual or the manufacturer's website.
Compatible Monitors
You must then also have the appropriate display devices. This means that the monitors you want to daisy chain should also have DP 1.2 or higher with the support for MST, which in turn means that the monitor will have a DisplayPort In port and a DisplayPort Out port.
A monitor can also be set up in a daisy chain topology if it has a Type-C display port and supports MST.
The last monitor in the chain does not need to support MST. However, it must still have DP 1.2 or a USB Type-C port so it can be connected to the chain.
Supported Cables
Of course, to run an MST-supported GPU with MST-supported monitors, it is essential that you also use the correct type of cables, since not all DP 1.2 or Type-C cables can transmit signals using MST.
Manufacturers recommend that you use the cables that come with the display devices that support MST, as the cables are also capable of running the required signals through them.
How to Set Up Daisy Chain Monitors
Once you have all the requirements to set up monitors in a daisy chain, follow the steps below:
Note: DP 1.2 and Type-C display cables only carry the display signals, and not the power needed to run the monitors themselves. Therefore, power to individual components in the chain needs to be provided separately.
Connect your computer's Display Out to the DP 1.2 In of the first monitor in the chain using a DP 1.2 (or higher) cable.
Now connect the DP 1.2 Out port on the first monitor to the DP 1.2 In port on the second monitor using the DP 1.2 (or higher) cable.
Repeat step 2 until all computers in the chain are linked.
Once connected, turn on DP 1.2 on all monitors using the On-Screen Display (OSD) menu, except on the last monitor in the chain.
Ensure that DP 1.2 mode is disabled on the last monitor in the chain.
Monitors have now been set up in daisy chain topology. You can now start up your computer and begin using your multiple display devices.
Note: The DisplayPort 1.2 cables (and the ports) in the steps above can be replaced with USB Type-C cables (and ports) as long as MST is supported.
Benefits of Daisy Chain Monitors
Using a daisy chain to connect your display devices has its advantages.
The most significant advantage is no more cluttering of wires connected to the display ports on the PC. With the daisy chain topology, the number of wires required remains the same. However, the mess is cleared out and your desk will now look more organized.
Furthermore, you no longer need your PC to have as many display ports as the number of display devices. You now only need a single DisplayPort on your GPU to connect several monitors to it using the daisy chain topology.
If you find your desk in a lot of mess or have a GPU that supports MST but has only one display, you can adopt the daisy chain topology and make your work much more convenient with multiple displays.
Limitations of Daisy Chain Monitors
Although daisy-chaining multiple monitors is a great idea, this topology also has its limitations. For example, you cannot add unlimited display devices to the chain. It depends on multiple factors:
Display Resolutions of monitors.
Supported resolution by cable.
Transmission capabilities by the GPU.
Windows 7 or newer
The most significant factor is the display resolution of the monitors. Since GPU can transmit only so many display signals, screen resolutions have a significant impact on how many devices can be connected.
Here is a table that states the maximum number of display devices in a daisy chain topology with the display resolution of each device:
Display Resolutions
Maximum number of monitors
1680 x 1050
5
1920 x 1080
4
2560 x 1600
2
3840 x 2160 (Ultra HD, 4K)
or
4096 x 2160 (4K x 2K)
1
Resolution of single display device against the number of devices in a daisy chain topology
Not all monitors in the chain need the same resolution. For example, if one display has a resolution of 2560×1600, you can add 2 more monitors with a resolution of 1920×1080 to the chain.
Another limitation, in our opinion, is the costs of the devices that support MST. A normal monitor may cost less, whilst a monitor with the same specifications and the additional MST support may cost slightly more than the regular one.
Closing Words
Daisy-chained monitors are both convenient and easy to physically assemble and disassemble. It keeps your workspace tidy by reducing the wiring clutter.
If you are thinking of investing in a similar setup, we suggest that you keep a keen eye on the specifications and check whether the device supports MST or not.
We would also like to point out that there are devices available in the market that convert a single display port into multiple display ports and use the MST technology to display the contents on your PC onto multiple monitors. Using such devices, you no longer need to purchase a supported GPU or a monitor; simply convert your old hardware into an MST setup.
FAQs
Can I daisy chain monitors with HDMI cable?
Unfortunately, HDMI cables and ports do not support daisy-chaining, since they cannot carry the pixels required for multiple monitors.
How to daisy chain monitors without a display port?
Yes, you can daisy chain monitors without a display port. However, the display port then needs to be replaced with a USB Type-C port and the DisplayPort 1.2 cables need to be replaced by the USB type-C (thunderbolt) cables.
Can I daisy chain monitors from a laptop?
Yes, more monitors can be added to a daisy chain topology with a laptop. Simply connect the laptop with a USB Type-C cable to the first external monitor, and then continue the topology to the extended display devices.