With the release of Windows 10, Microsoft has released a new default browser called Microsoft Edge. In the previous Operating Systems, Internet Explorer was the Internet browser from Microsoft. Internet Explorer has been replaced with Edge. The new Edge is more secure and faster than Internet Explorer.
Update: Microsoft has released a Chromium version of Microsoft Edge and the Legacy Edge has been discontinued. You can now download and install Microsoft Edge on Windows 8.1 and Windows 7 directly.
This leads us to an irony that Internet Explorer is still available for Windows 10 while Edge is not available for older Operating Systems like Windows8/8.1 or Windows 7. It is specific to Windows 10. This situation is really frustrating, especially for the developers.
But there is a way to overcome this situation and install Edge browser on Windows 8.1 or Windows 7 without upgrading to Windows 10. Microsoft has released Virtual Machine images for Hyper-V, VMWare, and Virtualbox which come with pre-installed Windows 10.
You can run virtual machine image for free which Windows 10 will come pre-configured for you. The VM has a Windows 10 Enterprise edition with 90 days trial period. The period can be extended to 180 days which is about 6 months.
Please note that if you have data saved in the virtual machine, you will lose data after Windows expires. You should always keep your data backed up from the Virtual Machine. You can keep an extra copy of the Virtual Machine image and run it when one trial has expired. This will give you another 90 days of free usage of Windows 10 and Microsoft Edge browser.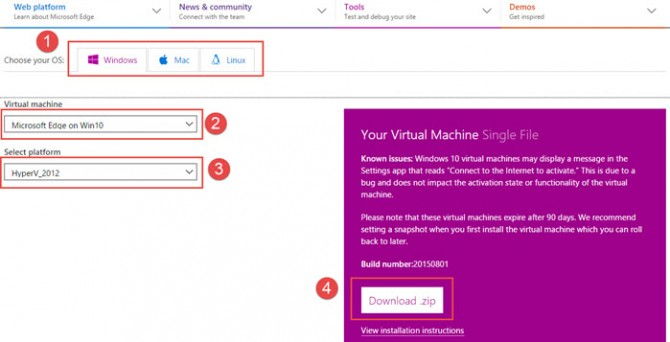 According to Microsoft, the company is focusing on Edge for Windows 10 and will only release a standalone version of the browser if everything goes smoothly. But this can be a long while or never. But interested users can always try and test Microsoft Edge without compromising on Windows upgrades.
Go to the Microsoft Virtual Machines download link
Select MSEdge on Win10 (x64) Stable 1809 under Virtual Machine drop-down
Select the virtualization platform from the platform drop-down. You can select from Virtualbox, Vagrant, VMWare, or Parallels for Mac.