Any Operating System including Windows and Mac requires the hard disk to be formatted before installing itself on a computer. While Windows and Mac come with their respective built-in hard drive format tools, there are times when the built-in tools can't do their job effectively.
In this article, we are going to discuss 5 free tools to format a hard drive with ease and efficiency.
What is disk formatting?
Before going forward, we should be clear about what exactly disk formatting means.
According to Wikipedia,
Disk formatting is the process of preparing a data storage device such as a hard disk drive, solid-state drive, floppy disk or USB flash drive for initial use. In some cases, the formatting operation may also create one or more new file systems.
There are two types of formatting;
Low-level formatting
A hardware-based formatting technique which was used until the 1990s. A disk controller is used to mark the surface of the disk with markers and create a file system afterward.
High-level formatting
A software-based formatting technique which creates the file system within the logical volume instead of the disk controller.
Let's discuss the tools to format a hard disk drive easily.
Windows built-in formatting tool
There are two ways to run the formatting tool properly.
Windows Disk Management
Windows command-line tool diskpart
Windows Disk Management
Disk Management is a small utility for Windows that manages all of the system disks and partition. You can easily view the disk size through Disk Management utility.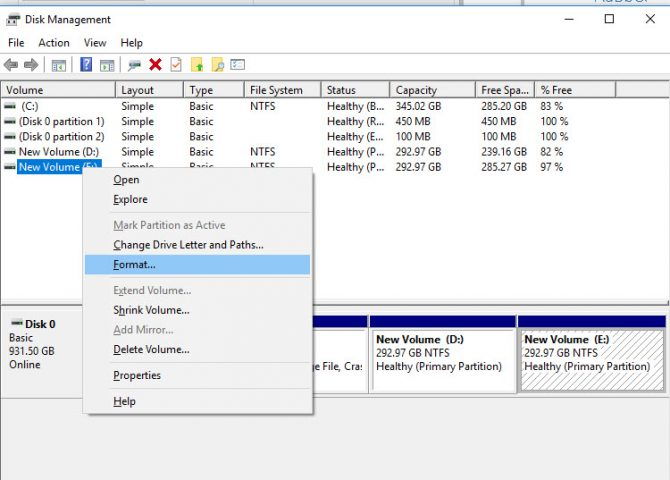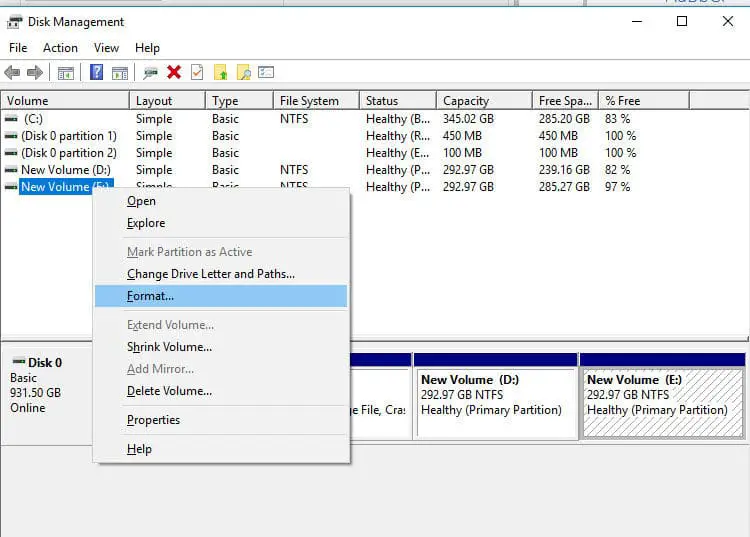 Disk Management utilizes the built-in Windows format tool to format hard drives.
You can access it from the Start Menu. Then all drives will be shown to you in the Disk Management console. Just right-click on any particular drive which you want to format, and select the option of "Format", and the process of formatting will start and will take a few seconds to complete depending on the size of the disk.
Features of Disk Management
Simpler partition creation: When you right-click a volume, you can choose whether to create a basic, spanned, or striped partition directly from the menu.
Disk conversion options: When you add more than four partitions to a basic disk, you are prompted to convert the disk to dynamic or to the GUID partition table (GPT) partition style.
Extend and shrink partitions: You can extend and shrink partitions directly from the Windows interface.
Diskpart
To format a hard drive using command-line, follow the instructions below:
Open command prompt as administrator
Type the command diskpart
List disk command will list all the hard drives connected to the computer. Check the number assigned to the disk you want to format.
Then issue the following command:
Select disk 0
Where 0 is the number of drive to be formatted.
Run the clean command to delete everything on the selected disk.
Run the following command to create a new partition
create partition primary
Run the following command to format the newly created partition
format fs=ntfs
Where fs=ntfs defines the file system to be created after formatting.
USB Disk Storage Format Tool
USB Disk Storage format tool is a freeware tool to quickly format your USB with any file-system. It supports FAT, FAT32, exFAT, or NTFS partition types.
To format your USB, just plug in your USB drive into the system, and then open the tool and browse your USB drive, select the File System format, and click on the Format button to start formatting it.
Features of USB Disk Storage Format Tool
Quick format and safe format.
Erase all data and delete the space on flash drives that cannot be removed in the traditional way.
Remove any tracks of malicious software that may have infected it.
Correct partition errors if any.
Create a volume label for USB disk drives.
Scan drive for errors before formatting.
Create a FAT32 volume larger than 32 GB.
Tested with thousands of flash drives
Download USB Disk Storage Format tool from here
HP USB Disk Storage Format Tool
HP USB Disk Storage Format tool is designed to format your USB drives effectively and efficiently. This tool is completely free to use for all users.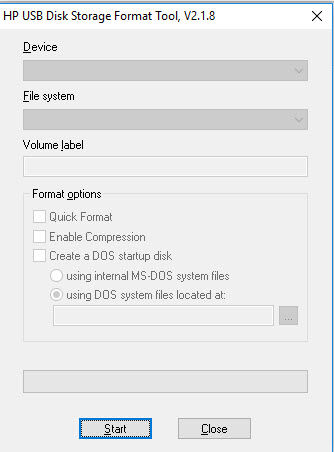 To format any drive with it, open the tool, and enter the location of the drive which you are going to format. Select the File System, and click on the Start button to start the process.
Features of HP USB Disk Storage Format Tool
It is a freeware utility for Windows OS.
Its interface is very simple and easy to use.
This tool takes less time to format your large USB drives.
It is best for USB formatting and can strip and re-format your drives.

  Download HP USB Disk Storage Format tool (96.0 KiB, 21,651 hits)
EaseUs Partition Master
The EaseUs Partition Master is the best free disk partition software to make full use of hard drive capacity. And can help you to carry out your formatting process of any external or internal drives easily.
It has paid versions too, but the free version can entertain you all basic needs. Download it from the below official link and complete the installation. When tool will install on your system, open it, it will show you all the disks and drives of your system whether they are internal or external. Right click on any drive which you want to format, and go with the option of Format from the list.
Features of EaseUs Partition Master
It resizes or moves partitions of different sizes and reallocate disk space in a reasonable way.
Merge partitions into a larger partition with much more disk space to solve low disk space problem.
Allow users to check partition property and ensures whether there are disk errors on selected partitions.
Format HDD, SSD, USB, memory card, SD card or delete partitions cautiously to make your disks or partitions accessible and available for disk repair.
Clear away useless or sensitive data on selected partitions thoroughly to keep your privacy protected.
Create or change the label of a selected partition or drive letter for better reference. It's much easy to identify all marked or target partitions & disks fast.
Download EaseUs Partition Master
Final thoughts
Most of the times, I prefer to use the built-in Windows or Mac disk formatting tools as they are the most reliable. But in case these tools are not able to do their job, we can go with the alternatives listed above. My personal favorite is EaseUS Partition Master for all types of formatting needs. But if a USB drive gets stuck while formatting, we can use the HP format tool or Disk Storage format tool.
Don't get confused by the brand name of HP. While the tool is from HP, it can be used to format any kind of USB storage device.