A newer version of Java has been released by Oracle, which is Java 8 Update 351 (JDK 8u341). This is required to run applications and programs written in the Java programming language. Moreover, this update addresses 370 security vulnerabilities which you can read here.
Oracle, as well as Itechtics, recommends that you update your Java version to the latest release since it not only includes functional improvements but keeps your system secure through security patches.
Let us now see what other improvements have been made with this release, and then continue to download and install it.
Release Summary
Latest Java Version: Java 8 Update 351-b10
Release date: October 18th, 2022 (All version release dates here)
Compatible OS: Windows 11, Windows 10, Windows 8 and Windows 7, MacOS, Linux, and Solaris
License: Free
Changes and Fixes
Java 8 Update 351 comes with the following updates:
The default PKCS12 MAC algorithm has been updated

The default MAC algorithm used in a PKCS #12 keystore has been updated. The new algorithm is based on SHA-256 and is stronger than the old one based on SHA-1. See the security properties starting with keystore.pkcs12 in the java.security file for detailed information.

The new SHA-256-based MAC algorithms were introduced in the 11.0.12, 8u301, and 7u311 JDK versions. Keystores created using this newer, stronger, MAC algorithm cannot be opened in JDK versions earlier than 11.0.12, 8u301, and 7u311. A 'java.security.NoSuchAlgorithmException' exception will be thrown in such circumstances.

For compatibility, use the keystore.pkcs12.legacy system property, which will revert the algorithms to use the older, weaker algorithms. There is no value defined for this property.

os::set_native_thread_name() cleanups

On platforms that support the concept of a thread name on their native threads, the java.lang.Thread.setName() method will also set that native thread name. However, this will only occur when called by the current thread, and only for threads started through the java.lang.Thread class (not for native threads that have been attached via JNI).

The presence of a native thread name can be useful for debugging and monitoring purposes. Some platforms may limit the native thread name to a length much shorter than that used by the java.lang.Thread, which may result in some threads having the same native name.
You can read the complete change log in the release notes.
Download Java 8 Update 351
Direct Offline JRE Downloads
Click on the following links to download the respective offline installers:
Download Java 8 Update 351 for Windows (x64) – Offline
Download Java 8 Update 351 for Windows (x86) – Offline
Download Java 8 Update 351 for MacOS (Version 10.7.3 and above)
Download Java 8 Update 351 for Linux x64 (RPM)
Download Java 8 Update 351 for Linux x64 (TAR.GZ)
Download Java 8 Update 351 for Linux (RPM)
Download Java 8 Update 351 for Linux (TAR.GZ)
Download Java 8 Update 351 for Solaris x64
Download Java 8 Update 351 for Solaris SPARC x64
Download Offline JDKs
To download JDKs and other JREs, perform these steps:
Note: Downloads from Oracle.com require you to accept the license agreement.
Open the Oracle Java download page.

Here you will see a list of products to download (both JREs and JDKs are available for all supported platforms). Click on the download button beside your desired product.

All downloads on this page are offline installers.

Download JDK

Accept the license agreement and then click the download button below it.

Accept licensing agreement

You will be redirected to Oracle's sign-in page. If you already have an account, just sign in using your credentials, or click sign up to create an account. Once signed in, the download will begin automatically.
How to Install Java
Installing the downloaded package is pretty easy. Perform the following steps to install it on a Windows PC:
Run the download package to begin installing Java. The installation wizard will then open. Click Install.

Install Java
How to Check Java Version
To check the currently installed Java version on your PC, you can use the "Java uninstall tool." It lists all the installed java versions. You can also use the tool to uninstall different versions installed on your computer.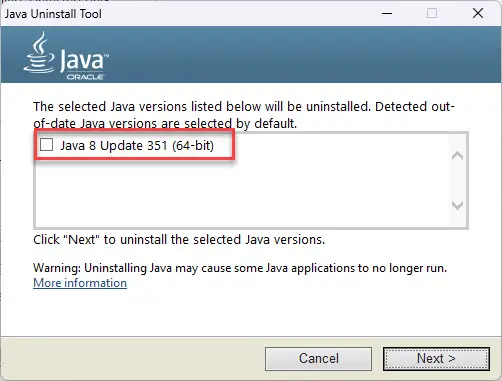 You can get the Java Uninstall Tool from this page.
You can also learn other methods to uninstall Java from your PC.
JDK VS JRE
Java Runtime Environment (JRE) is a piece of software that is installed on your computer that allows you to run applications developed in Java on your device. It provides certain libraries and other components that are required to run a Java program.
JRE also includes Java Virtual Machine (JVM), which is an engine also required to run Java applications on a machine. This engine is included in the JRE package and cannot be installed separately.
The Java Development Kit (JDK) is a development kit that includes both the JRE and the JVM. If you are looking to create your own Java applets, then JDK is what you need. If you have JDK already installed on your device, you do not require to install JRE separately, unless a different version is required.
This should clear up if you want to install JRE or the JDK.
Java 8 Update History
| Java 8 Version | Release Date | Description |
| --- | --- | --- |
| Java 8 Update 381 | 18-Jul-23 | 52 bug fixes, the addition of Chinese characters, JDK accepts RSA keys in PKCS#1 format. |
| Java 8 Update 371 | 18-Apr-23 | 54 bug fixes, older SSL versions removed, GSS-API support added. |
| Java 8 Update 361 | 17-Jan-23 | 372 security patches, FXML JavaScript Engine disabled by default, and other changes |
| Java 8 Update 351 | 18-Oct-22 | The default PKCS12 MAC algorithm was updated. |
| Java 8 Update 341 | 19-Jul-22 | TLS 1.3 enabled by default. |
| Java 8 Update 333 | 2-May-22 | Windows alternate data streams enabled by default. |
| Java 8 Update 291 | 20-Apr-22 | New HARICA root certificates added. |
Java 8 Update History Summary