If we are troubleshooting a system, it is important for us to have all the necessary tools and software with us which can help us fix problems. One of the problems that we may encounter is an unbootable PC. In this scenario, none of the tools will work as the PC can't boot into any Operating System. In this situation, a bootable rescue disc comes handy.
If you don't have a good antivirus installed on your system, virus will corrupt your system to the extent that it won't boot. In this case, you can easily use one of the Rescue ISO files to disinfect the system and make it bootable again.
In this article, we will discuss about the security rescue discs provided by the Antivirus companies. These bootable rescue discs will be able to clean your system from viruses even if your system can't start.
List of Antivirus Rescue CDs
Bitdefender Rescue CD
Bitdefender provides a very simple Rescue ISO image which we can either burn on a CD-ROM or a USB drive, boot from it and scan any system for viruses. The Rescue CD can also update itself automatically but it will require an Internet connection for updating.
Price: Free
Format: ISO
Operating System: Linux
Signature Update Method: Online
Download Bitdefender Rescue CD
Kaspersky Rescue Disk
Kaspersky Rescue Disk comes with a file manager, a registry editor and a web browser which you can run while starting your system with Kaspersky Rescue Disk. This gives a power user additional advantage of troubleshooting an unbootable system apart from scanning for viruses.
Price: Free
Format: ISO
Operating System: Linux
Signature Update Method: Online and Offline
Download Kaspersky Rescue Disk
AVG Rescue CD
AVG Rescue CD is a text based bootable solution to corrupted systems due to viruses. It will even scan inside your archives to remove any threats from an unbootable system.
Price: Free
Format: ISO
Operating System: Linux – text based
Signature Update Method: Online
Avast Rescue CD
Avast lets you create a Rescue CD or USB from its own installation. You can't download it separately. To make a rescue CD, you will need to install Avast antivirus and then create the bootable media of your choice.
To create Avast Rescue Disk, go to Tools –> Rescue Disk and follow the instructions to complete making your bootable rescue CD or USB.
Avira Rescue System
Avira Rescue System scans for malware on a system that is unbootable or generally become unresponsive. It can boot into the system and find viruses and other malware.
Price: Free
Format: ISO
Operating System: Linux
Signature Update Method: Online
F-Secure Rescue CD
F-Secure Rescue CD contains the Knoppix derivative of the Linux operating system, which can run completely from a CD and allows access to your PC's operating system and hard disks.
Once booted, you can check the installed programs and perform more advanced repair and data recovery operations
Price: Free
Format: ISO
Operating System: Linux
Signature Update Method: Online
VIPRE Rescue CD
VIPRE Rescue is designed to disinfect and clean the systems which have no antivirus installed and the virus has made it bootable.
Price: Free
Format: ISO
Operating System: Linux
Signature Update Method: Online
Panda Cloud Cleaner Rescue ISO
Panda Cloud Cleaner, in addition to cleaning unbootable systems, can also scan and disinfect VMWare images.
Price: Free
Format: ISO
Operating System: Linux command line
Signature Update Method: Online
Download Panda Cloud Cleaner Rescue ISO
Dr.Web LiveDisk
If the actions of malicious programs made it impossible to boot a computer running Windows, recover the affected system for free using Dr.Web LiveDisk!
Price: Free
Format: ISO
Operating System: Linux command line
Signature Update Method: Online
Download Dr.Web LiveDisk for burning to CD/DVD
Download Dr.Web LiveDisk for creating a bootable USB drive
Sophos Bootable Antivirus
Sophos has a not so friendly download and installation procedure of its bootable antivirus. You will need additional steps like signing up for a Sophos account in order to get the bootable image.
Download Sophos Bootable Antivirus
Trend Micro Rescue Disk
Trend Micro Rescue Disk allows you to use a CD, DVD, or USB drive to examine your computer without launching Microsoft Windows. It can scan hidden files, system drivers, and the Master Boot Record (MBR) of your computer's hard drive without disturbing the operating system.
Download trend Micro Rescue Disk
VBA32 Rescue
In addition to scanning for viruses, Vba32 allows the user to copy important files from the corrupted system. So if the system remains unbootable even after scanning, you may backup your important data. Some features of Vba32 rescue:
Free of charge
Fast bootup
Ability to scan with individual settings
Media release mode
Automatically configures the network environment
Ability to update without downloading full image
Ability to save updated image to the USB-drive
Ability to create bootable USB-drive in Windows, Linux and Vba32 Rescue environment
Contains mhdd and memtest utilities
Price: Free
Format: ISO
Operating System: Linux
Signature Update Method: Online
Windows Defender Offline
Windows Defender Offline is Microsoft's own troubleshooting tool which will scan for viruses in a non-bootable Windows installation. There are two different versions of Windows Defender Offline for 32-bit and 64-bit systems. Download the appropriate tool from the below link, run the utility, follow the four steps and create a bootable CD/USB of Windows defender Offline.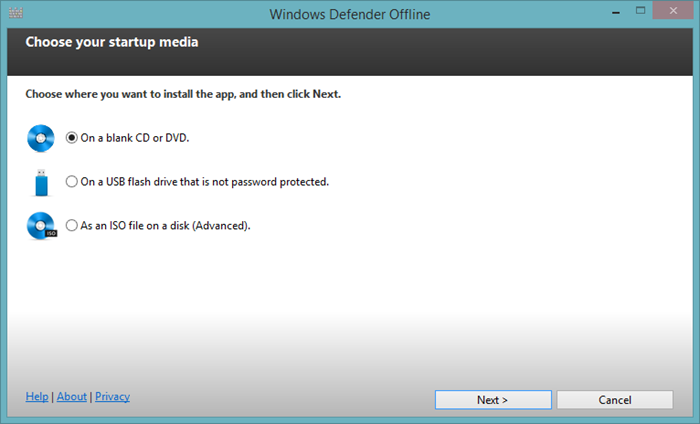 Download Windows Defender Offline 32-bit
Download Windows Defender Offline 64-bit
Zillya Live CD
Some of the features of Zillya Live CD include:
With this disk, you can restore the normal operating of Windows system, damaged due to virus attack
Running an alternative operating system will reopen the files on your computer
You can transfer all of your important documents on USB-carriers.
You can scan your computer for viruses and if necessary to clean the infected files.
Starting the scanning is also possible in safe Windows mode.
Thus, this software can be used as additional antivirus protection to already installed antivirus on your PC.
Trinity Rescue Kit CD
Some of the features of Trinity Rescue Kit CD include the following:
easily reset windows passwords with the improved winpass tool
simple and easy menu interface
5 different virusscan products integrated in a single uniform commandline with online update capability
full ntfs write support thanks to ntfs-3g
winclean, a utility that cleans up all sorts of unnecessary temporary files on your computer.
clone computers over the network via multicast.
wide range of hardware support (kernel 2.6.35 )
contributed backup utility called "pi", to automate local machine backups
easy script to find and mount all local filesystems
self update capability to include and update all virusscanners + local changes you made to TRK.
full proxyserver support.
run a samba fileserver (windows like filesharing)
run a ssh server
recovery and undeletion of files with utilities and procedures
recovery of lost partitions
evacuation of dying disks
full read/write and rpm support
UTF-8 international character support (select keyboard language from the scrollable textmenu at startup)
2 rootkit detection uitilities
most software updated to recent versions
literally thousands of changes and bugfixes since version 3.3
elaborated documentation, including manpages for all commands
Note: Trinity Rescue Kit has not been updated since 2011 so I would not recommend using it at least for virus scanning.
Comodo Rescue Disk
Comodo Rescue is a free bootable antivirus program which can clean your system from viruses, rootkits and other malware. It supports heuristics scanning, options to skip large files for quick scanning and can scan archives.
eScan Rescue Disk
eScan Rescue Disk provides you with a Windows based clean environment that not only helps you to scan and clean the system but also to fix the Windows registry changes done by viruses.
ESET SysRescue
ESET SysRescue Live is a malware cleaning tool that runs independent of the operating system from a CD, DVD, or a USB. It has direct access to the disk and the file system, and therefore is capable of removing the most persistent threats.
Download ESET SysRescue ISO (Direct download link)
Download ESET SysRescue with different options
G DATA BootMedium
The G DATA boot medium is a practical aid for detecting viruses that have already embedded themselves on your computer prior to installing the antivirus software.
Norton Bootable Recovery Tool
Norton Bootable Recovery Tool is Symantec's tool for disinfecting systems that are not bootable due to viruses.
Download Norton Bootable Recovery Tool
PC Tools Alternate Operating System Scanner
PC Tools Alternate Operating System Scanner is not only a bootable antivirus, it can act as a data destroyer, data recovery tool, a system shell and a file manager.
Download PC Tools Alternate Operating System Scanner
Quick Heal Emergency Disk
Quick Heal Emergency Disk provides its users with a Windows environment to troubleshoot the system and scan for viruses.
Download Quick Heal Emergency Disk 32-bit
Download Quick Heal Emergency Disk 64-bit
You can download the appropriate zip file and follow the instructions to create the Live CD.
Creating a Bootable CD-ROM
Almost all the above mentioned downloads are ISO image which either need to be burned on a CD/DVD or on a USB drive. You will need a third party app in order to burn the ISO image to the CD-ROM. Here are the step by step information for doing this easily.
I will use Infra Recorder for Windows XP, Windows Vista and Windows 7. You can also use other popular tools like ImgBurn, CDBurnerXP, BurnAware or Nero etc. Here are the steps:
Download InfraRecorder from here.
Insert a blank CD into the CD/DVD drive
Open InfraRecorder and choose Write Image. A browser window will appear
Go to the location where you have saved the ISO file
Select the file and click Open. A configuration window will display the recommended settings for the current task
Click OK. The CD is ejected after the writing process finishes
Go to the infected computer and boot it with the CD you have just created
Creating a Bootable USB Drive
There are quite a few tools that can create bootable USB drives from ISO images. I will use Stickifier here as it is free and open source.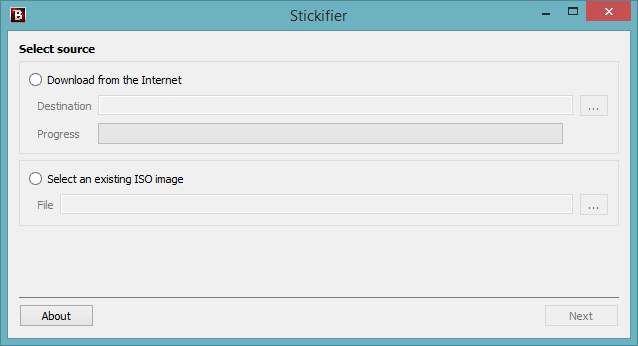 Just follow the steps below to create a bootable USB drive with one of the above mentioned antivirus ISO files.
Download Stickifier from here.
Insert the USB drive into any USB port.
Open Stickifier. It will give you two options: Either you can download the ISO directly from the Internet or you can browse to the ISO file you want to burn into the USB drive.
Click Next and select the USB drive letter.
Clicking on next starts the installation process.
When the installation is complete, click Finish.
I hope now you will be able to select from one of the Live CDs and troubleshoot your system. If I have missed anything, please let me know and I'll fix it as soon as possible.
Also see: