Do you have two computers or laptops, and do you want to use your laptop as a monitor for extended display? Yes, you can surely do this using Windows Wireless Connect. This article will guide you through all the steps to connect two Windows 11/Windows 10 computer displays together without using any third-party app.
Miracast is a technology used to wirelessly connect displays of two devices, whether it is a Windows device or an Android, iOS or even a Mac. All devices that support Miracast technology can use this dual display feature. Since Miracast connects using wireless, the user is relieved from using any cables or ports. This could be a huge productivity boost, with additional screen space at your disposal.
Please note that using a laptop as a second screen is different than closing the laptop and using an external monitor. It is more like projecting one display to two laptop screens.
Although a normal monitor can be connected using some type of cable connection like HDMI, DP or VGA, our method of connecting the laptop as a second monitor does not require any cable connection. In fact, it is done wirelessly using bluetooth technology. I'm not sure if a laptop screen can be connected as a monitor for XBOX. If anyone knows, please let me know in the comments below.
Why use laptop as monitor?
If you don't have a dedicated monitor but have two laptops, it's always beneficial to attach the two laptop screens together while both the laptops keep running. I can think of several scenarios where dual screen is better than one. For example,
I want to edit a document where I have to open the document itself and a browser for reference and research.
I want to keep one screen for videos or chatting while the other screen can be used for my work.
I can setup alerts for my real-time network monitoring and dedicate one monitor screen to always keep the monitoring app on top.
There can be several other scenarios that can be beneficial to use a laptop as a monitor.
Since we are only interested in Windows 10 display, we'll talk about it in this article. You can use any Windows device including Windows 10 computers, Windows 10 laptops, Windows 10 tablets, and even Windows 10 mobile phones.
How to use laptop as monitor connecting two displays
Let's begin with the basics. We need two Windows 10 computers for this purpose.
Primary computer or laptop – We will use this computer as the primary display and attach the display of the secondary laptop with this computer. This could be a Desktop PC or another laptop.
Secondary computer or laptop – We will use the display screen of this laptop to be attached to the primary computer.
Since Miracast is a Wifi or Wireless technology, you need Bluetooth enabled on both computers to use the second laptop as a monitor.
Now let's start with the configurations. Let's start with the secondary computer.
Configure secondary laptop
Windows 10 comes with Miracast technology built-in, but you will need to install the Connect app to be able to use the laptop's display as a secondary monitor. Let's start by installing the Connect app.
Go to Settings (Windows key + i) –> Apps –> Apps & Features.
Click on the Optional features link.

Click on Add a feature.
Select Wireless Display and install.
Once the installation is complete, you will find the Connect App in Start Menu.

Start the Connect App. The app should say that your computer is ready for you to connect wirelessly. I also got the following warning message but the display worked perfectly fine:
This device might have trouble displaying your content because its hardware wasn't specifically designed for wireless projection.
Pressing the diagonal arrows in the title-bar will make the projection full-screen.

The Connect app needs to be running to connect to this laptop or tablet wirelessly. Once this is done, we can move it to our primary computer for further configuration.
Configure primary computer
The primary computer is the one where we want to have multiple monitors or screens.
Go to Settings –> System –> Display.
Under Multiple displays, click on Connect to a wireless display.

Alternatively, you can press the Windows key + P keyboard shortcut to open the Projection settings and then select Connect to a wireless display.
Windows will automatically search for and find our secondary computer.

You can duplicate or extend the screens by using the projection settings (Windows key + P)
Here is my screen using extended mode:
Wireless Display settings
There are a few settings that you can customize according to your needs. When the two displays are connected, you can go to Settings –> System –> Display and alter the following settings:
Select Display no. 2 under Rearrange your displays to change its settings.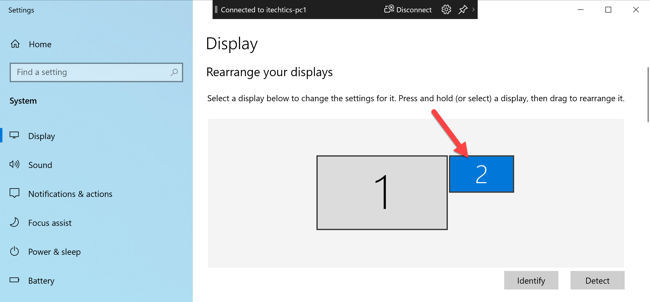 You can change the following settings for each display:
Text scaling
Display resolution
Display orientation
Extend or duplicate displays
Select the primary display
You can further configure the security settings for the secondary display:
Go to Settings –> System –> Projecting to this PC.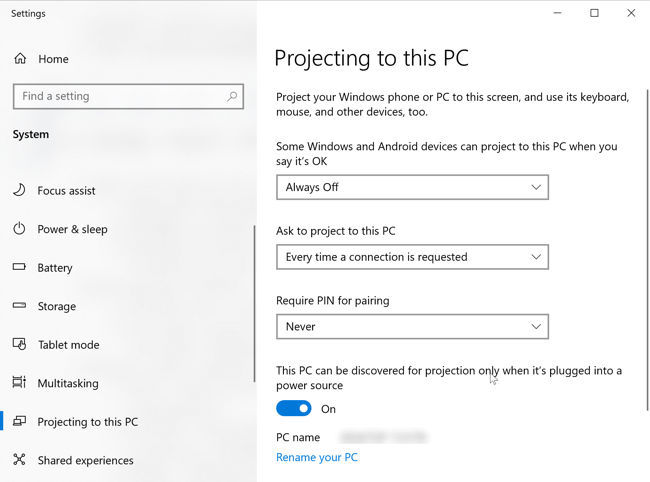 Select which devices you can project to this PC. There are three options:

Always off – Projection is not allowed
Available everywhere – Anyone can connect without authorization
Available everywhere on secure networks – Only devices using secure connections can connect to this device.

Ask to project to this PC

First time only – It will allow all devices after confirming for the first time.
Every time a connection is requested – You will need to confirm every time before making a connection.

Require a pin for pairing

Never – Disable pin for pairing. This will pair the devices without authentication.
First time – Only ask for the first time then it will automatically pair when a connection is available.
Always – Always pair the devices before connecting.

You can also configure whether the device will be available for wireless display connections when it is not plugged into a power source. This is important because apart from tablets, the laptop display will drain out the laptop battery once connected.
The above-mentioned method works only on Windows 10 devices, including Desktop PCs, laptops and tablets. If you are using Windows 7 or older Operating System, you will need third-party apps like Spacedesk.
You can also use your Android device screen as a second monitor using apps like Splashtop Wired XDisplay and Twomon USB – USB Monitor.
I hope this has been helpful to you in understanding the dynamics of using a Windows laptop as a monitor with your primary device. This can be beneficial in situations like when you are traveling and want to make use of all your device displays without having a dedicated monitor.
If you like the article, please leave a comment below as it will encourage us to keep experimenting and writing more for you.