Windows ADK Versions and Downloads
Businesses that need to deploy Windows in a larger environment often require customization before they can go about…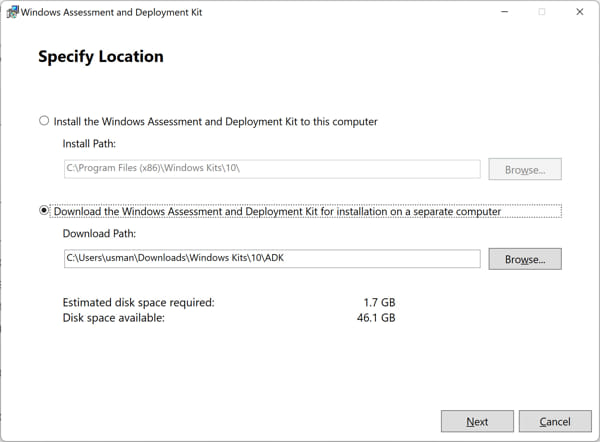 Businesses that need to deploy Windows in a larger environment often require customization before they can go about their operations and processes. This large-scale deployment is carried out by IT professionals and system administrators on many computers using the toolset, known as the Windows Assessment and Deployment Kit, or simply, Windows ADK.
Microsoft Windows ADK is a collection of tools that you can combine to prepare, assess and launch image-based large-scale Windows deployments. These tools are also used to test the operating system's quality and performance, as well as the applications running on it. The Windows Assessment and Deployment Kit was earlier known as the Windows Automated Installation Kit (WAIK).
Windows ADK can be deployed on a broad range of devices, such as desktops, notebooks, Internet of Things (IoT) devices, etc. This toolkit works across platforms that work with devices with and without screens.
Windows ADK was first introduced in Windows Vista and since then has always been available in the latest Windows operating system versions. The tools currently available in Windows ADK have varied through the years, but currently, they include the following:
Windows System Image Manager
Windows Preinstallation Environment (WinPE)
Deployment Image Servicing and Management tool (DISM)
The key advantage of using Windows ADK for IT teams is to apply different tools to test software, drivers, and hardware compatibility before finally moving to Windows 11 or 10. The Application Compatibility Toolkit, for instance, lets developers and IT test how 32- and 64-bit Windows applications work on a new operating system before the final installation. IT can also use Windows ADK to automate large-scale deployments of Windows.
Download Windows 10 and 11 ADK Versions
On a high level, Windows ADK has two different formats, which have their own versions. One format is reserved for Windows Insider Preview users. The other format is available publicly and can be downloaded via the Windows ADK page on Microsoft's website.
The variant available publicly is usually around 2 MB in size and comes in different versions, where each new release of Windows ADK involves new features and product enhancements.
If you want to know about the version history, take a look at the list below:
Windows ADK download links for all Windows versions
Since Windows ADK is a set of tools, not a standalone application. It contains the following tools:
Windows Assessment Toolkit and Windows Performance Toolkit: these tools are used to assess the quality and performance of systems or components.
WinPE, Sysprep (or System Preparation), and other tools: these are the deployment tools that you can use to customize and deploy Windows 10 images.
The Windows Preinstallation Environment (WinPE) comes as a separate download from the Assessment and Deployment Kit (ADK), prior to Windows 10, version 1809. To add Windows PE to your ADK installation, you need to download and install the Windows PE add-on after installing the ADK.
When it comes to features, Windows 10 ADK allows you to select specific features at the time of installation. You can pick and choose the exact features you want to include in the toolkit. The options include:
Application Compatibility Tools
Deployment Tools
Windows Preinstallation Environment (Windows PE)
Imaging and Configuration Designer (ICD)
Configuration Designer
User State Migration Tool (USMT)
Volume Activation Management Tool (VAMT)
Windows Performance Toolkit
Windows Assessment Toolkit
Microsoft User Experience Virtualization (UE-V)
Application Virtualization Sequencer (App-V)
Microsoft Application Virtualization Auto Sequencer (App-V)
Media experience Analyzer
In general, these features let you perform the following functions:
Add product branding, applications, along with settings
Keep Windows up to date with the latest updates, language packs, and drivers
Look for and identify application compatibility
Perform user data migration between Windows installations
Manage bulk activation of Windows
How to Install Windows ADK for Windows
Since you can only install one version of Windows ADK at a time, you will need to uninstall any existing ADK installation before installing the new one.

Otherwise, you will need to install the new ADK using the command line for multiple ADK versions working on the same computer.
Download Windows ADK for Windows 10 from the above-mentioned links

.
Run adksetup.exe to start the installation.
You will have two options to install ADK:

Install Windows Assessment and Deployment Kit on this computer
Download the Windows Assessment and Deployment Kit for installation on a separate computer

Select the second option to download all the tools of ADK offline.

Select either Yes or No for Windows kits privacy.

Accept the license agreement and press Next.

This will start the download process.
After the download process is complete, you can select the tools you want to install and continue with the installation. Windows ADK has different features that you can install. The default selections are Deployment Tools, Imaging and Configuration Designer (ICD), Configuration Designer, User State Migration Tool (USMT), Windows Performance Toolkit, and Microsoft User Experience Virtualization (UE-V) Template.
2. Download and Install WinPE Add-on
As discussed earlier in the article, starting with Windows 10 ADK version 1809, WinPE is no longer part of the ADK tool. If you wish to get WinPE, follow these steps to download and install the add-on:
To install the WinPE add-on, open the directory where you saved the file and double-click it.
Similar to Windows ADK installation, the initial screen asks you to specify the installation path. The WinPE add-on installer will detect the path you installed ADK. Make sure to install WinPE in the same path. Once done, click Next.
Note – The minimum estimated disk space required is 6.0 GB for the WinPE add-on. Hence, it may take longer for the installation to finish. The package includes Windows PE(x86), Windows PE (AMD64), Windows PE (ARM), and Windows PE (ARM64).
On the Windows Kit's Privacy screen select an option and click Next.
On the License Agreement screen, click Accept.
On the Select the features you want to install screen, the Windows Preinstallation Environment Add-ons (WinPE Add-ons) is automatically selected, click Install.
Validation
To validate the Windows 10 ADK Installation in a specific device, follow these steps: Navigate to Control Panel > Program and Features. Here you can see the Windows ADK, Windows Preinstallation Environment Add-ons installed successfully.
Conclusion
In order to deploy Windows 10 on a large scale, you need a Windows Assessment and Deployment Kit. This article covers the basics of the Windows ADK toolkit and how to install ADK for Windows 10. You can also use this tool and its add-on in conjunction with Windows Deployment Server to level up your automation and operations.
Also see: