In an earlier post, we discussed the different types of Windows product keys and how they differed from one another. One of the product key types was Original Equipment Manufacturer (OEM) keys that come preinstalled in new computers.
Today, we shall be addressing the topic of the different types of Windows OEM license product keys that can be found today, so that our readers can make an informed decision when purchasing their next computer.
Types of Windows OEM License Keys
The companies that make the computers are the Original Equipment Manufacturers, like Dell, HP, Asus, etc. Microsoft provides them with OEM licenses to be used on their computers, which are preinstalled when they reach the end user.
Since the launch of Windows XP, Microsoft has been providing these OEMs with different types of licenses for the end users.
There are 4 types of OEM licensing keys:
OEM: System Locked Pre-installation (SLP)
OEM: Non-System Locked Preinstallation (NSLP)
OEM: Certificate of Authenticity (COA)
OEM: Digital Marker (DM)
Each of these types is designed for a different purpose and with minor differences. Let us continue to see how they are different from one another and which one you should opt for.
OEM: SLP
The OEM: System Locked Pre-installation (SLP) product keys are already embedded into the OS. These types of keys do not need an active internet connection, nor do they need to connect to Microsoft servers for a successful Windows activation.
The embedded signed certificate within the OS is cross-checked with the data embedded in the system BIOS. If the data inside matches successfully, then Windows is activated.
One caveat of the OEM: SLP licensing keys is that they cannot be used on other computers. The activation key is bonded to the hard drive and the motherboard of the computer, and will only work on that particular computer.
A computer with an OEM: SLP Windows license key will have a "Certificate of Authenticity" label on it. This label also has a written product key. However, this product key is not used to activate Windows. Instead, the comparison of the digital certificate and the BIOS is checked (as mentioned above).
The product key is available on the label in case of a Windows reinstallation.
OEM: NSLP
The OEM: Non-SLP licensing keys are just like retail licenses. They come with an activation product key which the end user then manually needs to enter to activate Windows.
The only difference between an OEM: NSLP key and a retail key is that the OEM: NSLP key is distributed by the OEM.
OEM: COA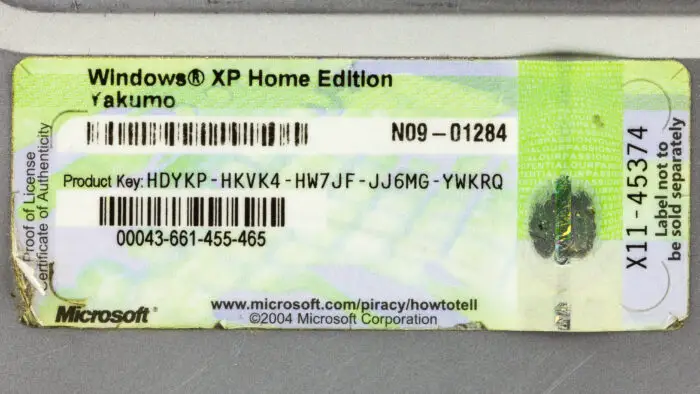 The OEM: Certificate of Authenticity (COA) is a type of OEM license where the device comes with a label, such as the one above. This label is the certificate of authentication which validates a genuine Windows OS.
On a device with OEM: COA licensing, the Windows OS comes preinstalled and pre-activated using the product key written on the label.
The product key is available on the label in case of a Windows reinstallation.
However, unlike the OEM: SLP license key, the OEM: COA licenses are not bonded to the hardware, and can be transferred onto other devices with the same OS version. Note that this transfer of licensing may not be legal, but will work. Moreover, the same license can only be used on one device at a time.
OEM: DM
The OEM: Digital Marker (DM) license is very much similar to OEM: SLP licenses. OEM: DM licenses are embedded with the computer's hardware through a digitally signed certificate in Windows and a file embedded in the BIOS.
It also comes with an attached label with the product key written on it.
However, unlike the OEM: SLP licenses, the devices activated with OEM: DM licenses do not require manual product key entry in case the OS is reinstalled.
How to Check OEM License Type?
You can check if your PC has an OEM, retail, or Volume license. However, there is no native method to check which type of OEM version it is running.
However, there are several third-party tools that can be used to identify the OEM licensing type on your PC:
Microsoft PIDX Check
Windows 7 Product Key Checker
These tools do not have their own official website, hence you may need to browse the internet and download them from a trusted source.
Conclusion
Now that you know what types of different OEM licenses are available today, you can now make an informed decision about which one you want to purchase.
Even with OEM licenses, there aren't many differences between the versions. However, if you are looking to buy new laptops for your firm, you ought to get ones with OEM: SLP licensing so that the hardware could not be replaced.