If you are installing Visual C++ Redistributable and experience an error code 0x80070666, it is likely that another C++ package is already installed on your computer. If you say you don't see one in the Programs and Features in the Control Panel, it does not necessarily mean the old version has been successfully removed.
In some cases, a wrongful uninstallation of the Visual C++ Redistributable packages removes it from the Control Panel, but leaves traces on your computer, rendering other older versions to be unable to install.
This post discusses several methods you use to work around this issue and successfully install the C++ Redistributable package of the version that you want.
Error Code 0x80070666
The Microsoft Visual C++ Redistributable packages are Dynamic Link Library (DLL) files needed to run software made with Microsoft Visual Studio. These often come preinstalled with software that needs them, but can often be missing, thus needing to be manually installed.
In that case, you may come across an error message stating the following:
0x80070666 - Another version of this product is already installed. Installation of this version cannot continue. To configure or remove the existing version of this product, use Add/Remove Programs on the Control Panel.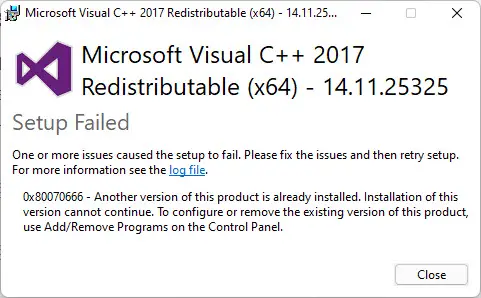 Of course, it makes sense to remove all the Visual C++ Redistributable installations and then install the version that you want. However, even that does not work sometimes and users reportedly experience the same issue over and over again.
There can be several reasons for this problem.
What Causes Error Code 0x80070666
After experiencing this error code ourselves and investigating it further, we have discovered several reasons for the said issue:
Also, a more recent version of Visual C++ Redistributable is already installed on your PC. If you are trying to install Visual C++ 2015 on top of 2017, then you will see the error prompt as shown in the image above. However, you can install 2017 on top of an older version.
The older Visual C++ Redistributable version did not uninstall correctly and has left behind files hindering the new Visual C++ installation.
Windows Update is simultaneously trying to install the same Visual C++ Redistributable package, conflicting with your manual installation attempt.
Let us now show you how to fix the problem using several methods. Note that it is not necessary that applying one of these will fix the problem. Therefore, we suggest that you implement all of these solutions in the given order unless your problem is resolved.
How to Fix Visual C++ Installation Failed (0x80070666)
Closing Words
These are the possible solutions that actually work to fix the 0x80070666 error code while attempting to install Microsoft Visual C++ Redistributable packages. Let us know which one works for you in the comments section below.