There are times when we want to enable or disable Windows Defender in Windows 10 quickly. For example, if we are installing a software which requires that the antivirus should be disabled while installation (yes there are some software which requires this).
Windows Defender is an all in one security software from Microsoft consisting of antivirus and a firewall. Windows Defender comes pre-installed with Windows 10. And it gets all its updates from Windows Update.
Although you can turn Windows Defender on or off from Windows Settings, there are other quick ways to turn on or turn off Windows Defender Windows 10 or even Windows 8/8.1. You should choose the best method according to the version of Windows you are using.
So let's start with enabling/disabling Windows Defender using command prompt:
Using Command Prompt
Open command prompt with administrative privileges
Run the following command to disable Windows Defender:
sc stop WinDefend
To enable Windows defender again, run the following command:
sc start WinDefend
Please note that this is a temporary method to stop Windows Defender. The service will return to its original state when the system is restarted. To disable Windows Defender permanently using command prompt, run the following command:
sc config WinDefend start= disabled
sc stop WinDefend
To enable it again on startup, run the following commands:
sc config WinDefend start= auto
sc start WinDefend
If you want to check the current state of Windows Defender service, run the following command:
sc query WinDefend
Check the STATE variable. It should be in RUNNING state if it is enabled.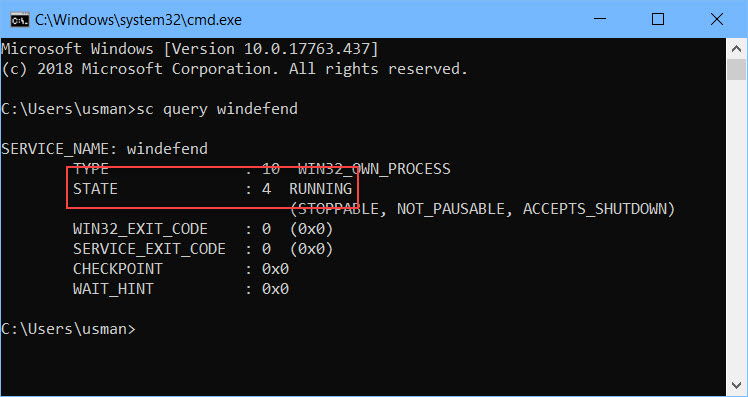 Using PowerShell
One advantage of PowerShell is that you can deploy changes to Windows Defender on multiple computers over the network.
If you prefer PowerShell way, follow the steps below:
Run PowerShell with administrative privileges (Windows key + X + A)
To disable real-time monitoring of Windows Defender, run the following command:
Set-MpPreference -DisableRealtimeMonitoring $true
To enable real-time monitoring, run the following command:
Set-MpPreference -DisableRealtimeMonitoring $false
The above method will only turn off real-time monitoring of Windows Defender. If you want to completely remove Windows Defender from Windows 10, use the following PowerShell command:
Uninstall-WindowsFeature -Name Windows-Defender
Using Windows Settings
If you want to turn Windows Defender on or off using Windows Settings, follow the steps below:
Open Windows Settings (Windows key + i)
Go to Update & Security –> Windows Security
From the right-hand pane, select Manage settings under Virus & threat protection settings.
This will turn off real-time protection while the manual scan will be available at your disposal.
Using Group Policy
If you are a network admin and want to disable Windows Defender from your Network, it is wise to use Group Policy. Just follow the steps below to turn off Windows Defender using Group Policy editor:
Open Group Policy Editor (Run –> gpedit.msc)
Go to Computer Configuration –> Administrative Templates –> Windows Components –> Windows Defender Antivirus


Turn off Windows Defender Antivirus group policy
This setting can be accessed through Local Group Policy as well as Domain Group Policy. The local policy will turn off Windows Defender for all local users while the domain policy will disable it for all systems on which the policy is applied.
Disable Windows Defender Using Windows Registry
You can also disable Windows Defender permanently from Windows Registry just by creating or altering a few registry keys.. Follow the steps below:
Go to Run –> regedit. This will open the Windows Registry Editor.
Navigate to the following key:
HKEY_LOCAL_MACHINE\SOFTWARE\Policies\Microsoft\Windows Defender
In the right pane, right-click the empty area and create a new DWORD (32-bit) value.
Rename the new item to DisableAntiSpyware
Double-click DisableAntiSpyware and change its value to 1.
Windows Defender will not load after the next computer restart. To enable Windows Defender again, you can either delete the created registry key or simple change its value to 0.
Please note that you can't completely uninstall Windows Defender. Even if you manage to delete its service or files, it will, most likely, be restored on the next major Windows update.
If you have not installed any third-party antivirus, then you should keep Windows Defender running as it will protect you from most of the common virus/hacking threats while you are connected to the Internet. There should always be an anti-malware solution running on your computer at all times. These methods should be used to disable the security software temporarily.
I hope this has been informative for you. If there are any other easier ways to enable or disable Windows Defender, please let us know in the comments below!