Like Android, Windows 10 comes with the option to enable and use a built-in feature known as "Mobile Hotspot." It can be used to connect your wireless Wi-Fi device directly to your Windows 10 device, just as if it were a Wireless Access Point. It is also useful for in-house LAN gaming amongst a few people without requiring a router or switch.
Let us show you 2 different ways by which you can enable, disable, and manage the SSID and password of your device's hotspot. You can also use the 2 mentioned ways to run 2 different hotspots simultaneously from the same device.
Why use Mobile Hotspot
The Mobile Hotspot feature in Windows 10 might seem useless in the 21st century. But, it might be useful in certain situations.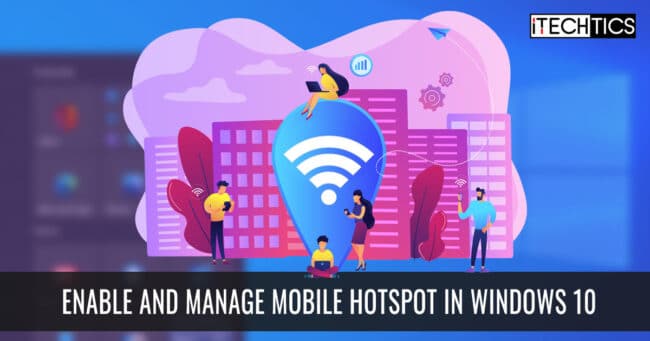 For example, if you are using a wired connection on your computer, you can then extend that same connection wirelessly using the hotspot onto your other Wi-Fi devices. Your PC will then act as a wireless router. This can also be used if you are using a simple broadband router and it does not broadcast wirelessly.
Another useful example of the Mobile Hotspot feature is to use it as a range extender. There might be rooms and corners where you do not receive your router's wireless signals. In such a scenario, a Windows 10 PC can be used as a range extender to power up those signals from the router and broadcast them further ahead.
How to enable built-in Mobile Hotspot in Windows 10
Windows 10 uses the same Wi-Fi adapter it connects to the internet with, for broadcasting on its hotspot. Hence, if your PC has Wi-Fi and Windows 10, then you can certainly set up your very own hotspot.
Enable Mobile Hotspot on Windows 10 using the Settings app
The Settings application for Windows 10 has come a long way since it was first introduced. It can be used to set up Mobile Hotspot on your PC. A maximum of 8 devices can then be connected to your hotspot.
Navigate to the following:
Start Menu -> Settings -> Network and Internet -> Mobile Hotspot
Now select which internet connection you wish to share from the dropdown menu under "Share my internet from." This can be done if you have more than one internet adapter on your computer (wired or wireless).

Now, click on Edit to manage the SSID and password for the users to connect to this hotspot.

In the Edit network info window, assign your SSID and password, and then click Save.

Now, click on the slider under "Share my internet connection with other devices" to switch on Mobile Hotspot.

You can now connect to this hotspot from other Wi-Fi devices by selecting the designated SSID and entering the password. Once the setup is done, you can disable the hotspot when required by returning to the same location within the Settings app, or simply by expanding the Notification Panel in the bottom-right corner of the screen and tap on Mobile Hotspot to enable or disable it.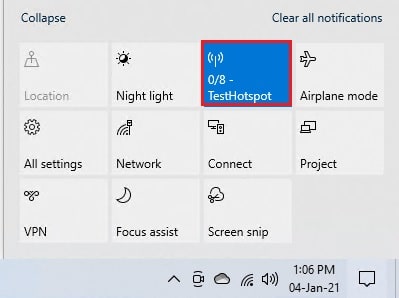 If you wish to change the hotspot's SSID or password, you can do so by clicking Edit again, just like in Step 4 above.
Enable Mobile Hotspot on Windows 10 using Command Prompt
Mobile Hotspot can also be managed, enabled, and disabled using the Command Prompt in Windows 10. However, as we were testing it out, we noticed that this hotspot is not the same as the one available through the Settings app.
After enabling the Mobile Hotspot through the Command Prompt, it had no effect on the hotspot which can be configured through the Settings app, nor any difference could be seen in the Notification Panel. This hotspot is entirely different from the one available through the GUI.
You can now use this method to enable a second hotspot in Windows 10, and use both of them separately, at the same time. Let us show you how to configure Mobile Hotspot through Command Prompt.
Enter the following command to configure the hotspot's settings:
netsh wlan set hostednetwork mode=allow ssid=<em>HotspotSSID </em>key=<em>HotspotPassword</em>
Replace HotspotSSID with the name of the SSID you wish to keep, and HotspotPassword with the password you wish to use to connect with the hotspot.

Now enter the following command to enable the hotspot.
netsh wlan start hostednetwork

You can now connect to this hotspot from other Wi-Fi devices. You can turn it off by entering the following command:
netsh wlan stop hostednetwork
Remember that both of these methods involve 2 different wireless hotspots, broadcasting from the same wireless adapter. When both are enabled, they can be seen on other devices as two separate access points. Both can have 8 devices connected simultaneously.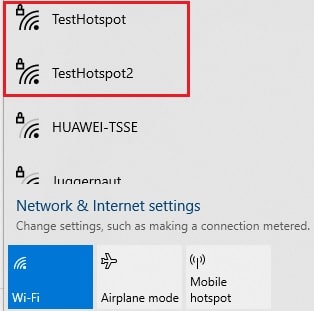 Top 3 hotspot software for Windows 10
Although Windows 10 already provides 2 different ways to manage Mobile Hotspot, it still lacks certain useful features that can help you secure your hotspot and manage it even better. Here is a list of the top 3 hotspot applications to use in 2021:
Connectify Hotspot
Connectify Hotspot is a third-party utility that lets you manage your hotspot needs even better than that of Windows. Both free and paid versions of the software are available. It is a simple GUI-based application from which you can configure the broadcast SSID, configure its password, etc.
It also has some added features in the paid version such as using your computer as a wired router or a Wi-Fi repeater. You can also view and manage the devices connected to your hotspot and monitor their network usage.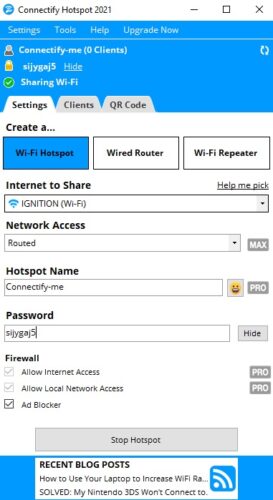 mHotspot
Our second pick is mHotspot. This application requires .NET 3.5 to run, therefore it is recommended that you install it using the guide provided in the link.
mHotspot is another nifty utility that allows you to broadcast your hotspot directly from your computer. You can choose the maximum number of devices to be connected from the hotspot. Moreover, it also displays the statistics of the hotspot once created, such as the clients connected to it, network speed and statistics, etc.
The application is currently in development for Linux as well.
Download mHotspot for Windows.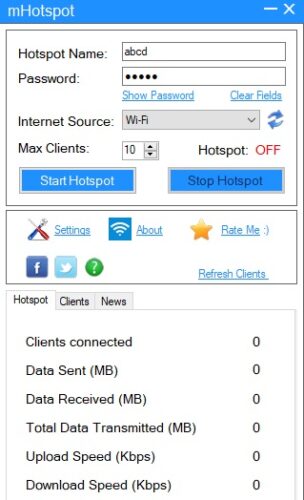 Nirsoft Hosted Network Starter
Hosted Network Starter is another hotspot-creating software that allows a user to broadcast a new SSID using their computer's network adapter. Nirsoft Hosted Network Adapter allows a user to define the maximum number of connections at a time, along with other important configurations.
Once the hotspot is activated, the software then gives you detailed information, such as the devices connected, network traffic rate, etc.
Download Hosted Network Starter.
Closing words
The hotspot feature in Windows 10 can be a lifesaver in some situations. Moreover, with the 2 different approaches to activate it, you can broadcast 2 different SSIDs for different users to connect to. This increases network security by isolating different types of users, without the additional cost of a dedicated Wireless Access Point.
If you want to further enhance your security by limiting the number of connected devices simultaneously, you can opt to use third-party software as they allow you to do so, as well as monitor network traffic.