If you have a lot of clutter and mismanagement on your desktop, Stardock Fences application just might be the solution for you. This paid application lets you organize and manage your desktop shortcuts and applications with a neat and categorized presentation.
We have compiled a list of similar applications that are totally free and just as convenient to use. Let us show you what those are and how you can use them. You may choose the Fences alternative that best suits your requirements.
What is Stardock Fences and why use it?
With the usage of our computers, we tend to add more and more files and folders to our desktops which need to be organized. Managing the files, folders, links, and other materials on our desktop can help us navigate through the data quicker and make our lives a bit easier.
This is exactly what Stardock Fences does. It clears up our desktop and moves all the files to containers and arranges them accordingly.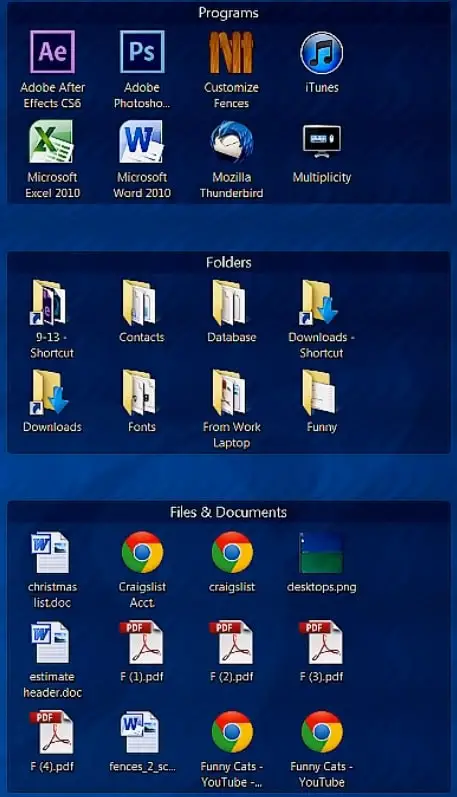 This clears the mesh of icons on our desktops and arranges them automatically into designated workspaces, known as fences. These can be customized in terms of themes, colors, sizes, and renamed. Moreover, you can also move and manage the different contents within the fences, and add or remove them as well.
The Stardock application is truly a life-saver for the people performing time-critical tasks and do not wish to take the time out to organize their desktops especially.
However, the downside to this is that the application is paid. It does offer a 30-day free trial period, but only after entering your financial information.
Free Stardock Fences Alternatives For Windows
The internet is filled with applications similar to Stardock Fences, and of course, are free. Each has its own functionality and distinct features to offer. Below is a list of what we believe are the best free alternatives for the application.
Tago Fences
Tago Fences is the best free Fences alternative. It provides almost the same functionality and features as the Stardock Fences itself. You can create multiple fences and arrange them as per your desire. Moreover, it also has a cool feature to shift between the two desktop views from the two dots at the bottom of the screen, giving you a mobile-like experience.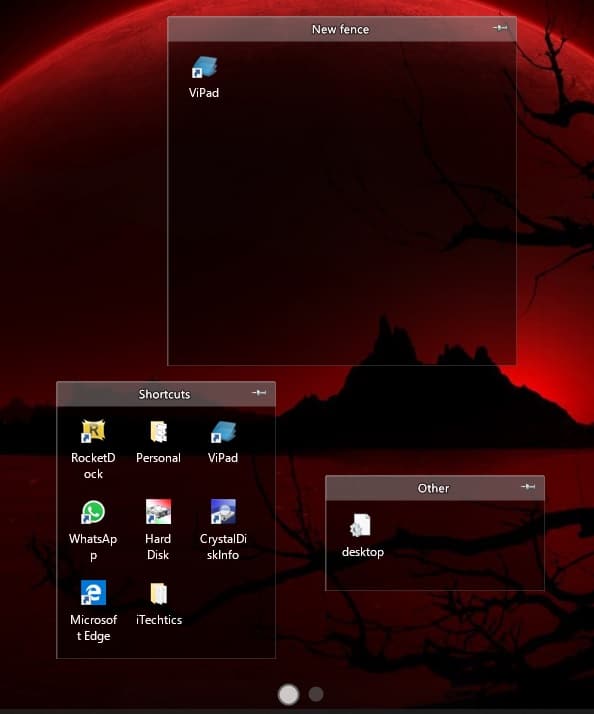 You can customize the different fences in every-which-way, or add and remove existing ones. This application helps you sort through your desktop hassle-free while enabling you to quickly navigate to the right file by organizing them.
Download and install Tago Fences from here.
Nimi Places
Nimi Places is another freeware to quickly navigate within the folders on your PC. Moreover, similar to Stardock Fences and Tago Fences, it also makes fences on your desktop to categorically organize it. You can drag and drop icons in and out of these fences, as well as manage their locations and themes.
It also has a fence that holds all the shortcuts to your important folders, such as in the example given above. This assists users move through different folders quickly, without navigating through File Explorer on Windows.
Download and install Nimi Places from here by completing the Captcha.
SideSlide
SideSlide is a little different than what we have already discussed. Although it does not provide the same fencing as the other software, it does however provide shortcuts for quick navigation and containers. The most distinct part is that it has built-in Really Simple Syndication (RSS), which can be used to read the latest news and blogs from a single place.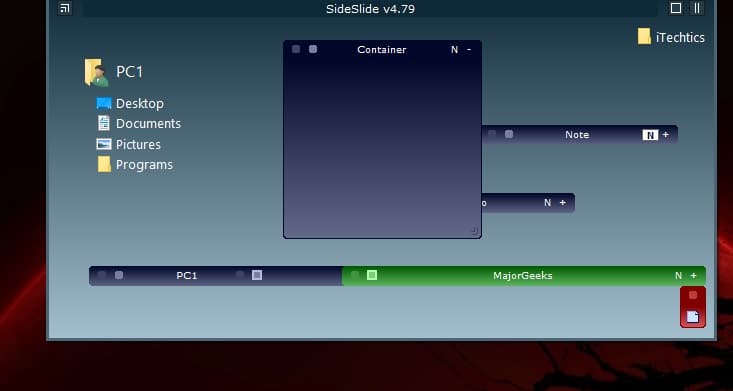 This quick-navigation window is hidden away in the corner of the screen and can be expanded from anywhere within Windows. It makes navigation through files and folders a breeze with customizable shortcuts and containers.
Download and install SideSlide from here.
xLaunchpad
xLaunchpad is another freeware to manage your desktop icons, shortcuts, files, and folders. It does not precisely provide you with containers and fences but gives you a tablet-like experience in general. It takes over your desktop and sorts through it. Moreover, it categorizes certain items, such as different setting shortcuts, or certain types of files into groups for easier management. Of course, it is all customizable.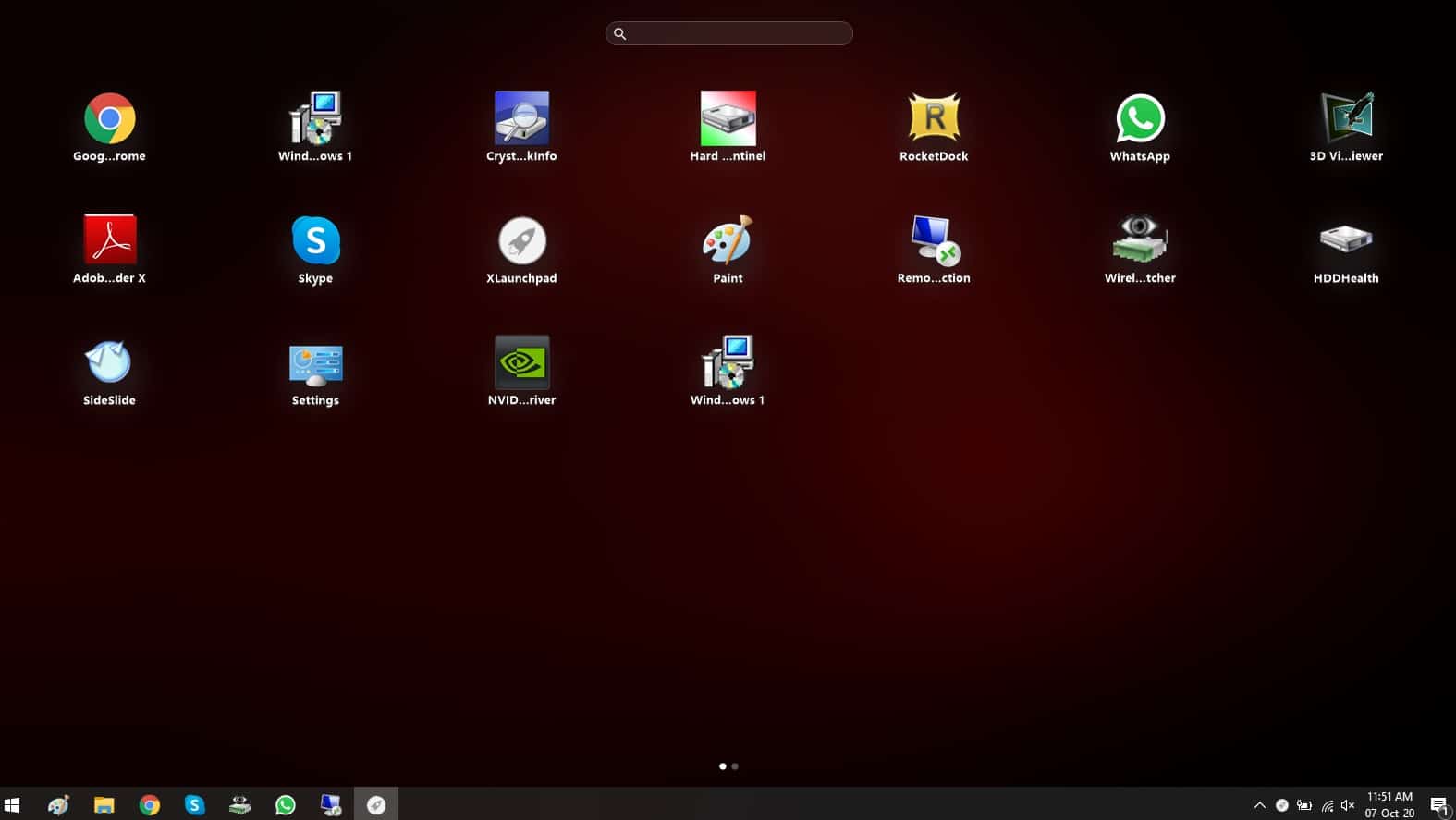 The two dots at the bottom indicate that you can swipe through the different screens, just as in a tablet or a mobile phone. You can also expand the groups to quickly access what inside.
You may also access its settings window through the icon in the Notification Tray, which offers you loads of customizations and other settings through various tabs.
The downside to using xLaunchpad is that it needs to be accessed through the icon in the Notification Tray each time you want to use it. Hence, you will need to minimize any application in full-screen mode to access this utility.
Download and install xLaunchpad from here.
RocketDock
RocketDock is a minimal yet useful utility that provides users with quick access and navigation on your system. It creates a bar on the side of the screen which is easily accessible simply by hovering the mouse near it. It is always available and does not take up your screen as it is customizable to be hidden, and only visible when required.
It provides simple drag-and-drop functionality and can be set to align on any side of the screen. However, it is only accessible at the center of the sides.
The utility does provide quick access to its users but does not provide fences or groupings of icons and shortcuts. Nonetheless, it is ideal for people who want minimum screen overlay and faster navigation through shortcuts.
Download and install RocketDock from here.
Closing words
People might not think of Stardock Fences as an essential item, especially since it is a paid application. But for users who have used such applications in the past, these are ideal for performing tasks with peace of mind and unnecessary headache of navigation through File Explorer.
We would recommend you to try these free applications first according to your requirements before purchasing a license for the Stardock Fences. There is a possibility that you might like the freeware and not go for a paid application at all.