RSAT Tools are available for installation on Windows 10 Version 2004. If you are using Windows 10 Version 1803 or earlier, you will need to download RSAT Tools from here. RSAT Tools come as an optional feature (included in Features on Demand) in Windows 10 Version 1809 and later. It can be enabled from the settings.
What are RSAT Tools?
Remote Server Administration Tools (RSAT) assists IT Administrators manage and monitor servers remotely from client Operating Systems like Windows 10 and Windows 7 without actually logging into the server.
RSAT tools can only be installed on Pro or Enterprise versions of the OS. If you are running Windows 10 Home, it is not available for installation.
Let's see how the RSAT can be installed on Windows 10 Version 2004.
Install RSAT on Windows 10 using Windows Settings
Navigate to the Start Menu –> Settings (Gear) Icon –> Apps, and then click on Optional Features.
Click on Add a Feature

Search for RSAT on Add an Optional Feature window. You will have a series of options to choose from. Optional Features offers different components of the remote server to manage so that it is not too heavy for the operating system which you are working on (Windows 10).
Choose the components you wish to install and click Install.
After installation is complete, restart the computer. The installed features will shift from Optional Features to Installed Features after the reboot.
The installed features are now ready for you to use!
Install RSAT on Windows 10 using the command line
PowerShell and Command Prompt can be used to view and install optional components in Windows 10.
1- View Currently Installed RSAT Components
Run Windows PowerShell and enter the following command:
DISM.exe /Online /Get-Capabilities
This command will return a series of components and their details on whether they are Installed or Not Present. Copy the name of the component you want to install.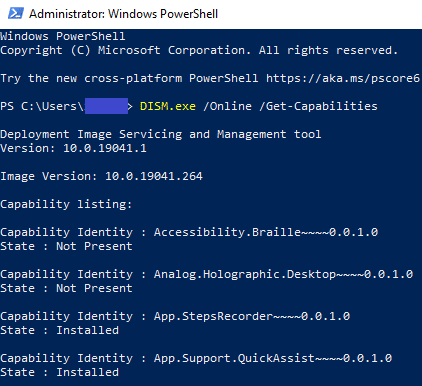 2- Install RSAT tools using command line
Use the following command to install optional features including RSAT tools:
DISM.exe /Online /add-capability /CapabilityName:CapibilityName
Note: Replace the CapabilityName in the command above with the name of the capability identity from PowerShell. Simply copy-paste the name of the identity.
How to uninstall unwanted RSAT components from Windows 10
You can also remove or delete any unwanted features from your computer which is running Windows 10.
Simply navigate to the following:
Start Menu –> Settings (Gear) Icon –> Apps –> Optional Features
Click on the feature you wish to remove below the Installed Features and then click Uninstall.

RSAT Alternatives
RSAT is probably the best free Active Directory management tool out there. If you are looking for RSAT tool alternatives, you can check out these tools:
SolarWinds Access Rights Manager
Server and Application Monitor
Anturis
XIA Automation
ManageEngine ADAudit Plus
Bulk Password Control
Adaxes
Quest Active Administrator
Z-Hire and Z-Term
Do you plan on using RSAT on Windows 10? Or would you prefer managing the servers directly?