Windows 10 November 2019 Update (Version 1909) is available for download and installation. Microsoft is rolling out the update to all Windows users. We already discussed the features and enhancements included in version 1909 and already know that it is more of a performance fix or a service pack than a full-fledge feature update.
This version is also called Windows 10 19H2. If you go to the Windows Update settings screen, you will see that it is listed as an optional update and you will need to press the download and install button to install it. It will not automatically install, at least for the time being.
NEW: Download Windows 10 Version 2004 now!
Since this is just a performance update, it is recommended that you upgrade your Windows to this latest version. You can also block this update from installing on your computer.
How to get this update now
There are two ways to install this update. If you are running Windows 10 Version 1903 or version 1809, you can get it from the Windows Update. Just run the Windows Update and it will automatically be available for download and installation. Secondly, you can also download the ISO image of Windows 10 Version 1909 and install it either by running the ISO file directly from Windows Explorer or booting your computer from the Windows 10 Version 1909 bootable USB/DVD.
The second way is beneficial if you want to do a clean install of this version instead of upgrading on already existing Windows installation. The Windows Update size of this version is very small as compared to the full ISO image. The ISO image is around 5 GB and it takes time to install or upgrade from the ISO.
Upgrading to Windows 10 Version 1909
To upgrade, follow the steps below:
Go to Windows Settings (Windows key + I) –> Update & Security –> Windows Update.
Press Check for new updates button
Install all the available updates.
The November 2019 Update will be listed as an optional update. You have to press Download and Install Now to install the update automatically.
A restart is required after the update installation. You can either restart immediately or schedule the restart as the update installation will take several minutes for the upgrade process. The following video is very useful for this complete upgrade process:
https://www.youtube.com/watch?v=iKSjehyCJmw
Download Windows 10 Version 1909
There are several ways to download and install Windows 10 version 1909. You can go through the list of methods to download Windows 10 November 2019 Update and select whatever is suitable for you. Let me list down the ways here:
Download using update assistant
Download using the media creation tool
Download the ISO directly from Microsoft (available in all languages)
All these methods are discussed in detail in the following article:
Download Windows 10 ISO in all languages
Windows 10 Version 1909 ISO Direct Download Links (Only English)
If you want to download the English version, here are the direct download links from Microsoft.

  Windows 10 Version 1909 64-bit English (5.0 GiB, 457,954 hits)

  Windows 10 Version 1909 32-bit English (3.5 GiB, 32,539 hits)
These links come directly from Microsoft. We mask the links because the links expire after every 24-hours and a new link is generated. The above-mentioned link will always point to the latest working link from the Microsoft download site.
If you install this version without an Internet connection, the build number will be 18363.418. But since this version is available along with other Patch Tuesday updates, new updates will be installed and your build number will become 18363.476.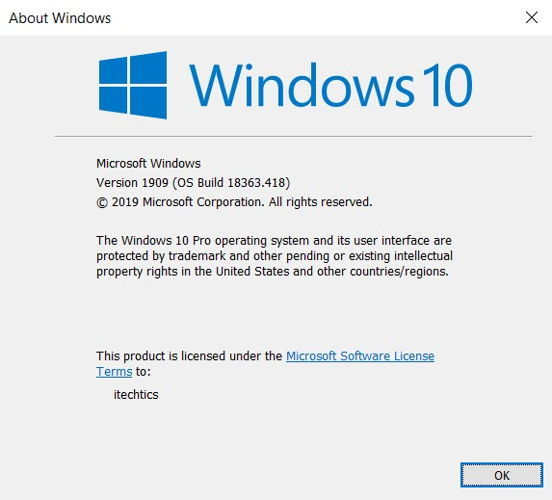 If we look at the hardware, Windows 10 Version 1903 and 1909 are the only ones officially compatible with 10th generation Intel processors. Both these versions will also have the same base kernel and system files. Therefore, both versions will get the same cumulative updates in the future. So it's safe to say that you can upgrade to 1909 safely if you are already running Windows 10 Version 1903. You can check out the Windows processor requirements for all Windows versions here.