If you want to have the ultimate gaming experience on your Windows 10 PC, then you absolutely must ensure that your hardware supports DirectX 12 Ultimate. DirectX is a collection of Application Programming Interfaces (APIs) that have been created to enhance your multimedia experience, which includes streaming, gaming, and audio to the maximum.
Currently, DirectX 12 Ultimate is the latest and most advanced API technology by Microsoft which promises to give you an overall experience whilst gaming like you have never before.
However, simply installing DirectX 12 Ultimate is not sufficient. You need to ensure that your hardware, which is your computer, supports it as well. This article discusses how you can make sure whether your PC supports it, or buy the one that does.
What DirectX 12 Ultimate offers
Microsoft calls DirectX 12 Ultimate the "new gold standard for gaming graphics." It is said to provide visual graphics that are as good as movies, significantly improve the framerates through Variable Rate Shading, and improves the overall performance through quick processing and faster response rates.
Together with the Xbox Game Bar in Windows 10 and DirectX, a computer becomes the ultimate gaming tech that you would ever need for first-person shooting and other games in the best quality.
You can read more about DirectX 12 Ultimate in this blog post.
How to check if your PC supports DirectX 12 Ultimate
If you are going to purchase a new PC, Microsoft recommends that you get the one that supports DirectX 12 Ultimate.
If you are upgrading your gaming PC or buying a new one, look no further than "DirectX 12 Ultimate" on the product page or retail boxes!

Microsoft
The best way to ensure that your hardware supports this technology is by looking for it on either the retail box or by checking out the support on the manufacturer's website.
However, if you already own a Windows 10 PC, you can check whether it supports DirectX 12 Ultimate through Xbox Game Bar. The Game Bar now automatically performs a test and lets you know whether your hardware is DirectX 12 Ultimate compatible or not.
Simply launch the Xbox Game Bar by pressing the Windows key + G shortcut keys. Then, click on Settings and the settings window will popup below it. Navigate to the Gaming features tab from the left of the window, and you will now see the DirectX 12 Ultimate status on the right, as shown in the image below: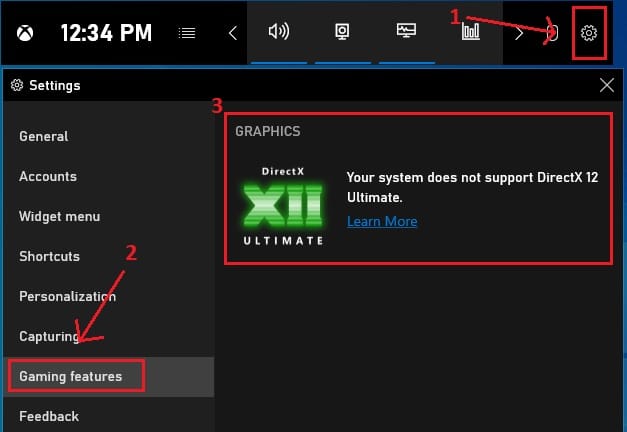 If you find that the above features are not available on your Xbox Game Bar, we suggest that you try updating it through the Microsoft Store.
Supported hardware for DirectX 12 Ultimate
Microsoft has also shared a broad spectrum of supported graphics cards for DirectX 12 Ultimate. If you have any of the following hardware, then you should have no problem experiencing the best multimedia on your PC:
AMD Radeon RX 6000 series
NVIDIA GeForce RTX 30 series
NVIDIA GeForce RTX 20 series
Closing words
Previously, Microsoft was releasing DirectX as a separate entity. However, it is now available and regularly updated through the Windows Update feature. Therefore, if you are a hardcore gamer, then you no longer need to worry about DirectX being up to date, and focus on which GPU and PC to upgrade to for the optimum multimedia experience.