Download and Install Windows 7 Games in Windows 11 for Free
Microsoft has removed our childhood from Windows by replacing the classical built-in games which came with Windows 7…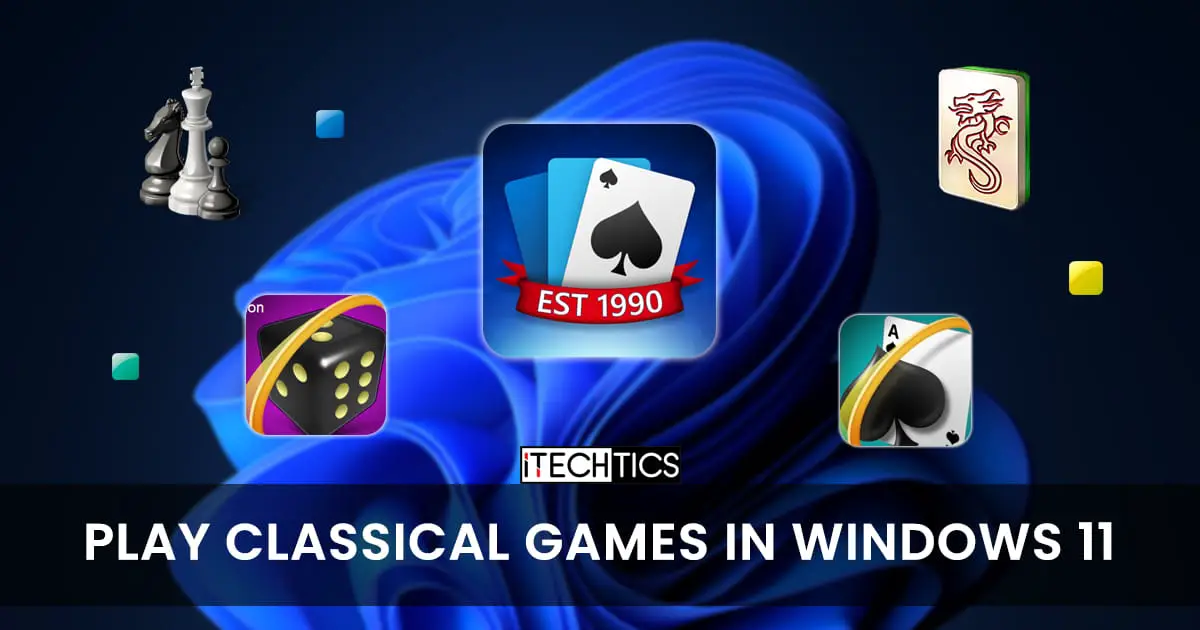 Microsoft has removed our childhood from Windows by replacing the classical built-in games which came with Windows 7 with more advanced and modern app-like-interfaced games. Let's be honest, it's just not the same anymore!
Starting with Windows 8, legacy games were removed and replaced with Microsoft Store apps for games like Solitaire, Minesweeper, etc. However, you can now bring back your childhood by installing the same legacy games on your Windows 11 computer so you no longer have to bear those ugly, non-fun new games anymore.
Win7games has modified the gaming package to be installed (and compatible) with a bunch of other Windows versions as well. You can download, install, and run the Windows 7 games on the following operating systems:
Windows 11
Windows 8.1
Windows 8
The package supports the following languages; Meaning, the game will run in any of the below mentioned languages, depending upon your system's locale:
Arabic (Saudi Arabia), ar-SA
Bulgarian (Bulgaria), bg-BG
Czech (Czech Republic), cs-CZ
Danish (Denmark), da-DK
German (Germany), de-DE
Greek (Greece), el-GR
English (United States), en-US
Spanish (Spain, International Sort), es-ES
Estonian (Estonia), et-EE
Finnish (Finland), fi-FI
French (France), fr-FR
Hebrew (Israel), he-IL
Croatian (Croatia), hr-HR
Hungarian (Hungary), hu-HU
Italian (Italy), it-IT
Japanese (Japan), ja-JP
Korean (Korea), ko-KR
Lithuanian (Lithuania), lt-LT
Latvian (Latvia), lv-LV
Norwegian, Bokmål (Norway), nb-NO
Dutch (Netherlands), nl-NL
Polish (Poland), pl-PL
Portuguese (Brazil), pt-BR
Portuguese (Portugal), pt-PT
Romanian (Romania), ro-RO
Russian (Russia), ru-RU
Slovak (Slovakia), sk-SK
Slovenian (Slovenia), sl-SI
Serbian (Latin, Serbia and Montenegro (Former)), Sr-Latin-CS
Swedish (Sweden), sv-SE
Thai (Thailand), th-TH
Turkish (Turkey), tr-TR
Ukrainian (Ukraine), uk-UA
Chinese (Simplified, China), ZH-CN
Chinese (Traditional, Taiwan), zh-TW
The package includes the following games:
Solitaire
Spider Solitaire
Minesweeper
FreeCell
Hearts
Chess Titans
Mahjong Titans
Purble Place
Internet Spades
Internet Checkers
Internet Backgammon
Let us now guide you through the process of installing these Windows 7 legendary games on your new PC.
Download and Install Windows 7 Games in Windows 11
Open the Win7games download page and click on the Download Games button.
The zip file will now be downloaded. Once complete, extract the content into an empty folder.
Now open the folder where the package is extracted and double-click the .exe file to run it. If prompted with a User Account Control (UAC), click Yes.
The game installation wizard will now run. On the first screen, select the language for the wizard from the drop-down menu and click Ok.

On the next screen, click Next.

Now select the games that you want to install. When selected, click Install.

Selected games will now be installed that you can enjoy by searching for them through the Search box or the Start Menu.
You can also perform a silent installation without dealing with the wizard entirely. To do so, follow the steps below:
Open Command Prompt with administrative privileges and then navigate to the extracted folder using the cd cmdlet.

This, too, will install your favorite Windows 7 games on a Windows 11 device.
Uninstall Windows 7 Games from Windows 11
You can also remove the installed Windows 7 games from your computer if you no longer play them. However, the entire collection will be removed altogether. You cannot selectively delete the games.
Note: If you want to remove selective games only, we suggest that you uninstall the entire game package using the given guide below and then reinstall it through the installation wizard while selecting only the games you want to keep.
To remove the Windows 7 games, open the Programs and Features page by typing in appwiz.cpl in Run and then double-click "Windows 7 Games for Windows 11, 10, and 8" to remove it. If prompted with a confirmation box, click Yes.
Alternatively, you can also uninstall these games through the Settings app by navigating to Apps >> Apps and features, then click on the ellipses in front of "Windows 7 Games for Windows 11, 10, and 8," and then click Uninstall.
FAQs
Do Windows 7 games work on Windows 11?
Since there are no significant architectural differences between Windows 7 and Windows 11, the games that worked on Windows 7 should also work on Windows 11.
How to get Windows 7 games on Windows 11/10?
You can download the Windows 7 gaming package from https://win7games.com/#games and install it on your Windows 11, Windows 10, or Windows 8 device.
Also see:
Subscribe to our Newsletter
Get the latest tech news, advice and downloads in your inbox