Windows 10 is a secure Operating System. It gives you different options to login to the system with authorization and prevents unauthorized access.
Windows 10 gives you by default log in screen which asked for password also. Passwords are essentials if you are concern about privacy of your machine but In any case if you don't like to login again and again to get into the desktop. Seeing log in screen every times make you feel bore and useless.
There is a solution for this, now you don't have to use a password to log-in into your account. It's very easy and simple. You can get rid of entering your password again and again in just a few steps.
Using Control Panel
Follow these steps to stop your system from being asked for a password at every log-in.
Open your start menu and enter "netplwiz" in search box. Then click on the top first result
Or you can also write in "run" dialog –>  control userpasswords2.
Both of the above will take you into the same window
Now a window named "user accounts" will open.  There is a check box "users must enter username and password to use this computer". Uncheck this check box.
After unchecking the checkbox, click OK. Then a window will appear which will ask you to enter and re-enter the password.
Now click "ok". Now you are up and you can enjoy password free log-in into your system.
Using Group Policy
There is also another way to prevent password for login into system.
Open "run" box and type "gpedit.msc" and click ok
Then a window of "local group policy editor" will open.
Click on administrative templates -> control panel-> personalization and then double click on "don't display the lock screen" from the right window's list
Then a window "do not display lock screen" will appear. Click on "enable" radio button and press ok.
Now restart your system. Lock screen of your system will not be shown to you now.
Above two of solutions are easy and will give you 100% correct result. You can simply follow them and your password screen will be gone.
Alternates for Password login
Windows 10 offers Log-In ways other than passwords. These are discussed below. The user may choose any of them which is suitable for him/her.
Pin
Go to settings, then click on "accounts" and there you'll see option for "sign-in options". Click on it then PIN option will be available. Click on it to add a PIN for your log-in account
When you click on "add", it will ask you to enter your current password then promote you to enter your new PIN, which can be at least 4 digits and exceed up to 6 or 8 digits.
Now you don't need to remove the older password, it'll remove auto. After setting Pin, you will ask auto for PIN not for the password. After completing your PIN, you don't need to press the enter key. It'll log-in auto as you enter the last digit of your PIN.
This is an alternate way to Log-In rather than Log-In through password.
Picture Password
Another way to Log-in is you can use picture password. It is again at same location go to "settings", then "accounts" and then "sign-in options". There you'll see picture password option. Click on it.
Firstly it'll ask you to verify the password of your current account. Then promote to window to ask to browse the picture
.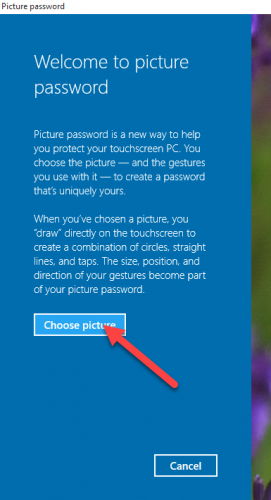 Then ask your permission about your selected permission to use it.
Then it will ask you for 3 any gesture anywhere in your picture for security.
After putting gesture, it will be done and ask you to finish this setup
So this is how you can set the picture password for Log-In into your system
Windows Hello (Bio-metric Recombination)
If your machine supports bio-metric authentication, this will allow you to fingerprint recognize as a Log-In into your account/system.
If you don't have built in finger scanner, you can use some portable scanners for this purpose. This is a very cool and good feature of windows 10
Hence, all these are possible alternates of Log-in into your account without entering a password. I hope this article will provide complete information and guidance on how you can use your system Log-In without a password and with its alternates.
Also see: