Aren't you excited about the all-new Windows 11 about to be launched? Well, Microsoft has another surprise for you. Microsoft Office 2021 for Consumers is going to be launched alongside Windows 11 on 5th October 2021.
As with the cloud-based version of Office, which is Office 365, Microsoft also launches offline versions of their suite. As opposed to monthly subscription-based plans for Office 365, people can use Office 2021 with a more revamped layout and tons of new features with a one-time initial payment.
Let us now see what exciting things await us with the new Office 2021.
Microsoft Office 2021 Release Date
As we mentioned above, Microsoft Office 2021 will be released for regular consumers and small businesses on 5th October 2021. However, the LTSC version has already been released on 16th September 2021 for the larger corporations.
Microsoft Office 2021 system requirements
Below are the bare minimum computer requirements that you must have before you can use Office 2021 in your system:
CPU: 1 GHz Dual-Core processor
GPU: DirectX 9 with WDDM 2.0
Memory: 4 GB RAM
Storage space: 4 GB availability
Display Resolution: 1280 x 768
.NET requirement: 4.6 or higher
Other: Few Outlook features require Microsoft Edge WebView2
Microsoft Office 2021 Pricing
Microsoft has not officially disclosed the costs of Office 2021. However, they did mention that they currently do not plan on changing the price of the product.
We do not plan to change the price for these products at the time of their release. 

Microsoft
Therefore, the following (old) costs can be deduced for Office 2021:
Office Home & Student 2019 – £119.99/US$149.99
Office Home & Business 2019 – £249.99/US$249.99
What's new in Microsoft Office 2021
Microsoft has introduced a plethora of new features and improvements in contrast to the older versions. This includes new editing tools, motion graphics, accessibility features, functions, data types, and inking tools. This is only the tip of the iceberg! Here is a list of the most highlighted features in Office 2021:
A new refreshed design.
Search bar on all Office apps.
Significant performance enhancements.
Support for OpenDocument format 1.3 added.
New outline options for shapes added.
Hex color value box added for selecting colors.
XLOOKUP search capabilities for Excel.
Dynamic array functions added to Excel.
LET function incorporated to assign names to function results for Excel.
XMATCH to pinpoint the relative position of items in Excel.
Presenter video recording, ink recording, and laser pointer recording added to PowerPoint.
Replay ink strokes in PowerPoint.
Re-arrange slide elements in screen-reading order in PowerPoint.
Over 70 languages are now supported for translation in Access.
Tab manager for different database objects in Access.
New Azure and AWS stencils and shapes in Visio.
Instant search results in Outlook.
Updated Draw tab in Word, Excel, and PowerPoint.
Revamped Dar Mode for Word.
To learn more about the upcoming changes in Office 2021, read this Microsoft post.
Microsoft Office 2021 compatibility with other versions
What would happen if you installed Office 2021 alongside other versions of Office, such as Office 2019, 2016, or Office 365?
Well, if you already have a standalone older version of Microsoft Office installed on your device, then Office 2019 can be installed alongside it, although not recommended. This is because you may have trouble at the time of activation since both standalone Office versions will contact Microsoft servers for the activation code verification.
However, in case you have a subscription for Office 365, then you cannot install Office 2021 alongside it, unless you install it using an MSI file.
If you want more information about Office 2021 compatibility with other versions, read this Microsoft blog post.
Download and install Microsoft Office 2021
Note: We will update this post once Microsoft Office 2021 for Consumers is released.
You can download Office 2021 from their official website. However, you will require an Office account to download the offline package. Alternatively, you can also sign in using a Microsoft account.
Once logged in, click Install Office.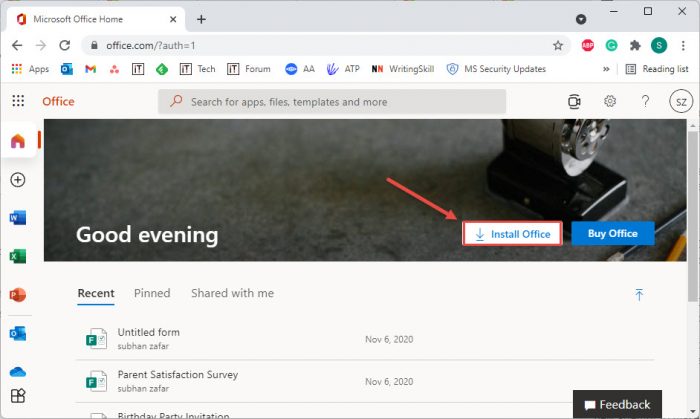 You will then need to execute the downloaded file to install Office 2021. Note that you will require a valid Office key, which was purchased, to run the Office 2021 suite.
Frequently Asked Questions
In this section, we are answering some questions that you may have in mind regarding the new Microsoft Office 2021. If you can't find your question here, please leave a comment below and we'll try answering it for you.
Which apps does Microsoft Office 2021 include?
Microsoft Office 2021 includes the same apps as in Office 2019 including Microsoft Word, Excel, PowerPoint, Publisher, Access, and Outlook depending upon the license you have purchased.
When will Office 2021 be released?
Microsoft has confirmed that Office 2021 will be released on October 5, 2021 along with Windows 11 and Windows 10 Version 21H2. The pricing of Office 2021 will also remain the same as Office 2019.
What is the difference between Office 2021 and Office 365?
Office 2021 can be purchased for a one-time fixed fee while Office 365 is a cloud based paid monthly subscription service.
Office 365 is tightly integrated with OneDrive such that the user can use Office apps online as well as offline. Office 2021 apps can only be used offline.
Another major difference between the two is that once you purchase Office 2021, you will not get any major feature upgrades. For this, you will need to purchase the next version of Office. Office 365 always gets the latest features and updates as long as the subscription is active. Once the subscription expires, the user loses access to all Office 365 apps.
Usually, a single license of Office 365 can be used on up to 5 computers and 5 mobile devices while a single license of Office 2021 can only be used on one device.
What is the difference between Office 2021 and Office LTSC
The new version of Office LTSC was released on 16th September 2021 for business users. It is a specialized version of Microsoft Office that is meant to be used in a regulated environment by enterprises. These environments include scenarios where the devices running Office cannot be connected to the Internet. The LTSC version will get fewer updates as compared to Office 2021 and Office 365.
I have Office 2019 license. Can I upgrade to Office 2021 for free or less cost?
Since Office 2019 is a non-subscription based license, you cannot upgrade to Office 2021 license for free. You will need to purchase a separate license for Office 2021. If you always want to keep Office with the latest features, you can buy a Microsoft 365 subscription.
Can I install Office 2021 alongside Office 2019?
Yes, but with a caveat. You can install Office 2021 alongside Office 2019 only if you have 64-bit version of Office 2019 installed. If any 32-bit Office app is running on your computer, you will need to uninstall the app and then install Office 2021.
Another restriction is that you have to install an earlier version of the Office suite first i.e., you can install Office 2019 after installing Office 2021. Similarly, in most cases, Office 2021 and Office 365 will not be able to run together.
Closing words
Installing or upgrading to Office 2021 is not a difficult task. However, you do need to ask yourself if you need to upgrade? Although this release offers some new features and performance enhancements, do you use the Office that much?
If you are a consumer finding yourself coming across the Office app daily, we suggest that you do an upgrade to gain the best performance out of it.
However, if you are an occasional user, then we think that an older version would still work fine to get your tasks done.