Microsoft 365 Copilot is an AI tool integrated with Microsoft 365 apps, like Word, Excel, PowerPoint, Teams, etc.
It is currently only available to select enterprise users with Microsoft 365 E3, E5, Business Standard, and Business Premium plans.
Microsoft 365 Copilot is priced at $30 per user per month, which is on top of the basic Microsoft 365 subscription plan.
Microsoft is one of the leading technologists integrating Artificial Intelligence (AI) into their products. Recently, Microsoft announced that they are incorporating an AI language model into their Microsoft 365 product line, known as "Microsoft 365 Copilot."
Copilot is a feature that maximizes productivity across various Microsoft products, which include Word, Excel, teams, and many more. In this article, we are going to dive deep into the Copilot feature by Microsoft, learn what it is and how to get it, and understand its pricing structure.
What is Microsoft 365 Copilot
Microsoft 365 Copilot is an add-on feature for enterprise users that embeds right into the Microsoft 365 applications. It uses OpenAI's GPT-4 language model to perform the tasks to speed up the user's productivity, reduce resource consumption, and streamline the overall processes.
In simple words, Copilot allows you to perform AI-based tasks specific to the app you access it in. For example, in Microsoft Word, you can instruct Copilot to create content based on a specific topic or summarize the content inside a document, and many more similar actions.
Here are a few of Copilot's features across different Microsoft 365 apps:
Word: Writes, edits, summarizes, and creates right alongside you as you work.
PowerPoint: Enables the creation process by turning ideas into a designed presentation through natural language commands.
Excel: Helps unlock insights, identify trends or create professional-looking data visualizations in a fraction of the time.
Outlook: This can help synthesize and manage the inbox to allow more time to be spent on actually communicating.
Teams: It makes meetings more productive with real-time summaries and action items directly in the context of the conversation.
Power Platform: It will help developers of all skill levels accelerate and streamline development with low-code tools with the introduction of two new capabilities within Power Apps and Power Virtual Agents.
Business Chat: It brings together data from across documents, presentations, emails, calendars, notes, and contacts to help summarize chats, write emails, find key dates, or even write a plan based on other project files.
The main objective of Microsoft 365 Copilot is to assist users in accomplishing their daily tasks. This includes composing emails and documents, summarizing long documents, generating and autocompleting programmable code, paraphrasing text or checking for grammatical errors, etc.
Who needs Microsoft 365 Copilot?
Copilot is designed for both home-based users as well as enterprise users. Although, at the time of writing this post, Copilot is only available for select enterprise users, it is designed with the average user in mind.
Copilot can be used to assist you in doing a student's homework, transcribing audio to text or vice versa, planning and organizing Teams meetings, getting live information and statistics, and much more. This leads us to believe that it will not only be helpful for business and enterprise users but also for regular home users.
That said, Copilot's pricing is coherent with enterprise users (per user per month), which might hint toward Microsoft not releasing Copilot for the standalone Microsoft Office products just yet. However, we believe that, in time, Copilot will make its way not only to the Office suite but also to the Windows OS, and may potentially replace Cortana.
Microsoft 365 Copilot pricing
One of the significant factors while planning to use Copilot is its pricing.
In a recent Microsoft Inspire Conference, Microsoft announced the pricing plan for Copilot. Microsoft 365 Copilot will be charged $30 per month per user. This price is on top of the basic costs for the commercial users of Microsoft 365 E3, E5, Business Standard, and Business Premium customers.
You can find the base costs for Microsoft 365 plans here.
Although it may not seem like much, according to a report, this additional $30 could increase enterprise costs by up to 83%.
How to download Microsoft 365 Copilot
Microsoft 365 Copilot is only available for Microsoft 365 applications. Therefore, you cannot download/install it on standalone Office installations. Additionally, you need a per-user license from Microsoft in order to have Copilot embedded in the apps. For that, you must first have a Microsoft 365 E3, E5, Business Standard, or Business Premium subscription, after which you must also purchase a Copilot subscription.
Once you have the subscription licenses, you can use the following steps to use Microsoft 365 Copilot in any Microsoft 365 app:
Start by launching the Microsoft 365 app on which you want to use Copilot.
The process for using Microsoft 365 Copilot is more or less the same across all Microsoft 365 applications, including Microsoft Teams.
Microsoft Teams users can benefit from Copilot to improve communication and cooperation. By providing instant summaries and action items, this tool increases the efficacy of meetings. Additionally, a team member can ask Copilot for a conversation summary if they fail to take notes during a meeting. Copilot will then send them a thorough document with all of the essential decisions and assignments conducted during the meeting.
Users may also request meeting reviews from Copilot, enabling future interactions to be more fruitful. The Business Chat solution, which offers additional capabilities across all apps and data, is also included in Teams.
Microsoft 365 Copilot release date
As mentioned earlier, Microsoft 365 Copilot is currently only available to select enterprise users, that, too, after paying an extra $30 per user per month on top of the Microsoft 365 basic plans. That said, there is no official statement from Microsoft on when Copilot will be or is planned to be released to the public.
How to enable Copilot on Windows 11
Microsoft is also working on Copilot for Windows. However, this feature is still in the making and is currently only available on the Dev channel for the Insiders. Copilot or Windows is available on Windows 11 Build 23493 and later builds, but still has not made its way to the stable releases.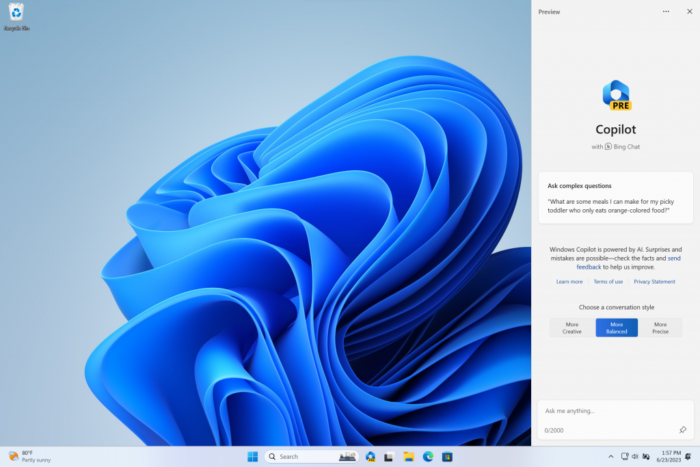 Windows Copilot is very much similar to Microsoft 365 Copilot – it assists users to perform and automate tasks, just like the Bing Chat box in Microsoft Edge.
Takeaway
Microsoft 365 Copilot is an AI-powered tool integrated into Microsoft 365 applications that assists users enhance their productivity through a bunch of automation and simple tasks. It is designed for both home and enterprise users but is currently only available to select Microsoft 365 enterprise and business subscribers.
Microsoft 365 Copilot is priced at $30 per user per month, which is on top of the basic Microsoft 365 subscription cost.
Copilot seems like a powerful AI tool that will change the digital data handling realm for all tech users. Although interesting, it is equally alarming for educational institutes and other human-oriented structures since this sort of AI can replace both student interaction as well as generate AI content for content creators.