The world of laptops can be overwhelming, with a plethora of options to choose from, each promising to deliver the best performance and features. It's easy to get lost in the sea of buzzwords, technical specs, and flashy designs.
But fear not, for we're here to guide you through the maze and help you find your perfect match. Whether you're a student, a professional, or a creative individual, we understand that your laptop is more than just a device; it's an extension of yourself. It's a tool that enables you to bring your ideas to life, stay connected with the world, and express yourself in ways that weren't possible before.
That's why we've put together this comprehensive laptop buying guide filled with tips, to help you make an informed decision.
On This Page
Benefits of Owning a Laptop
Laptops provide more benefits than one could imagine over the traditional desktop PC. Here are some benefits of having a laptop, to start:
Laptops are highly portable, allowing you to take your work or entertainment with you wherever you go.
Unlike desktop computers, laptops don't require a dedicated workspace or a permanent setup.
Laptops take up minimal space, making them ideal for those who have limited space in their homes or offices.
They offer a wide range of functionalities, from browsing the internet to video editing, gaming, and more.
Laptops are equipped with native wireless connectivity options, enabling you to connect to the internet and other devices seamlessly.
Most laptops come with rechargeable batteries that offer extended use time, allowing you to work or play for longer periods without needing to be tethered to a power outlet.
With a laptop, you have the flexibility to work or play from any location, be it your home, office, or coffee shop.
They are great for collaboration, enabling multiple users to work on the same project or document simultaneously.
They offer the ability to multitask, allowing you to run multiple applications or programs at the same time, boosting productivity.
These are just some of the benefits of having a personal laptop, for either work or entertainment purposes.
Before we being discussing the factors to consider before making your net laptop purchase, let us take a look at the types of laptops available in today's market.
Types of Laptops
Just like every other casual user, you might also be unaware of the vast range of laptop types. Each one comes with a unique set of features and is designed for different needs. Before you buy a laptop, it is important to understand its different types.
Here is a breakdown of the types of a laptop that you can choose from.
Note: Some types of laptops are differentiated because of their operating system, manufacturer, or both.
Netbooks
Netbooks are small and cheap laptops that were popular for a few years because they were affordable, but they had trade-offs like slow speed, low RAM, and low storage. As the name suggests, netbooks were primarily used for web browsing and emails and were popular because of their affordable price point.
Netbooks were powered by Intel Atom processors, which were energy efficient but not very powerful. However, with time, manufacturers are making netbooks with the same form factor but upgraded specs. Now, netbooks support up to 16 GB of RAM, the latest processors, and pretty much everything that a regular laptop includes.
Users may still choose a netbook over a traditional laptop because of its portability, lightweight, and cheaper price point.
Notebooks
Notebook is a common term for a regular laptop. It is a type of laptop designed to strike a balance between portability and functionality. These laptops come in a variety of sizes and specifications, including processor speed, storage capacity, memory (RAM), and screen sizes.
They can range in price from budget-friendly models to high-performance productivity and gaming laptops. Notebooks are ideal if you need a computer that is both portable and functional. They are often used by students, business professionals, and travelers who need to work on the go.
Unlike netbooks, notebooks are powered by more efficient processors that provide reliable performance for basic tasks. While battery health may not be as long as other laptop models, depending on your needs, this may not be a major issue.
Ultrabooks
An ultrabook is a type of laptop that is specifically designed to be ultra-portable, lightweight, and have a long-lasting battery. These devices are made by Intel and must meet certain criteria in terms of size, weight, and battery life to be classified as an ultrabook.
They have a sleek and modern design that makes them stand out from other laptops. They are also equipped with hardware-level security and anti-theft protection. Ultrabooks offer a great user experience with a powerful battery that can last up to 20 hours on a single charge (can vary with models and power conditions).
They are perfect if you are always on the go and need a portable device that can keep up with your lifestyle. However, ultrabooks can be more expensive than other laptops and may not be the best choice if you have limited space or want an inexpensive laptop.
Chromebooks
Are you looking for a fast and affordable laptop computer that can help you complete your work quickly and easily? Then a Chromebook might just be the perfect option for you! Developed by Google, a Chromebook runs on ChromeOS, which is designed to work primarily with web-based applications.
It stores your data on the cloud, so you don't have to worry about losing your files if your laptop is lost or damaged. One of the most notable features of a Chromebook is its speed. It can complete any instruction faster than a normal laptop, making it ideal for anyone who needs to work quickly and efficiently.
Additionally, a Chromebook is also ahead of other laptops in terms of security, with built-in virus protection to keep your data safe from online threats. With the Chrome Web Store, you can download any application you need to get your work done, from productivity tools to entertainment apps.
No wonder Chromebooks are becoming increasingly popular in schools and corporate groups, as they offer an affordable and easy-to-manage alternative to more traditional laptops.
However, one caveat is that a regular Windows user may have trouble adapting to the different layouts of ChromeOS (as they probably would with macOS).
MacBooks
If you're in the market for a top-of-the-line laptop, look no further than the MacBook! Designed by Apple, MacBook is one of the most renowned types of laptops in the market. This sleek and stylish computer comes in two families – the ultra-thin MacBook Air and the powerful MacBook Pro in various sizes.
What sets the MacBook apart from other laptops is its unique macOS operating system, which is exclusive to Apple computers. And the cherry on top? The MacBook uses Apple's homegrown chipsets, known as "Apple Silicon," which provide lightning-fast speeds and impressive battery life.
But that's not all – the MacBook's hardware is top-notch as well. From the vibrant screen to the comfortable keyboard, this laptop has everything you need to get your work done in style. Plus, with its focus on security, the MacBook is one of the safest laptops on the market.
Of course, all this luxury comes at a price – MacBooks can be quite expensive. But for those who demand the best of the best, the MacBook is worth the investment. It can be used for a wide range of applications such as programming, designing, developing, gaming, content creation, studying, and more.
2-in-1 Convertibles
What if you could have the best of both worlds – the portability of a tablet and the productivity of a laptop? That's exactly what a 2-in-1 laptop is – a combination of a laptop and a tablet. They're also known as convertible or hybrid laptops.
The beauty of a 2-in-1 laptop is that it can switch between a traditional keyboard and a touchscreen tablet in a variety of ways such as, from sliding to detaching to folding. Most models now use the fold-back method, but a few still have detachable screens.
So, when you're using a 2-in-1 laptop, you can quickly switch from typing on a keyboard to tapping and swiping on a touchscreen with ease. They usually have a similar screen size as tablets, but there is no set size for 2-in-1 laptops since they have different features that make them unique.
Since a 2-in-1 laptop functions as both a laptop and a tablet, you can use it for multiple types of work. For example, you can use a touch screen like a tablet to draw, take notes, or play games. You can also attach the keyboard and use it like a traditional laptop for typing up documents, browsing the web, or streaming videos.
These are the types of laptops available today. You need to pick the right one for your needs and requirements. If you have picked one already, then there are still other things to consider, like the operating system type and supported version, maximum supported RAM, screen size and quality, etc.
Factors to Consider Before Buying a Laptop
With the abundance of options available in the market, it can be challenging to choose the right laptop. Therefore, you must understand the following factors before purchasing one, whether buying a new one or a used one.
Operating System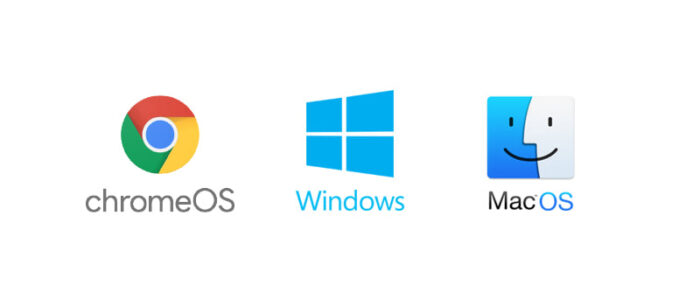 The OS serves as the core of your laptop, managing all aspects of software and hardware, including files, memory, and peripherals. Its most essential function is to provide a user-friendly interface that enables you to interact with your programs and laptop visually, rather than relying on a series of technical commands.
Choosing an operating system for your laptop can be a daunting task, but it comes down to your preferences and budget.
Windows OS
Designed by Microsoft, Windows OS is optimized for both touch screens as well as traditional mouse and keyboard interfaces. Its touch-screen interface lets you engagingly interact with your laptop, while Windows Hello lets you log in with your face or fingerprint instead of a password, making it more convenient and secure.
Windows 10 is the latest version of Windows and comes packed with features that protect your data, device, and identity even if your laptop is stolen or lost. These features include a firewall, secure boot, and file-level protection. It comes with a suite of built-in apps, streamlined file management, and an updated task manager that improves your overall experience.
MacOS
MacOS is an exclusive operating system designed and optimized for use on Apple's line of Mac computers. It comes with a suite of beautifully crafted applications that integrate with iCloud to keep all your devices in sync. It also offers seamless integration with other Apple devices, making it effortless to transfer files and messages between your Mac, iPhone, and iPad.
Above all, privacy and security are top priorities in macOS, ensuring that your personal information and data remain safe and protected. Macs have historically been less susceptible to viruses and malware, providing users with an added layer of security and peace of mind. While MacBooks may have a higher starting price than other laptops, they deliver impressive battery life and superior performance.
ChromeOS
ChromeOS is a streamlined operating system that is perfect for those looking for a budget-friendly laptop with basic functionality. It was designed by Google specifically for Chromebook hardware. It offers a full suite of Google apps that work both online and offline.
While it may not have the same number of features as Windows or macOS, Chrome OS is lightweight and fast, making it a great option for those who primarily use their laptop for web browsing and basic tasks.
Processor and Performance
When it comes to the performance of a laptop, it is directly related to the type of processor it has. Opting for the right processor based on your intended use is essential for optimum performance. There are three common types of processors used in laptops i.e., Intel, AMD, and Apple processor.
Intel
Intel has made significant contributions to the world of computing with its groundbreaking innovations such as Ethernet, USB, and the invention of the microprocessor. These advancements have transformed Intel into a household name that is synonymous with cutting-edge technology.
Intel's Core i5 processor family is an excellent choice for general computing use, as it provides a perfect balance between power and cost-effectiveness. For more demanding environments with heavier workloads, the Core i7 and Core i9 processors are better-suited options.
Furthermore, select business SKUs offer Intel's remote management technology, vPro, which utilizes hardware-based authentication to provide the most stable and secure PCs. This feature is particularly important for businesses that require secure systems to protect their confidential data and information.
Intel continues to push the limits of performance and reliability in both desktop and thin-and-light devices. The latest Intel processors (8th Gen to current) boast support for advanced technologies such as Thunderbolt 3, Intel Optane Memory, and Wi-Fi 6 (802.11ax). These advancements further enhance the overall computing experience and provide users with faster speeds and more reliable connectivity.
AMD
While Intel has a strong brand name and recognition in the marketplace, AMD is a fierce competitor that should not be overlooked. AMD has unique features that set it apart from Intel, such as the ability to overclock the processor for increased speed during use.
Additionally, AMD offers better onboard graphics, making it a popular choice for gamers and multimedia enthusiasts. AMD's Ryzen 5 and 7 processors are the company's top-performing CPUs and offer competitive alternatives to Intel's i5 and i7 processors.
With impressive clock speeds, multitasking capabilities, and high core counts, the Ryzen series delivers superior performance for demanding tasks such as video editing, gaming, and content creation.
Understand the difference between Intel and AMD processor types and generations from our detailed AMD vs. Intel processor guide.
Apple Processors
Apple's M1 and M2 chips mark a significant milestone in the company's history as it is the first-ever chip designed specifically for the Mac. This cutting-edge processor can be found in the latest MacBook Pro and MacBook Air models, which bring a new level of performance and power efficiency to these devices.
At the heart of the M1 and M2 chips is a System-on-a-Chip (SoC) design that integrates the CPU, GPU, Neural Engine, I/O, and other essential components. This integration allows for unparalleled speed and custom technologies that make the MacBook Pro and MacBook Air stand out from the competition.
Thanks to the M2 chip's powerful performance and energy-efficient design, users can expect longer battery life and quicker processing times, even for the most demanding tasks such as video editing, gaming, and running multiple applications at once.
Supported Memory (RAM)
Another factor to consider is the RAM your computer will need. You don't need to have the maximum supported RAM installed right away, but you should have upgrade options available for the future, in case your work demands it.
While older computers only supported 4 GB of maximum memory, laptops today can now support up to 64 GB of RAM. While some offer 16 and 32 GB as the maximum supported memory capacity.
That said, you need to consider what kind of work and multitasking you will be doing on the computer, and make a decision on the RAM accordingly. Also, we would recommend that you have some upgrade options available for the future, so you do not need to change the entire laptop only because you needed more RAM.
Apart from the capacity, there are different sizes and types of memory. Currently, most modern laptops offer RAM modules of the DDR3, DDR4, and DDR5 types. Each of these types has a different clock rate and requires less and less power to operate as the generations go up. However, with greater performance, comes higher prices.
Display Size
When it comes to purchasing a laptop, its size and weight are crucial factors to consider, especially if you plan on using your device while on the go. While a larger screen may seem appealing, keep in mind that it comes at a cost.
A bigger screen means a heavier and bulkier laptop, which can be a pain to carry around. On the other hand, a compact and lightweight laptop may be easier to carry, but it may not offer the same performance as its larger counterparts.
First up, we have laptops with screens measuring between 11-12 inches. These smaller laptops are ideal if you prioritize portability over performance. They're easy to carry around and can fit into small bags, making them perfect for frequent travelers, students, and people who need to work on the go.
Laptops with screens measuring 13-14 inches offer a balance between portability and performance. They're suitable if you require a more powerful laptop without compromising on the convenience of a lightweight and compact device. These laptops are perfect for business users, writers, and people who require a laptop for everyday use.
If you are looking for a powerful laptop, screen sizes between 15-16 inches could be a good option. These laptops are ideal if you are a gamer, graphic designer, or simply need a larger screen for multitasking. However, keep in mind that these laptops are heavier and bulkier, making them less convenient to carry around.
Lastly, laptop screens measuring 17-18 inches are the heaviest and bulkiest of them all, but they offer the largest screens and the most powerful hardware. These laptops are also great to fulfill your gaming and graphic designing needs by managing heavy-duty work effortlessly.
Note: To understand screen sizes better, follow our detailed guide on laptop screen sizes.
Display Type
A laptop's display type determines its visual quality, color accuracy, contrast, and viewing angle. Let's explore the different types of laptop displays and their characteristics.
Liquid Crystal Display (LCD)

It is the most common display technology used in laptops. It uses a backlight to illuminate the screen and liquid crystals to control the light's intensity and color. LCDs are affordable, energy-efficient, and have decent color reproduction. However, they have limited contrast, and their viewing angle is not very wide.

Light Emitting Diode (LED)

These are similar to LCDs but use LED backlighting instead of CCFL (Cold Cathode Fluorescent Lamp). LED displays are more energy-efficient, brighter, and have a better contrast ratio than LCDs. They also have a longer lifespan and produce less heat. However, they are more expensive than LCDs.

Twisted Nematic (TN)

TN displays are the most budget-friendly type and a popular choice for gamers due to their rapid response time and low input lag. These features enable a seamless gaming experience, allowing gamers to react swiftly to in-game actions.

However, TN displays fall short in other areas, such as color accuracy, viewing angles, and contrast ratio, which may not matter as much to gamers but could impact other use cases. Nonetheless, TN displays are a cost-effective solution for those seeking a display primarily for gaming purposes.

In-Plane Switching (IPS)

IPS display employs a distinct configuration of liquid crystals that sets them apart from standard LCDs. This unique technology grants IPS displays exceptional features, such as wider viewing angles, superior color accuracy, and higher contrast ratios.

These characteristics make them a top choice for professionals who rely on color accuracy, such as graphic designers and photographers. Despite their exceptional qualities, IPS displays tend to be pricier than regular LCDs, reflecting their high-end specifications.

Vertical Alignment (VA)

These are another type of LCD that uses a different configuration of liquid crystals. VA displays have a high contrast ratio and deep blacks, making them suitable for watching movies and playing games. However, they have slower response times and limited viewing angles.

Organic Light Emitting Diode (OLED)

It is a novel technology that is gaining traction in laptops and offers a remarkable visual experience. What sets OLED displays apart from other types is that each pixel produces its light, eliminating the need for backlighting. This results in exceptional color reproduction, high contrast, and wider viewing angles compared to other displays.

OLED displays consume less power than their counterparts, making them energy-efficient. However, these cutting-edge displays are pricier than other options and may be vulnerable to screen burn-in over time.

Active Matrix Organic Light Emitting Diode (AMOLED)

AMOLED displays are renowned for their exceptional contrast ratios, with some models offering a contrast ratio of up to 1,000,000:1. These are one step above the OLED screens and provide a 180-degree viewing angle.

At the moment, AMOLED screens are the best in the market for laptops and therefore may cost a hefty amount.
To learn more about each of these screen types and their capabilities, refer to our dedicated guide on screen types.
Supported Screen Resolution
Screen resolution refers to the number of pixels that a screen can display horizontally and vertically. The higher the resolution, the more detailed and sharper the images will appear on the screen. A high-resolution laptop display is essential for professionals who require accurate color reproduction and sharp text, as well as for gamers and movie enthusiasts who want an immersive experience.
Note that the screen resolutions are directly linked to the type of display we have discussed above. The more modern screen types offer higher screen resolutions.
High Definition (HD)

The most common resolution found on laptops is HD, with a resolution of 1366 x 768. This resolution is suitable for basic computing tasks such as web surfing and email. However, for those who require better image quality, HD+ with a resolution of 1600 x 900 is a better choice. It offers better visual quality for casual gaming and watching DVD movies.

QHD and QHD+ (Quad HD)

Moving up the resolution ladder, QHD (Quad HD) and QHD+ have become popular choices for professionals in the photo and graphics industry. These displays have resolutions of 2560 x 1440 and 3200 x 1800, respectively. The extremely high pixel density of these displays results in crisp detail and sharp text, making them ideal for professionals who demand high-quality visuals.

FHD (Full HD)

With 1920 x 1080p, FHD is a common resolution found on laptops. It offers a great balance between visual quality and affordability. Full HD is suitable for watching Blu-ray movies and playing video games without losing any level of detail.

4K & 4K UHD (Ultra HD)

4K resolution offers a resolution of 3840 x 2560 and 3840 x 2160. These displays boast four times the pixels of Full HD, creating rich colors and images for viewing and editing incredibly lifelike images and graphics. 4K Ultra HD displays are ideal for professionals in the creative industry, as well as for individuals who want the best possible viewing experience for movies and games.

8K & 8K UHD (Ultra HD)

At the very top of the resolution spectrum is 8K. Screens that support 8K resolution boast resolutions of up to 7680×4320, which is currently the highest in the consumer laptop market at the moment.

Retina Display

These are exclusive to Apple's laptops, with resolutions of 2560 x 1600 and 3072 x 1920. They offer stunning visuals with high pixel density, making them well-suited for professionals who require accurate color reproduction and sharp text. They are also ideal for individuals who enjoy watching movies and playing games.
To learn more about the different screen resolutions, refer to our dedicated resolution guide.
These are the resolution options you can choose from. While a netbook may not support 8K resolution, it may have other benefits, like prolonged battery timings. Therefore, you need to consider all of the laptop buying factors as a bundle, since you may not get the best of all the worlds inside a single device.
Storage Type and Capacity
A laptop's storage is where all the information is stored when it's not being used. It is essential to have the right type and the amount of storage capacity so you can store all your files easily. The following are the common storage types found in laptops.
Hard Disk Drive (HDD)
HDDs are cheap but slower than other storage options. They have a mechanical arm that moves to read and write data, which makes it time-consuming to retrieve information. HDDs can write data to any location on the plate at any time, but there is a risk of overwriting data. The size of HDD used in laptops is 2.5 inches, and in desktops, it's 3.5 inches.
These have mostly been superseded by SSDs in both laptops and desktop computers since they outperform regular HDDs.
Solid State Drive (SSD)
Choose a laptop with an SSD for faster and more stable performance, especially as the operating system drives. SSDs are up to 10 times faster than HDDs as they store data in microchips and have no moving parts. They come in standard sizes of 1.8 inches, 2.5 inches, or 3.5 inches, and with different form factors and baud rates.
An SSD can have different interfaces and functions with different controllers. It is important that you pick a laptop with the utmost performance parameters while remaining within the budget. Here is a dedicated blog on the types of SSDs and their performance metrics that you can choose from.
Although SSDs are very fast when compared to HDDs, HDDs still have more storage capacity than SSD.
Solid State Hybrid Drive (SSHD)
An SSHD combines the storage capacity of an HDD and the performance of an SSD, making it an affordable solution for those who want the best of both worlds. It uses NAND flash memory to boost speed and Adaptive Memory technology for reliability.
Generally, a hybrid option may be the best choice for some users. With a hybrid drive, the SSD boots up your operating system and startup applications, while the hard drive is used for data storage. This way, you can enjoy the speed and reliability of an SSD while still having the storage capacity of a hard drive.
Note: Follow our article to learn how HDD, SSD, and SSHD differ in terms of storage, speed, performance, and more.
Budget
Ultimately, it's all about finding the right balance between your budget and the features you require. By doing your research and comparing the various options available, you can find a laptop that meets your needs and fits your budget, ensuring that you get the best value for your money.
In general, laptops with more advanced features and better performance tend to be more expensive, while budget-friendly laptops often come with fewer features and may not perform as well.
But the considerations do not end here. There are still a few things to consider before finalizing the budget. You may need to cut down on some specifications to compensate for other features and specifications.
Graphics Card
When it comes to producing images on a computer screen, the graphics card is the most crucial piece of hardware. It is responsible for rendering and delivering images to the display. The two common types of graphics cards include integrated and dedicated.
Integrated Graphics Card
Integrated Graphics cards are commonly found in computers manufactured by Intel. They are built into the motherboard and share the Random Access Memory (RAM) with the Central Processing Unit (CPU).
This sharing of resources leads to a decrease in the overall amount of RAM available for use by programs and applications that require significant video memory. As a result, integrated graphics cards are less than ideal for running such applications.
Dedicated Graphics Card
Dedicated GPUs have their RAM and processor for generating images, which are normally of a higher spec than the computer itself. They operate independently of the CPU, which means that the computer's overall performance is not slowed down. Dedicated graphics cards also offer higher performance than integrated graphics cards.
Note: It is possible to have both a dedicated and an integrated graphics card installed in a computer. However, when a dedicated graphics card is installed, the integrated card is disabled until the dedicated card is removed. This is because only one graphics card can be active at any given time. You can also force a program to use a specific GPU.
AMD vs. NVIDIA GPU
Two major brands that dominate the GPU market are AMD Radeon and NVIDIA GeForce. While both offer high-quality graphics cards, there are some significant differences between the two.
AMD GPUs tend to be more affordable than NVIDIA GPUs, making them a popular choice for budget-conscious consumers. They also excel at handling multiple tasks simultaneously, making them a preferred option for video editing and other multimedia tasks.
NVIDIA GPUs, on the other hand, offer better performance and efficiency, making them ideal for high-end gaming and other demanding tasks. They also have advanced features such as Ray Tracing, which enables realistic lighting effects in video games and 3D applications.
When choosing between AMD and NVIDIA GPUs, it's essential to consider your specific needs and budget. If you're on a tight budget and need a graphics card that can handle multiple tasks, an AMD GPU may be the best option. If you're a serious gamer or need a GPU for demanding tasks such as 3D modeling, investing in an NVIDIA GPU may be worth the extra cost.
Connectivity Options
With the ever-growing importance of digital technology, connectivity options have become crucial to ensure that users can access information, collaborate with others, and stay connected with the world. A laptop's connectivity options determine its versatility, and the more options it has, the more useful it becomes.
There are several types of connectivity options available in laptops, each with its unique set of features and advantages.
Wired Connectivity Options
Wired connectivity includes USB ports, Ethernet ports, HDMI and display ports, Ethernet ports, and even SD card slots. USB ports are commonly used to connect external devices like a mouse, keyboard, or hard drive to the laptop. Ethernet ports are used for a wired internet connection, which provides faster and more reliable connectivity than a wireless connection. HDMI ports are used to connect laptops to external displays, such as monitors or projectors.
While you may purchase the latest laptop available in the market, it may be possible that it may lack an ethernet port. This is normally done by the manufacturer so the laptop can be made slimmer than usual. Whether you want a laptop with or without an ethernet port is up to you, but this factor is definitely worth a thought.
Wireless Connectivity Options
Laptops today also come with a variety of wireless connectivity options that allow users to stay connected and productive on the go. Wi-Fi is one such option that provides internet access without the need for any physical connections, making it extremely convenient.
Whereas Bluetooth, enables laptops to connect to other Bluetooth-enabled devices like headphones, speakers, and smartphones, providing a hassle-free and wireless experience. When Wi-Fi is not available, cellular connectivity provides laptops with internet access via cellular networks, allowing users to stay connected even when on the move.
Other Connectivity Options
Newer laptops also have connectivity options such as a memory card reader, Thunderbolt ports, or a docking station. A memory card reader allows users to transfer data from memory cards used in cameras or other devices. Thunderbolt ports provide high-speed data transfer and can connect to external displays, and storage devices.
Battery Life
When buying a laptop, battery life should be a critical consideration since it determines the duration you can use your computer without needing a power source. The popularity of laptops stems from their portability, which enables you to work anywhere without being tied to a power outlet.
Therefore, a long-lasting battery is essential to ensure that you can use your device for an extended period, especially when you are on the move. Carefully check the following two battery characteristics when buying a new laptop.
Number of Cells
These represent the number of compartments within a battery casing that produces power. The higher the number of cells, the more reliable the battery is to keep your laptop running consistently. For heavy users who require higher performance, a higher number of cells will be more suitable.
Battery Capacity (Watt Hours)
On top of the number of cells inside the laptop's battery, the overall capacity of the battery is also important. Watt Hours (Wh) is a measure of the battery's capacity, which determines how much energy the battery can store. The higher the Wh rating, the less frequently you'll need to recharge the battery when you work in locations without power outlets.
People who frequently work outside the office can benefit from a battery with a higher Wh rating.
Additional Accessories
A wide range of accessories is available to enhance functionality and protect the longevity of your laptop investment. From audio headphones to external hard drives, carrying cases to Ethernet and USB cables, and stylus input devices for select tablets and laptops, the possibilities are endless.
It is important to note that traditional accessory ports for laptops are gradually becoming obsolete, and the best alternative is to opt for USB accessories. Moreover, it is worth keeping in mind that USB-C is likely to replace all other port options on modern laptops in the near future.
So, be sure to consider the longevity and compatibility of the accessories you purchase to maximize your experience with your laptop.
Closing Words
When purchasing a laptop, understanding the different factors involved, such as the size, performance, budget, etc. can help you make the right decision that meets your needs. Taking the time to do your research, compare different options, and seek advice from experts can save you money, time, and headaches in the long run.
By following this detailed laptop buying guide, you can ensure that you invest in a laptop that is ideal for your intended usage, enhances your productivity, and provides a seamless user experience. So, don't rush into purchasing a laptop without doing your due diligence. Instead, take the time to research, compare, and choose wisely to make the best investment for yourself.