Windows 11 Known Issues And Solutions
The Windows updates come with new features and improvements, as well as known problems. Thankfully, Microsoft usually provides a workaround for them or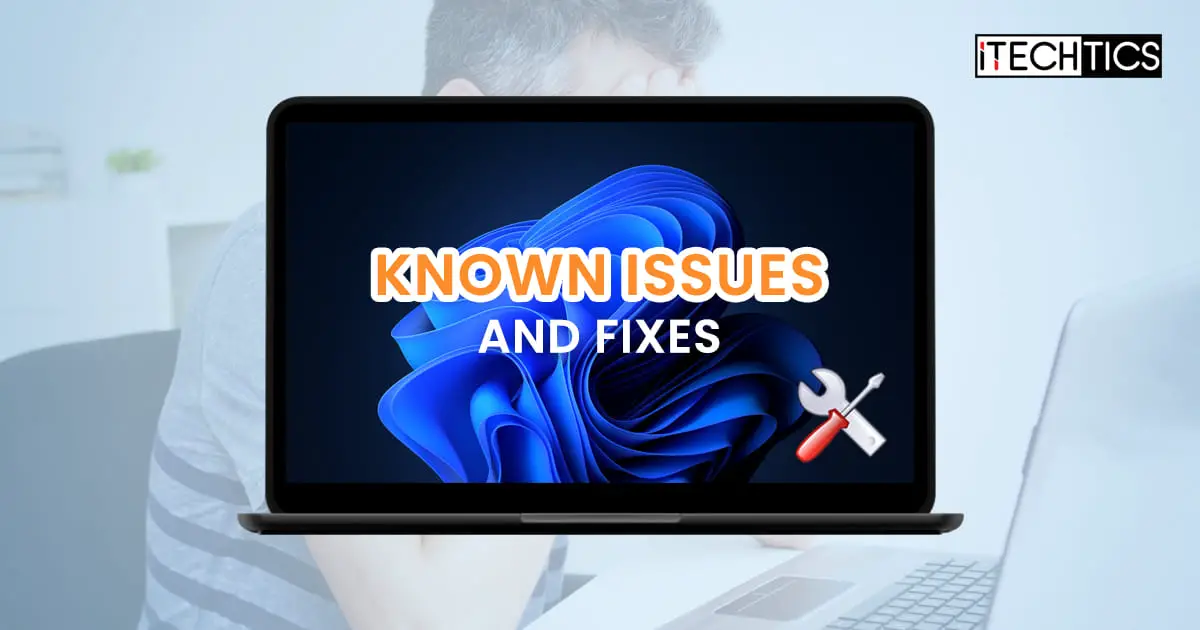 Microsoft releases new updates for Windows OS every second Tuesday of the month, known as "Patch Tuesday." These updates come with new features, fixes, and improvements, but also have a downside.
Sometimes, these updates come with Known Issues. These are problems and issues with the update (and the operating system) which Microsoft is aware of, but publishes the update to the consumers anyways.
These known issues are mentioned in the release notes of every update along with a possible solution.
In this post, we list down all Windows 11 known issues and their solutions, so that our audience can update their operating systems without getting stuck behind with the new issues.
Table of Contents
Below you'll find a list of open issues in Windows 11 with their workaround if one is available.
Provisioning Packages Not Working with Windows 11
Applies to: Windows 11 22H2
Microsoft warns its users that provisioning the Windows 11 version 22H2 might not work as expected and may cause issues. This can cause the Windows 11 operating system to be configured only partially or can cause the OS to restart when on the Out Of Box Experience (OOBE) screens.
Provisioning is done by IT administrators when setting up new devices for businesses or schools using .PPKG files.
Currently, the only workaround Microsoft can come up with is to provision the Windows device before upgrading to the 2022 update while they work on a permanent fix.
Slow File Transfers
Applies to: Windows 11 22H2
Another issue that Microsoft acknowledged is the slow file transfers in Windows 11 22H2. As per an earlier announcement on Microsoft Tech Community, the company confirmed that updating your operating systems to Windows 11 2022 Update slows down file transfers of larger files (files in GBs) by almost 40% of the regular speed.
Since file transfer uses the SMB protocol, there ought to be an issue with the protocol itself resulting in slower file transfer speeds for larger files. However, according to Microsoft, the problem isn't with the protocol.
As a workaround, Microsoft recommends using the Robocopy command-line utility to transfer files from one place to another over the network. This will restore the transfer speeds to the older Windows 11 version 21H2 speed.
You can use the command Robocopy with the /J switch to transfer large files without buffering. Here is the syntax to be used in an elevated Command Prompt:
robocopy \\someserver\someshare c:\somefolder somefile.exe /J
In the command above, replace someserver and someshare with the complete server name and file name that needs to be copied, respectively.
Also, replace somefolder with the name of the folder where you want to replace the copied file, and somefile.exe with the file name and extension you wish to save the file as.
This is the only workaround for now till Microsoft works on a permanent fix.
Apps using ODBC May Not Connect
Applies to: Windows 11 22H2 & 21H2
After installing this update, apps that use ODBC connections through Microsoft ODBC SQL Server Driver (sqlsrv32.dll) to access databases might not connect. Additionally, you might receive one of the following error messages in the app:
The EMS System encountered a problem. Message: [Microsoft][ODBC SQL Server Driver] Protocol error in TDS Stream.
The EMS System encountered a problem. Message: [Microsoft][ODBC SQL Server Driver] Unknown token received from SQL Server.
To check if you are using an affected app, open the app that connects to a database. Open a Command Prompt window and run the following command:
tasklist /m sqlsrv32.dll
If the command lists a task, then the app might be affected.
Currently, Microsoft has not given a fix for this issue. But hopefully, it will be resolved in a future update.
Closing Words
Windows issues open and close all the time. This means that the older issues tend to get resolved, while newer problems come to light with new Windows updates. This is a never-ending cycle.
In this article, you will all the recent issues with Windows 11 and how to resolve them so you can make the most of the latest available updates.
Also see: